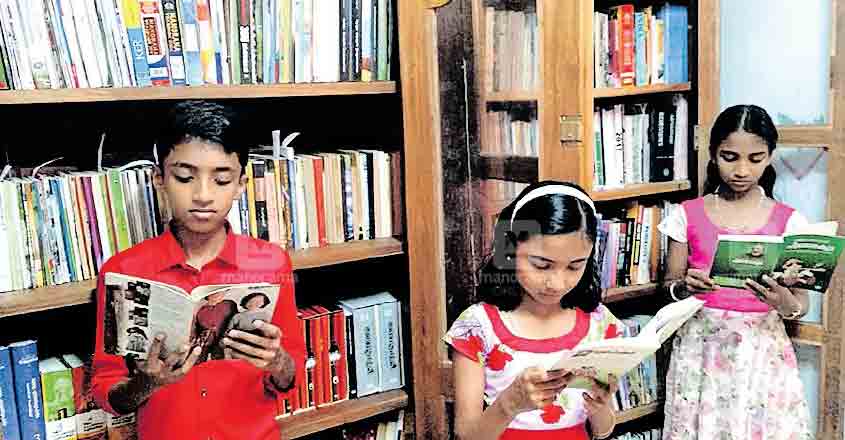 Kattappana: Three siblings have started a small library at their home for the benefit of their neighbours who have been staying indoors amid COVID-19 lockdown.
Manas, Neelina and Sheetal catalogued the books and set up the library at their home at Nariyampara in Kerala's Idukki district. Their parents are Bobby Thomas, assistant professor at Pavanatma College at Murickassery, and Bindu Varghese, a teacher at government tribal higher secondary school at Murikkattukudy.
It all began after a security guard at a nearby establishment asked the children if they could lend any books to him. Though there were several books at home, these were left haphazardly around and the children found it difficult to pick a suitable one. They then decided it to arrange these properly.
The first step was to catalogue the books. The Malayalam books were picked first.
The next task was to arrange the books according to the genre. For this, they took the help of their parents.
They made a catalogue with the details such as genre, the book title, author, editor, critic, publisher, year, volume, editions and even the number of pages.
They were taught to type in Malayalam by the IT teachers at schools and this skill came in handy while making catalogues.
The number of Malayalam books alone came up to 325. After finishing their task, they invited their neighbours to use of the library.
For this, they made a note and put it up in the WhatsApp groups of residents in the area. After checking the catalogue, people can place their book requests.
The children are now in the process of cataloguing the 200 English books at home.
While Manas studies at St Mary's school at Marykulam, Neelina and Sheethal are students of St Mary's school at Kanchiyar.