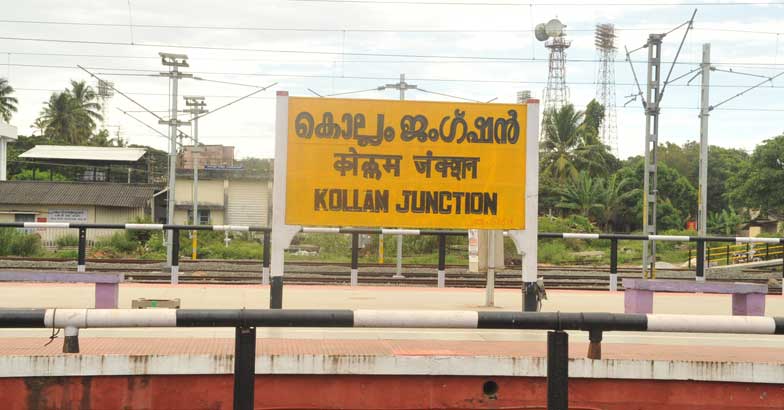 Kollam: The Kollam railway station is set for a grand makeover conforming to global standards. A meeting of the Railway Board has decided to upgrade the station in south Kerala after executing a slew of projects.
The Indian Railway Station Development Corporation has been tasked with the development activities, Kollam MP N K Premachandran stated.
The Railway Board has also given permission to start a multi-disciplinary training centre on the land adjacent to the second entrance of the Kollam station.
Rs 4.1 crore was allotted to implement the quick watering system at the station.
A proposal for making pit lines for starting train services from Kollam would be submitted to the Railway Board. If the proposal of pit lines materialises, then more services can be started and more train journeys could conclude in Kollam. The local MP had made a demand in this regard.
Bridge

Construction of a bridge on the premises of the railway station would be completed soon. It will link the first platform, circulating area and extra parking area.

The medical facility under the National Rural Health Mission (NRHM), a lift and an escalator would start functioning within four months. Reservation and booking facilities would also be enhanced.
Battery car

Authorities are considering to redeploy the battery car after ensuring that it adheres to the safety standards. Its use was discontinued after instructions from the security wing that it should not be taken across the railway tracks.

Platform development

Meanwhile, a proposal for increasing the height of the platform at the Eravipuram railway station in Kollam district has been submitted to the Railway Board. Permission has been given for increasing the height of the platform at the Mayyanad railway station.

Height of the platform number two and three of the Paravoor railway station has been increased. Facilities for handicapped people and an ATM too have been set up.
For upgrading as an E-category railway station, ramps and toilets have been constructed at the Perinad railway station. The MP also sought to build a roofed shelter for this station.
Overbridge

The construction of the Mayyanad rail overbridge would be considered after the PWD takes a decision.

Principal chief operation manager S Anantharaman, Thiruvananthapuram divisional railway manager S K Sinha, deputy general manager G Gayathri, and chief commercial manager Y Nagendrababu attended the meet.
The Lok Sabha MPs representing constituencies within the limits of the Thiruvananthapuram and Palakkad railway divisions also attended the meet chaired by Southern Railways general manager Rahul Jain.