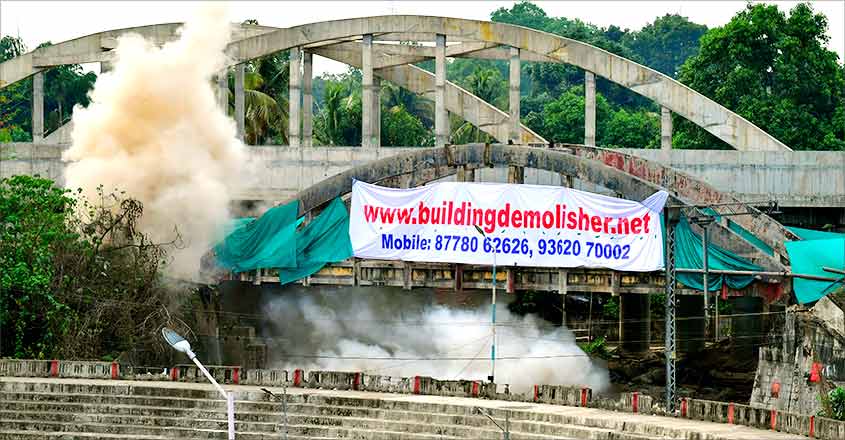 Kottayam: Railway officials concluded that the faulty cables used in connecting the detonators are to be blamed for the second failed attempt at demolishing the Nagampadom bridge. The explosives were filled in 32 mm wide gaps at 900 places. The cables which connected the explosives to the detonators snapped during the explosion. It is suspected that the cables may be of inferior quality though they belonged to a popular brand.
The railways had authorised the company incharge of constructing the new bridge to demolish the older one with a sub contract of Rs 35 lakhs. Though the company had garnered repute through its work in Mumbai and other places, the company and railway officials had overlooked the quality and particularities of the 65 year old bridge. Hence, its plan of controlled explosion might have failed.
The engineering wing of the railway has submitted a report to the Chief Security Officer, Chennai on the same. It reported that the electricity supply went off soon after the first detonator exploded. The supply went off again after the explosion of 18 detonators.
The officials are expected to submit a second report on the next plan of action in two days time and might also come up with an alternative strategy of demolition. The technique of controlled explosion was opted because it would have resulted in quick results, which otherwise would have required control on railway traffic along the line for more than a month. The report is also expected to lead to a further high end investigation into the reason for choosing the particular explosion technique. It is suspected that the company had chosen the method most profitable for them. Railways has notified that the company will not be paid as they failed to complete the task.
The demolition exercise has been put on hold until further orders are issued. The presence of many surrounding buildings and a railway track below the bridge makes it impossible to use a high end explosion. So this calls for a well thought out plan b.
Tentatively, the railways proposes to push off the bridge using cranes and hydraulic jacks in phases and then crush it in vicinities outside the tracks and power lines. The cranes must be capable of lifting concrete slabs weighing around 305 tonnes, for which those used in Kochi metro construction are ideal. The displaced bridge can be pushed to the stadium here and then crushed. The plan however requires controlling train traffic along the route for a minimum 3 hours for 5 days, which prevents the railways from going ahead with it.