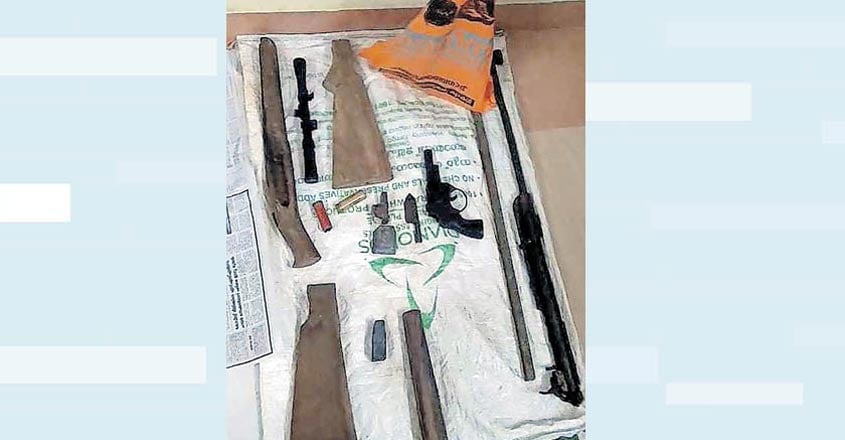 Kottayam: A revolver would normally cost up to Rs 1.5 lakh. However, well-made knockoffs of the best ones are available for Rs 10,000 to Rs 30,000 at Pallikkathode village, close to this town in Kerala. The thriving trade of illegal gunmakers here came to light recently with the busting of their den by the local police. Now, central agencies have stepped in and would soon investigate their shady activities and links, if any, with subversives.
The central Intelligence Bureau (IB) has already questioned four people who are under police custody on charges of making firearms. The IB reported that a detailed probe was needed.
More central agencies are likely to be involved in the probe. During questioning, the accused claimed that the guns were procured by people for hunting and self-protection. However, the police have not taken the statements at face value. The central agencies want to ascertain if the guns were ever used for separatist activities.
A few in police custody also claimed that they bought guns merely for home decor. Most of them have reportedly not even used the firearms.
Cache so far
Six revolvers, one country gun, 40 bullets, and parts of guns were seized during the recent police raid. Efforts are on to locate 10 country guns and five revolvers.
Eleven people have been arrested so far. Of these four were gun manufacturers, one person sold gunpowder and six bought the guns.
Pallikkathodu natives Manish Kumar and Rajan and middleman Binesh Kumar were found involved in manufacturing guns. A Peermade-based jailer named Stanley, who bought the gun, has also been nabbed. He reasoned that he bought the gun as he feared attacks from prisoners.
Though two revolvers were also found, their owner could not be traced.
Kanjirappally DySP J Santhosh Kumar said that raids are being carried out at various parts of the state. Ballistic experts would soon arrive to examine the guns.
A month to make one gun
The guns seized from Pallikkathode look original and are priced relatively cheap. More details on the gun manufacturing, sale and use are yet to be unravelled.
Manish and Rajan had been making guns for nearly 15 years. It would take a month to complete one gun. The manufacturing is done part by part using hands. Manish had earlier worked with an armoury for some time.
The sale is reportedly done during night.
The police said that the country guns made in Pallikkathode are of good quality, though the revolvers make loud noise.