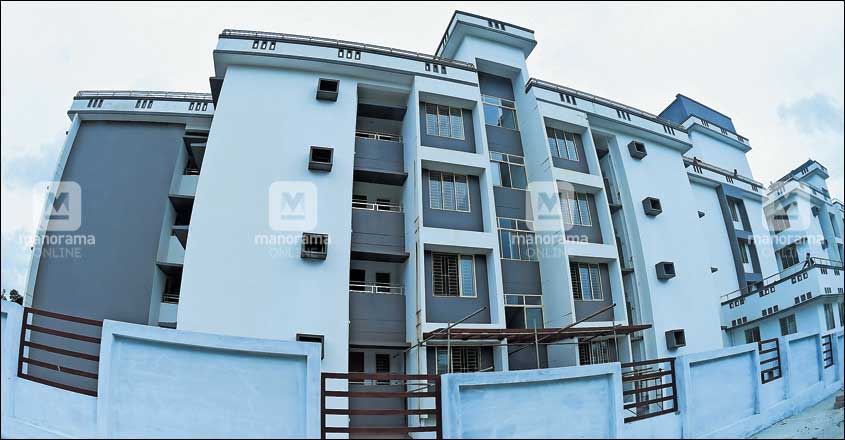 Kozhikode: Even as hundreds of senior resident doctors of the Medical College Hospital here are staying in rented houses an exclusive property meant for them are being used by migrant labourers who were engaged in its construction.
The Kerala Health Department had ordered for the construction of studio apartments with all the facilities for doctors who are studying for their post-graduate courses. Though the Public Works Department (PWD) had completed their construction, mostly, by the beginning of 2018, they are yet to be handed over to the department.
The apartments are not being handed over to the authorities on the pretext of pending plumbing, electrical and flooring works, the employees of the Medical College claimed.
A visit to some of the apartments revealed labourers are having a whale of time. West Bengal native Firoze is watching a Hindi move on Sony Channel at 3.30 pm. His room has been fitted with a new fan. A plastic mat has been spread out on the cot. A pair of sturdy jeans and a floral-print shirt are slowly swinging on a clothesline in the room.
Beside the tap in front of the flat complex, Firoze's friend Ramlakhan is taking bath. The Bengal natives have neither taken this flat on rent nor are they paying for the power -- it is the Department of Health Education that foots the bill. The PWD contractor seems to be the beneficiary from this government facility, as it has become an easy option for putting up his workers from outside the state.
Even workers involved in building the super-speciality complex of the Medical College Hospital are also staying in these studio apartments.
Inaugurations awaited
It is not known if the said property would be thrown open for its intended beneficiaries even as the Kozhikode city would witness a spree of inauguration of government facilities in the coming weeks. Authorities had sought information about those buildings that can be inaugurated next month when the chief minister or other ministers pay a visit. A team of officers led by the Kozhikode District Collector has made a list of such buildings.
The authorities plan to hold a clutch of inauguration ceremonies together after completing the construction at the earliest.
The collector has given instruction to complete the studio apartment complex meant for senior resident doctors so that this apartment can also be inaugurated. Accordingly, some officials had visited the flats in the eastern end of the complex to take stock of the progress. Some labourers were staying here till the other day.