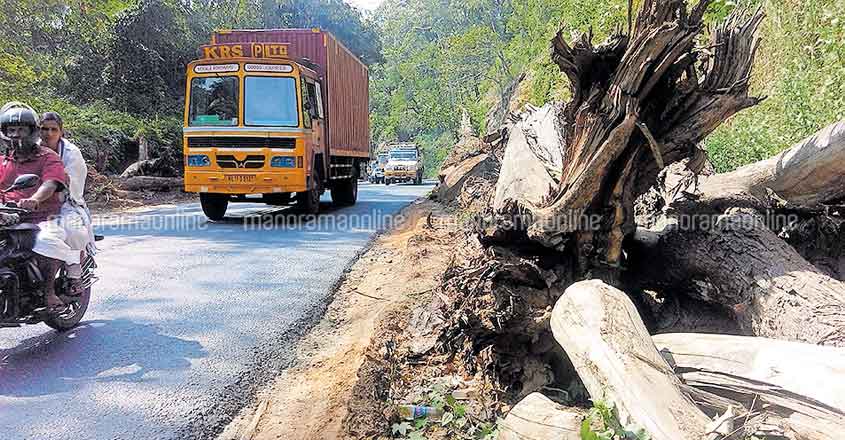 Vadakkencherry: Motorists along the Mannuthy-Wadakkanchery stretch of the national highway have to brace up for a bumpy ride and traffic block owing to huge trees uprooted during the floods. The trees have not yet been shifted from the roadside by the Forest Department which is having a running feud with the private firm building the nearby road tunnel.
The stretch witnesses a movement of at least 30,000 vehicles a day, including those belonging to Sabarimala pilgrims.

Deadlock

The company carrying out the road works at Kuthiran and the Forest Department are at loggerheads over blasting a rock hanging precariously over the entrance of the tunnel. Five incidents of caving in of rock were reported from the site.

Meanwhile, the Forest authorities have registered a case against the construction firm over an alleged land encroachment at Vaniyambara and what they termed illegal constructions, including that of a tube well. As the proceedings of the case are still on, the firm says that it will not carry out any work without sanction from the Forest Department. On the other hand, the Forest Department has taken the stand that written permission has to be obtained by the company from it for any construction on forest land.

There are disputes between the firm and Forest Department over sanctioning forest land for road work at Vaniyambara, Kuthiran, Pattikkad and Mudikkode also.

Traffic was totally disrupted for several days at Kuthiran during August this year when earth and trees fell on the road. Though the earth was removed to enable traffic movement, no action was taken regarding the trees. The NH officials have written to the Forest Department regarding the matter, but the trees still remain on the roadside.

Entrance block

Earth had collapsed in front of the entrance of both the tunnels during the floods, but the authorities are yet to take up any action to clear it. Major damage has occurred to the tunnel following the development, including to its rib (a short concrete line laid at a depth of four metres to prevent slipping of soil that tumbles down).

Concerns have also been raised over the safety inside the tunnel. The works were stalled four months ago following a workers' stir, but no conciliatory talks have been initiated to settle the strike.