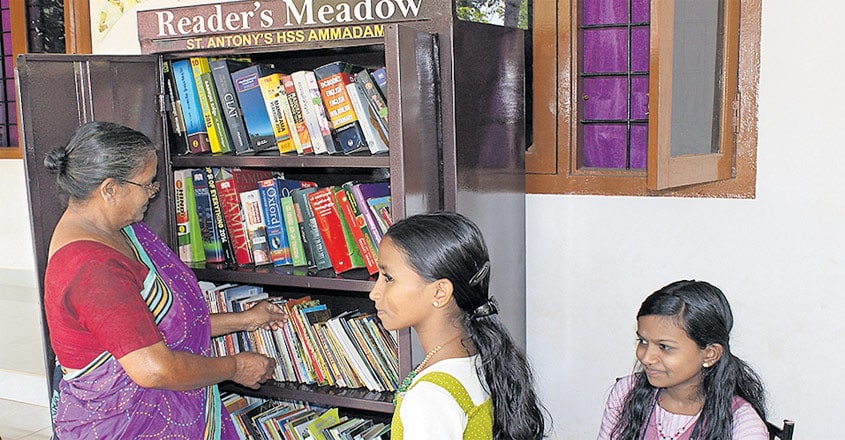 Cherpu: The 'Akshara Sagaram' library project of St. Antony's School is slowly but surely igniting the minds of people of Ammadam near here in Thrissur district. The main aim of the project, under school head master Stiny Chacko, is to start home libraries and wean people off the cell phones and help them explore the world of books.
The houses with requisite facilities to start a library will be earmarked in different places and necessary books, shelves and chairs will be provided under the project. The greatest challenge was to source books from a village such as Ammadam but the youth wing of the local church gave the impetus to the project by collecting more than 1,200 books. Later, the school's PTA and local residents chipped in with many books, and the books were catalogued with the help of teachers.
The home libraries are started at houses where a 5ftx3ft almirah could be safely kept on the compound. And the family members should also show an interest in running the library. A firm gave almirahs and chairs free of cost for the project.
A home library will have close to 600 books and any one, without any age restrictions, can borrow books from the library. The books have to be returned within 22 days and the library will be open from 5 pm to 7pm. To date, two home libraries have been opened in the area.
The library at Simon's house in Palakkal was opened by Geetha Gopi MLA and the one at Vinayan's house in Pallipuram was inaugurated by T N Prathapan MLA, and these libraries have more than 150 members. The libraries are being run under the supervision of teachers Rachel Varghese and A C Sini.
"The success of these two libraries has given us the confidence to start more similar libraries," said Stiny Chacko.