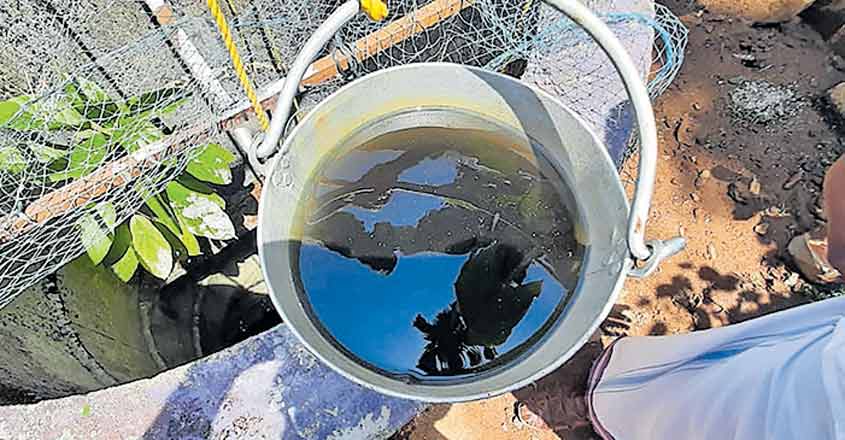 Muringoor: Weeks after the bizarre incident in which liquor came out of taps in a housing complex at Chalakudy in Kerala's Thrissur district, several wells in another place close by reek of alcohol.
Water in about 10 wells at K K Nagar at Muringoor, near Chalakudy, has become unfit for drinking after it changed colour and started emitting a smell similar to that of alcohol.
According to local people, effluents from a liquor manufacturing unit nearby had seeped into the ground, contaminating the wells and turning the water red.
A similar phenomenon had been noticed one month ago also and the residents had cleaned their wells and applied chlorine. Subsequently, panchayat member had informed the Health wing of the local government body and its officials collected water from the wells.
Water samples were sent to Kinfra's laboratory in Koratty for detailed analysis. Tests revealed that Nicole and Coliform bacteria counts were found to be up to about 540 per 100 millilitres.
At least 10 wells were contaminated by the effluents from the liquor factory, residents said.
As the K K Nagar area experiences acute water shortage, the local people have already urged the authorities to adopt measures to check pollution and ensure supply of potable water.
Nearly one month ago the residents of Solomon's Avenue Flat near KSRTC bus stand at Chalakudy had complained of alcohol presence in their tap water. A probe had found out that around 6,000 litres of unlawfully stored liquor, which was seized from a nearby bar around six years ago, was destroyed by the excise authorities by pouring it into a pit near the block of flats. This drained liquor had seeped into the well on the adjacent property and as water was pumped into the overhead tank, residents got to receive the polluted water.