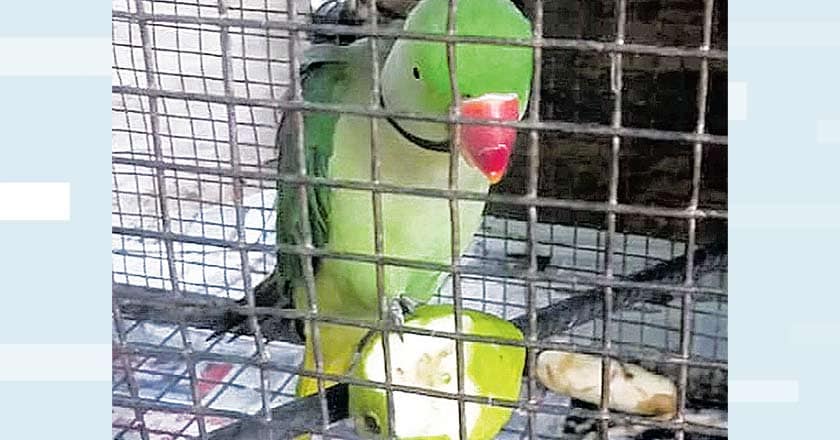 Thrissur: Animals and birds are impounded when laws on public safety or animal welfare is violated. A forest department unit here is facing a strange problem after it took into custody a caged parrot that can't fly.
A court had ordered that the bird be released and let to fly, but forest officials have not been able to implement the order. That is because the parrot can only walk.
The parrot, an Alexandrine parakeet species, was taken into custody by the Palappilly range officials following a complaint that the parrot was being kept in a cage.
Following the court's order, the forest department officials freed it from the cage in the hope that it would fly to freedom. But it did not.
They sought the help of the forestry college to find out why. The college examined the bird and its findings astounded them — the college said the bird doesn't know how to fly because it has spent its entire life since birth in a cage.
This has put the officials in a quandary because the court did not say to just release the bird. It said the bird should be let to fly.
There is no facility in Thrissur to teach birds how to fly and release them.
In the past, some forest offices had in custody birds that did not know how to fly. Officials release such birds in the forest without anyone knowing.
For the time being, the parrot is being taken care of by officials of the Palappilly range and it seems happy in their custody. Guava from a neighbour's garden is its favourite food.
Officials plan a 'soft release'
The Palappilly range officials are now planning a 'soft release' for the bird.
Soft release is a step-by-step process that teaches birds that have not learnt to use their wings to fly and feed from nature.
The officials are planning such a facility at Akamala in Thrissur district. The system will be set up within a huge nest in a forest environment.
The bird will not be fed in a container. Food will be made available as it is found in nature.
The parrot will be released only after it passes the flying and feeding tests.
This bird can be released only in a habitat where it will survive. Alexandrine Parrots are found in large numbers in the Chinnar and Wayanad forests. It will also be a problem if, during the training process, the parrot flies to some place other than these forests.