There are various changes that have been made to eating habits traditionally over the years and it keeps changing every now and then. If you are able to bring minor alterations to your cooking, it will also reflect on the taste, says Celebrity chef Suresh Pillai.
Here's Chef Pillai's advise for Malayalis to adapt to changing diet, food habits and practices, and keep kitchen habits efficient and effective.
Avoid over-cooking and under cooking
Avoid over-cooking and undercooking your food. We have this habit of overcooking seafood. There are those who think cooking fish in a lot of water and then reducing the gravy is a way to cook it. When you overcook fish, all its nutrients are lost.
Be it vegetables, seafood, chicken, or meat, they only require a specified amount of time to cook. You just need to be aware of the correct cooking time. This rule is equally applicable to vegetables. There are people who overcook the veggies in the avial and turn it into soggy like koottukari.
Make salad part of your daily diet
Though there are several forms of leafy vegetables available today, we don't really know how to make use of it. Whenever possible try a balanced diet. Malayalis are known to include very less salads in their meals, especially the raw ones. Even for wedding buffets, they prefer to head straight to the main menu counter. Next time try having it the way it should be taken – start with the soup, dig into some starters, then pick the main course (if your tummy isn't full yet), and then go for the dessert (only if you want). If you want to reduce rice in your meal, add more salad to your plate. You don't really need to pick all the exotic greens from the supermarket to prepare your salad. Go for something simple like onion, cucumber, tomato, or even local produce like jackfruit, red spinach, raw mango, or guava. Remember all these tastes are available at your fingertips. You can also go for different salad dressings to make your daily salad dish exciting.
Pick ingredients with care
It is important to ensure the quality of the ingredients we use. When you shop for groceries, ensure it is fresh and of good quality.
Plan ahead before cooking
Plan your dishes a day before and keep the ingredients ready before cooking. Planning makes cooking easier.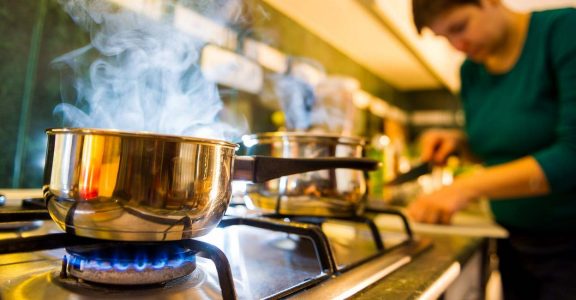 Can't cook? Nothing you make tastes good? No worries
Beginners in cooking usually tend to buy whatever they could lay their hands on before cooking. Equally important is to pick the right cooking gadgets. You mostly won't feel like cooking in a cramped kitchen (or when things are all over the place). Try to watch cookery videos and learn to make the process of cooking easier and fun. Of course, there are chances that the initial cooking experiments might reach nowhere. Masala will get burned, the quantity might be more or less, etc. So the best thing is to taste at every stage of your cooking and slowly make progress. Don't get disheartened by your initial cooking disasters. It isn't possible to learn it all without some experience. Your fish curry might not turn out well even after 10 attempts, but the 11th attempt is what matters, and it might even be good. Cooking isn't rocket science, it is about doing something frequently and finally getting a hang of it. Cooking is about experience and patience. Anyone can be a good cook that way.
Forget lamenting about your lack of cooking skills. Remember practice makes everything perfect.