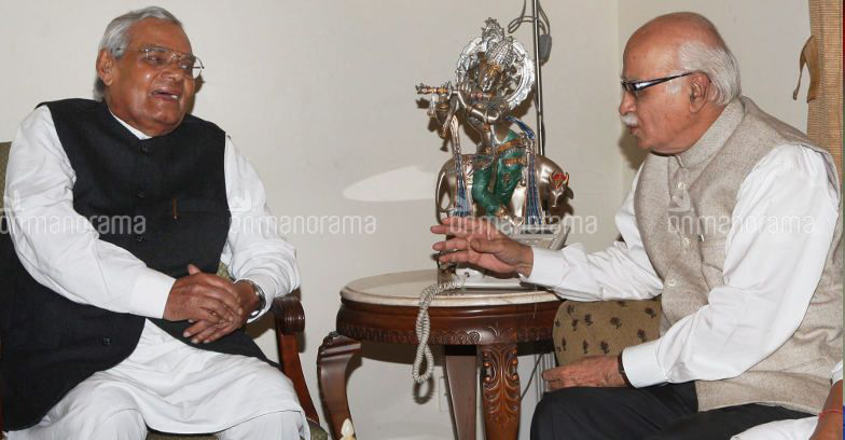 New Delhi: LK Advani was all praise when the union government decided to confer the Bharat Ratna on former prime minister Atal Behari Vajpayee along with Madan Mohan Malaviya in 2015.
The former Leader of Opposition in the Lok Sabha said he had written to the then prime minister Manmohan Singh on January 5, 2008 to consider Vajpayee for the highest civilian honour of the country. He had 10 solid reasons to do so, as listed in his letter to Singh.
1. Vajpayee was an excellent parliamentarian. He could claim to be the longest-serving parliamentarian alive.
2. He became the prime minister three times.
3. He shattered the myth that coalition government was not an option for India. He adopted coalition dharma in word and deed.
4. He worked to strengthen the Indian democracy whether he was in power or in the opposition.
5. He fought dictatorship and served prison sentence during the Emergency.
6. Even when he was in the opposition, he supported the government in matters of national importance. He supported the then prime minister Indira Gandhi during the war with Pakistan in 1971 and the nuclear test in 1974. He also supported the liberalisation policies of Narasimha Rao government in 1991.
7. India became a legitimate nuclear power during Vajpayee's tenure as the prime minister. (The country conducted the first nuclear test much before in 1974.)
8. India defeated Pakistan in the Kargil war during Vajpayee's tenure as the prime minister.
9. Even as he strengthened national security, he fast-tracked socio-economic development. He launched the development of national highways, Prime Minister's Rural Roads Scheme, Sarva Siksha Abhiyan (new avatar of District Primary Education Programme that was on since 1993-94) and set the stage for a subsequent IT and telecom boom.
10. Vajpayee put the emphasis on fostering non-resident Indians' emotional attachment to the motherland.