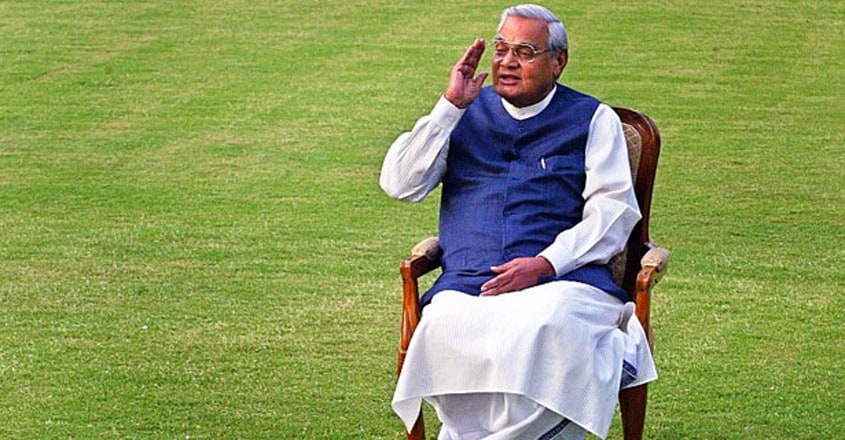 A good poet is sure to be a good politician because he cannot turn a blind eye towards human suffering. Atal Bihari Vajpayee went by this mantra.
He believed that poetry could stimulate social awareness in citizens. His poems embraced India's history and culture. Religion and rituals appeared as leitmotifs in those lyrics.
Vajpayee considered poetry as his inheritance. His grandfather Shyamlal and father Krishna Bihari were poets.
Vajpayee's forte was political poems. He also wrote about love and longing. His poetry was as vibrant and potent as his oratory, critics point out.
Vajpayee's poems have been brought out in the voices of Lata Mangeshkar and Amitabh Bachchan. The royalty from these poems go to the trust in the name of his father in Gwalior. Bachchan has said that he collaborated in the project because he admired Vajpayee.
Vajpayee's poems have been translated even into Greek. George Moleskis, a poet who works in the Cyprus Education Ministry, translated the poems into Greek after Pawan Kumar Verma, India's high commissioner to Cyprus, translated them from Hindi into English. The collection of 21 selected poems in Greek was gifted by Vajpayee to Cyprus president Glafcos Clerides (1993-2003).
Vajpayee's poems have been translated into many Indian languages, including Kannada, Telugu and Malayalam. Vajpayee had said that he wanted to be a poet or a journalist but politics changed the course of his life. He also said that politicians might unwittingly reveal many things when they happen to be poets.
Two anthologies of Vajpayee poems have been brought out by Penguin Books. Vajpayee's parliamentary speeches have also been published in two volumes. Vajpayee has also published a collection of essays titled 'India in the 21st century'.
Vajpayee always cherished four books: Bhagavad Gita, Ramcharitmanas by Tulsidas, Pancha Tantra by Vishnu Sarma and Devdas by Sarathchandra Banerjee.