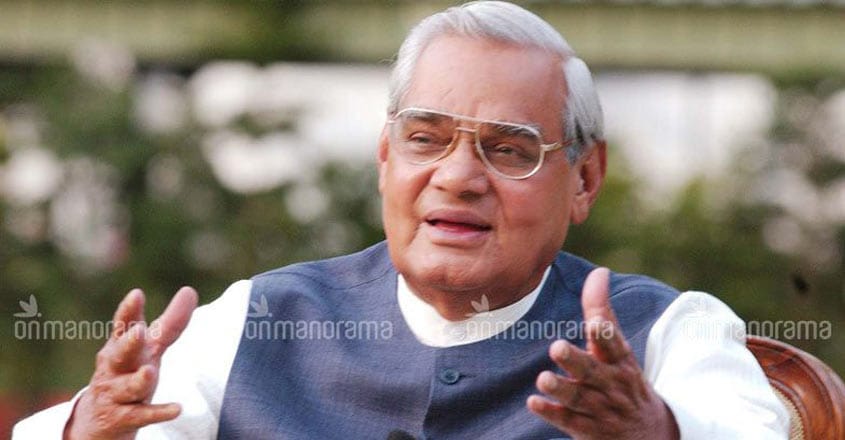 • Atal Bihari Vajpayee was born to Krishna Bihari Vajpayee and Krishna Devi in Gwalior in Madhya Pradesh on December 25, 1924.
• He was the only prime minister after Jawaharlal Nehru to get a favourable verdict in three consecutive elections, though Nehru had secured decisive majorities for his own party.
• He is the only parliamentarian to be elected from four states, Uttar Pradesh, Gujarat, Madhya Pradesh and Delhi.
• He was never a member of the Congress party in his long career.
• He is the only non-Congress prime minister to complete the five-year term.
• He made news by speaking in Hindi in the United Nations while he was the external affairs minister in the Morarji Desai government during 1977-79.
• He was a postgraduate in political science.
• He made his mark as a journalist and a social worker. He had edited a Hindi magazine named 'Rashtra Dharma'.
• An accomplished poet, Vajpayee has published a bunch of books, including 'Meri Ikyavan Kavithayen', 'Sankalpkal', 'Kaidi Kaviraj ki Kundaliyan' and 'Amar Balidan'.
• A founder member of the Bharatiya Jan Sangh, Vajpayee worked as the party's president from 1968 to 1973. He was the leader of the parliamentary party from 1955 to 1977.
• Vajpayee was the president of the Bharatiya Janata Party from 1980 to 1986 and its parliamentary party president during 1980-84, 1986 and 1993-96.
• He was the leader of the opposition in the 11th Lok Sabha (May 996 – December 1997).
• He was awarded Padma Vibhushan in 1992.
• The Kanpur University honoured him with a D Lit in 1993.
• He was chosen as the best parliamentarian in 1994.
• Vajpayee became the prime minister for the first time in 1996 but his government lasted only 13 days.
• He became the prime minister in 1998 and wielded power for 18 months. His third term started on October 13, 1999.
• India conducted the second nuclear tests at Pokhran during Vajpayee's term as the prime minister, on May 11-12, 1998.
• Vajpayee went to Lahore in a bid to improve ties with Pakistan.
• He later foiled incursion bids by Pakistan in Kargil. He was the prime minister during 'Operation Vijay'.
• He was conferred Bharat Ratna in 2015.