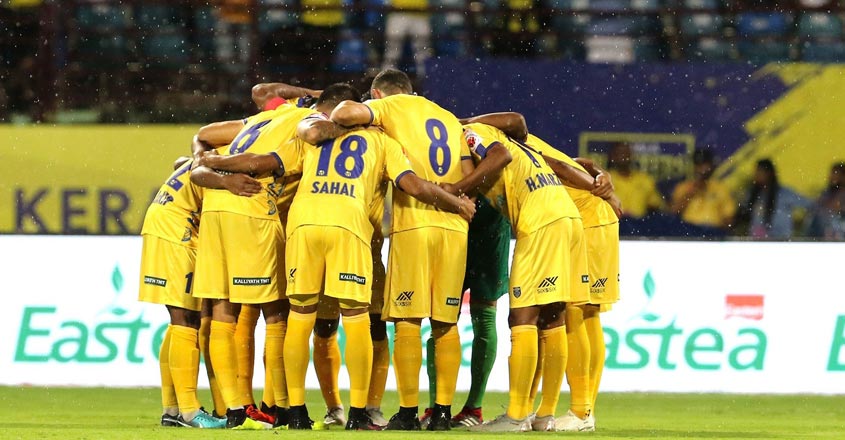 Kochi: For Kerala Blasters FC, the 2019 season of Indian Super League (ISL) remains a quest to find the missing 'key elements,' in the words of their Dutch boss Eelco Schattorie. When they host Jamshedpur FC at the Jawaharlal Nehru Stadium here on Friday, to produce a favourable result, the team will have to address some of these factors - defence and frontline that wear out before the final lap of the game.
So far, Blasters have leaked goals four times in the final 20 minutes, which resulted in suffering losses on two occasions and splitting points twice. The result is, seven games on, Blasters are placed eighth in the standings with one win, three draws, and as many losses. Jamshedpur, on the other hand, sit firm in the fourth spot with three wins, as many draws and a loss.
If Blasters fail to find an answer to these missing elements, Antonio Iriondo's Jamshedpur, known for their relentlessness, could punish them in front of the home crowd. Jamshedpur would want to see their ace Spanish forward Sergio Castle, who missed their last match against Chennaiyin FC owing to an injury, returning to the fold. Castle had scored five times in his six outings before missing out the seventh owing to a rough tackle picked up in the game against NorthEast United FC.
Super medio Mario Arques could be Blasters' Spanish answer to Castle. In an interview given to Goal.com, Arques sounded confident of returning against his former team. Arques, who landed in the ISL through Jamshedpur, only has 65 minutes to his credit this season as he missed most of the action due to a recurring injury. If Arques clears the medical to play against Jamshedpur, that could present Schattorie a different equation, which he would be more than happy to try against the Men of Steel.
Blasters frontline, which had been struggling to find the finishing touch, will have a tough time against Jamshedpur who has former Indian first choice Subrata Paul as their custodian.
Former Blasters forward C K Vineeth is currently with Jamshedpur and Iriondo had opted to start with him in their last three games. It would be interesting how Manjappada would welcome their beloved forward wearing different colours.