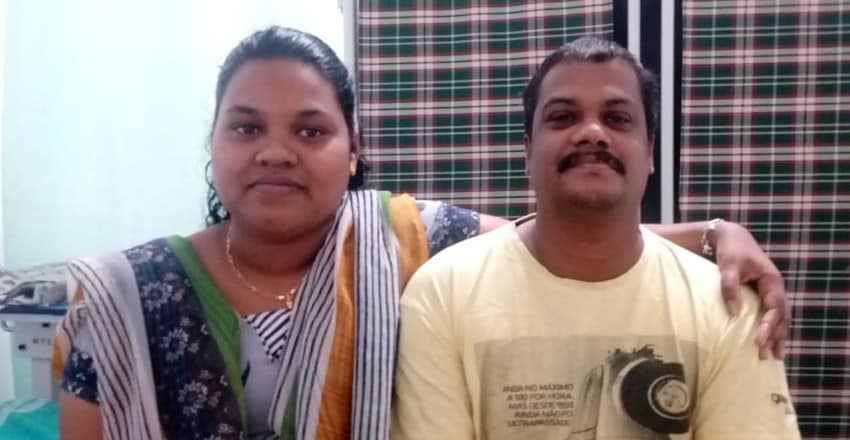 Onmanorama met Aji and Remya on the Vattappara premises of Pallium India, one of India's finest palliative care centres. Aji was recovering from a nasty bedsore that had formed on his back. Aji is a highly regarded skills trainer at Pallium.
"His is not the kind of bedsore we find on bedridden people," Remya tells us. "His bedsore had developed because he sits a lot. This is common among paraplegics. But in his case, carelessness too should take some blame," she said, turning to her husband with a frown and a hint of a naughty smile.
Aji has no sensation below his waist. "My problem is that I don't realise when these bedsores develop. I don't even know when the wound starts opening up. Only when the puss oozes out and it stinks that I come to know of it. By that time most of the flesh is gone," Aji said. This time he developed it because he sat making umbrellas for four days at a stretch. The order was for 480 three-fold umbrellas from a school.
Aji does the framing and the design. He has employed paraplegics like him to do the stitching. Remya, too, is adept at stitching. However, the couple's main products are soap and its variants like shampoo and handwash. (His soaps are modeled on top brands like Pears and Lifebuoy and Cinthol. Remya uses their own Pears, which she says has the smell of the original old Pears.) Aji makes slippers also, both ordinary and medical ones. Now his paper pens are in high demand. "He calls it his 'living pen'," Remya said.
At the base of these paper pens, in a mini compartment, Aji hides a seed (a lady's finger or brinjal seed or that of a rare flowering plant). "This pen can be used only once and so when people throw it out after use my hope is that the pen will come alive as a plant," Aji said.
The wound is now plastered. Remya shows us the picture of the bedsore on Aji's mobile. It looked like a miniature version of a burst volcano. There is a deep crater, and on the sides are raw pink flesh like molten lava. "The bedsore was so deep that the bone came out. In certain parts it was grounded into powder," Remya said.
It was in 2001, when he was 23, that Aji had a mighty fall from a grandmother tamarind tree. Then, his first wife was pregnant. Initially, there was everyone to care for him; his wife, his parents, his siblings. First, his wife left him. (He has never seen his daughter who has now turned 16.) After a point, even his family found him a burden.
When he sensed this, a wheelchair-bound Aji asked his neighbours to take him to the five cents of land a few kilometres away on the outskirts of Thiruvananthapuram that he had bought with his own money doing odd jobs right from the time he was 13. There he built a single-room shed with coconut leaves. On the floor he laid plastic sheets, and in the corner he put up a mud stove for cooking. For company, he had a goat and many hens.
It was into this shed, littered with feathers and chicken and goat shit, that one day Remya came in without any warning.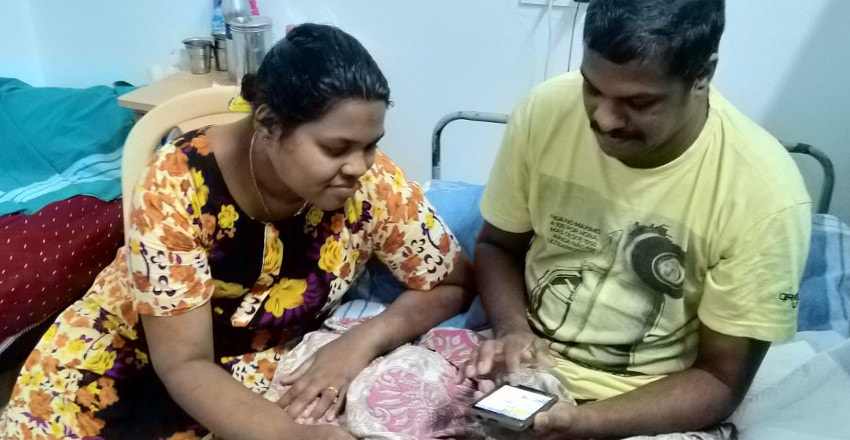 How did you meet and fall in love?
Remya: I was part of our church team that visited him at the shed where he was living alone. It was a mess inside the shed, unlike any we had seen before. Hens everywhere, and there was also a goat. He was the most shocking sight. He looked exhausted, and with an unkempt beard, had the look of a dying cave man. The sight of us made him angry.
Aji: At that time I hated people who spoke about God. I started raving and ranting at them. I wanted to know why I am like this when I had done nothing wrong. I asked them why their God was so insensitive. But it took years for me to finally understand what the love of God is. It was she who made me realise it.
What made you to choose a life together? What were the challenges you faced in coming together?
Remya: At the beginning my only motivation was to care for someone who looked absolutely abandoned. Nothing else. After the first visit I started thinking about his plight a lot. I constantly felt someone whispering inside me to go and live with him. ("Blind faith can at times be a boon for guys like me," Aji jokes.) It could have been my faith, but I felt it very strongly. So I went back to his shed and asked him whether I can come and live with him.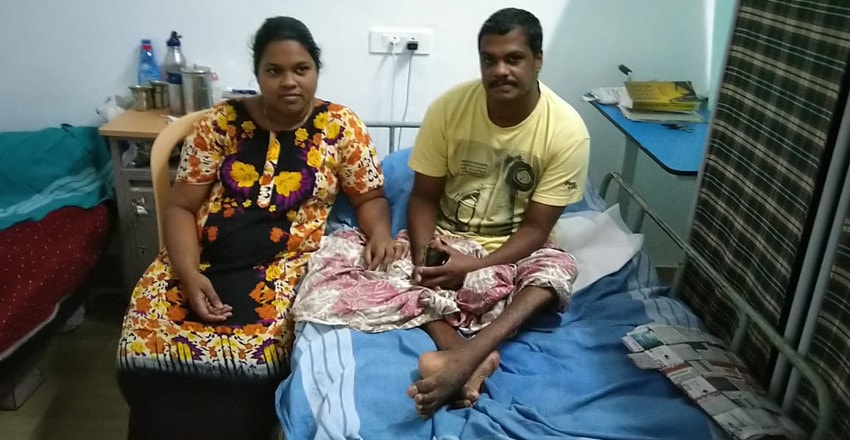 He tried to dissuade me, he told me that he was once married and had a child. But still I felt I should be with him even though I knew I would suffer. So I ignored the warnings of my parents and went to live with him. There were days when we had just water to drink. But this water we boiled to get the illusion that we were having black tea. This is not to say that I had never felt regret. When things looked really bad, like any human, I had cursed myself. But deep within I always knew my decision was right.
Aji: I was surprised when this girl of 18, who was from a relatively well-to-do family, asked me whether she could come and live with me. I told her my background, also the physical disabilities that I have. But to be honest I did not discourage her beyond a point. I myself had left me for dead, and then out of nowhere, this girl. For someone who had lost all hope, she seemed like a blessing. I did not say an yes or a no. But a few days later, without any warning, she came into my shed with a bundle of clothes.
Her parents disowned her. They were in a sense right because we had nothing. Certain days we used to pretend that we were fasting and held our hands together and prayed. And then there was the luxury of boiled water, our imaginary black tea.
But Remya calmly took control of my life. She started running the small bunk shop that I had opened just outside the shed. I had begun it as a small shop for workers who passed that way. She introduced pens and books for kids and, later on, provisions. It thrived. Then I revived the making of umbrellas, soaps and slippers.
How do you strike a work-life balance?
Aji: I fully concentrated on our business, and she on household work. It is easy because our home doubles up as our manufacturing unit. But she keeps a close watch on my activities. Soon she mastered many of the skills without me giving her one bit of training. She now makes soaps, and paper bgs, and umbrellas, all on her own. So now, when I am too busy, I just give her a pattern and ask her to complete the work. She now provides skill training for women, too. But it has to be acknowledged Ekalavya respects her Drona. The first Rs 1,000 she got from such a training she placed before me as 'guru dakshina'.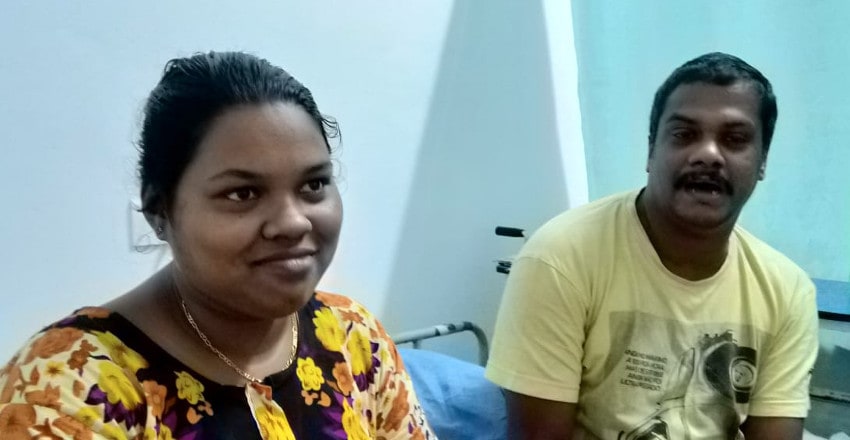 Remya: Though all my skills came from him, I could never have learned under him. He has a nasty temper. I have seen him getting angry during training sessions. So I just absorb what he is doing, I don't even ask doubts. I have also stopped buying things needed for the house. He has barred me from doing this. (She givers Aji an angry look.)
Aji: Even after all these years with me she is yet to master the technique of spending less. She doesn't know how to bargain. If she takes out Rs 100 with her she purchases for Rs 150. But if I go out with Rs 100 I manage to evoke as much sympathy as I can and buy all that I need for just Rs 50.
As a couple, what's the best thing you have done for the society?
Aji: Our contented married life, what else. (He smiles as if he had cracked a joke.) On a serious note, I think we had managed in our own little way to help people like me. I have trained four paraplegics in various skills, and now they are part of our small cottage industry that manufactures various products from umbrellas and slippers to paper bags and paper pens. We also regularly provide skill training to patients at Pallium India.
Remya: It makes me really proud that he travels all the way to Kollam and other far away places in his two-wheeler to train differently-abled people. He is able to make a difference to their lives. I remember how happy he was when he trained a group of autistic people in umbrella making. They were very slow but he was surprised by their perfection.
What's the one thing that hooked you the most in your partner?
Remya: His thrift I would say. At times, it can be exasperating. There were times, during those early days of struggle, when he would prevent me from using even a Rs 10 note to buy something to eat. Fed up I would tell him that he was saving to conduct my funeral. Then one day he came to me with a box and asked me to open it. I found the box full of money, hundred and five-hundred rupee notes. He had been secretly saving this for five years. It was this money that we used to buy the three cents of plot in Poovachal on which we live today.
Aji: She is free spirited, brilliant, and a bit crazy. I know she will never leave me. She also gives me respect, something that I had badly needed.
What is the wider dream you nurture together?
Remya: I would say two things. One, I want the house that we are building on our three cents to be completed. We are also saving money to buy a four-wheeler. Now, if we have to showcase our products at an exhibition, it will take six to seven trips in his two-wheeler to get all our products to the exhibition hall. If we have a car, this can be done in one trip. We can also convert the car into a makeshift shop. And while I do the selling he can lie down at the back without anyone noticing.
Aji: We would also like to start a large unit to help paraplegics like me, and their wives and kids. Then, we also love to travel. I had traveled a lot before. Remya but has not traveled much. Last month we went to Piravom on a train. It was only her second train journey.
A word for the youngsters?
Aji: Shed your egos. It is the only way you can lead a happy contented life.
Remya: Stick to what you think is right even when life hurls the worst kind of difficulties at you.