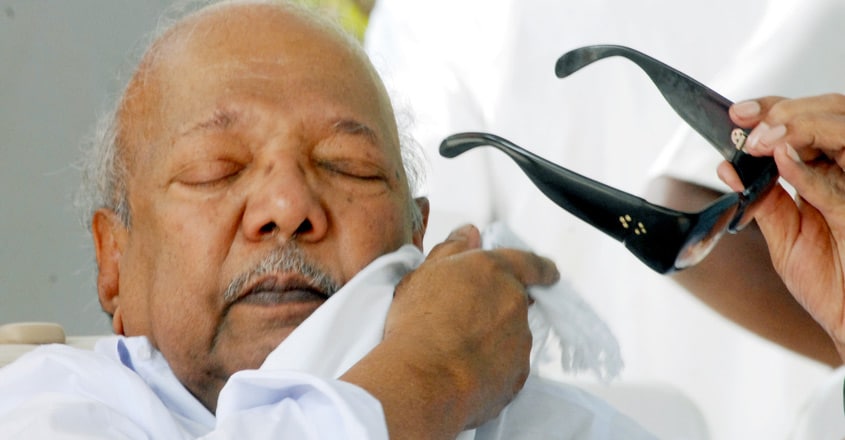 For all his political life while maturing as an atheist leader in Chennai, M Karunanidhi's childhood was spent around a vintage temple in his village of Thirukkuvalai in east-central Tamil Nadu. In fact, his ancestral home is bang opposite the stone-built Thyagarajar Kovil. The property now functions as a library in what is now Nagapattinam district by the Bay of Bengal.

The shrine has a sprawling temple tank adjacent to its precincts that has a strikingly high tower (gopuram) which functions as the sleepy gateway to the sanctum sanctorum. In hindsight, it is a paradox that the ambience in which one of post-Independent India's tallest rationalist leaders grew up was soaked in devotion to god.
Sprawling paddy fields, typically dotted with clusters of tall palmyra trees, continue to dot Thirukkuvalai where a chunk of its old houses exist as tiny thatched-roof structures. At best, even today, nothing wider than a car can get into the area, going by the width of the lone road linking it with the outer world.
Little Karunanidhi — his real name was Mu Dakshinamurthy — got his elementary education from a neighbourhood school. To complete his class 10 near Tiruvarur, the boy had to walk a total of 20 km up and down from home morning and evening. The first struggles of the son of lowly couple Muthuvel and Anjugam Ammal were against penury and the British who ruled his country those days.
From there, to become a five-time chief minister of one of the country's political most important states is no minor achievement. The nearest venue for social agitations was Tiruchirapalli, which was almost 150 km westward of his obscure countryside. It was in that Cauvery-bank city (then called Trichinopoly by the imperial English) that Karunanidhi learned the basic lessons of public life and politics. In 1957, he successfully contested from Kulithalai, near Karur, and moved to Thanjavur constituency five years later.
Soon, by 1967, Madras (now Chennai) became the centre-stage for his rise as a leader that catapulted him becoming a legislator and then the state's ruler. Once he gained foothold in the cosmopolitan state capital and slowly began to be called Kalaignar (artiste), Karunanidhi would very rarely visit his pastoral village back in Thirukkuvalai, though he did make it a ritual to go there ahead of swearing in as chief minister.
Karunanidhi's mother was otherwise an obscure personality, but the Dravidian leader chose to build a memorial for the gritty home-maker. The massive gateway at Kattur near Tiruvarur, another city by the Cauvery, stands in celebratory contrast to the humble life the woman led while grooming her ambitious son. Their house-turned-library in Thirukkuvalai has not just its set of books but photos of yesteryear Karunanidhi adorning its walls.
MK's late nephew and DMK stalwart Murasoli Maran, who went on to become a Union minister, was effectively a sibling for Karunanidhi from the same village. The Thirukkuvali library also has statues of Maran (1935-2003) occupying its interiors along with that of Muthuvel and Anjugam.
In this time of year when rains drench the whole of India, monsoons characteristically avoid Karunanidhi's Tamil Nadu on the wrong side of the Western Ghats. Thus, in the July heat, his Thirukkuvalai village remains an expansive stretch of dry land. Behind his one-time house are fields where Karunanidhi's parents worked hard to earn a living. The village's soil, though, did prove its long-term fertility with the sprouting of a leader as tall and pivotal as MK.