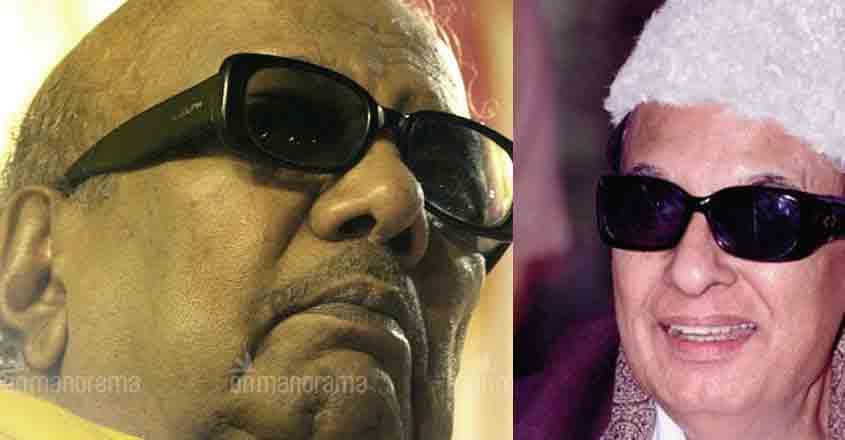 M Karunanidhi and M G Ramachandran had moved along the mainstream of Tamil Nadu politics like a might river, and then parted ways when relations between them reached a flashpoint. Both the phases — of swimming together till 1972 and then boarding separate boats — are significant phases in the recent history of the southern state.

Both MK and MGR had strong grounding in Tamil cinema, which empowered their status in the state's politics. Karunanidhi had begun his tryst with movies when he was just out of teens. MK was only 23 when he penned dialogues for the 1947 film 'Rajakumari'. The 134-minute movie directed by A S A Sami had MGR in the main role opposite actress K. Malathi. The film, which was MGR's 15th but his first as the hero, was produced by the Jupiter Pictures. The Coimbatore-based company had hired Karunanidhi to write for movies. The Dravidar Kazhagam, founded by reformist-revolutionary E V Ramasamy Periyar, who was Karunanidhi's political inspiration, was three years old when MGR acted in 'Rajakumari'. The man, who soon became a star, was not with the Dravidian movement those days; instead he was a supporter of the Indian National Congress that was spearheading the country's independence struggle against the British.
During his association with the 1934-founded Jupiter Pictures, MK used to live in a village called Sankanellur close to Coimbatore. Adjacent to it was Ramanad, where MGR stayed. Around that time, MK's surroundings were hit by a wave of plague, forcing him to send his family back to their native Thirukkuvalai village near Nagapattinam. Karunanidhi then stayed with MGR at his home. That phase brought them closer. Random political chats between them drew MGR towards the Dravidian movement.
As for Tamil cinema, their relations were synergic: MGR's stardom rose steadily with the power of MK's film dialogues. It's another matter that among the two, Karunanidhi earned far less than MGR did. For instance, Modern Theatres that had employed both MK and MGR and it would pay the former Rs 500 per month and the latter Rs 3,000. (A year after its establishment in 1936, 'Sathi Ahalya' was the first film of Salem-based Modern Theatres that eventually closed down in 1982)
In 1987, when MGR died at the age of 70, a grieving Karunanidhi, detaching briefly from their political differences, hailed the superstar's professional skills. There was a 1953 movie called 'Naam' produced jointly by Jupiter Pictures and Mekala Pictures, in association with MGR, his brother M G Chakrapani, director A Kasilingam and actor P.S. Veerappa, which mirrored the Leftist views of Karunanidhi and Co. "I would say with no doubt that MGR acted so emphatically and beautifully in a way that he did in no other films before or after that," MK recalled, turning emotional.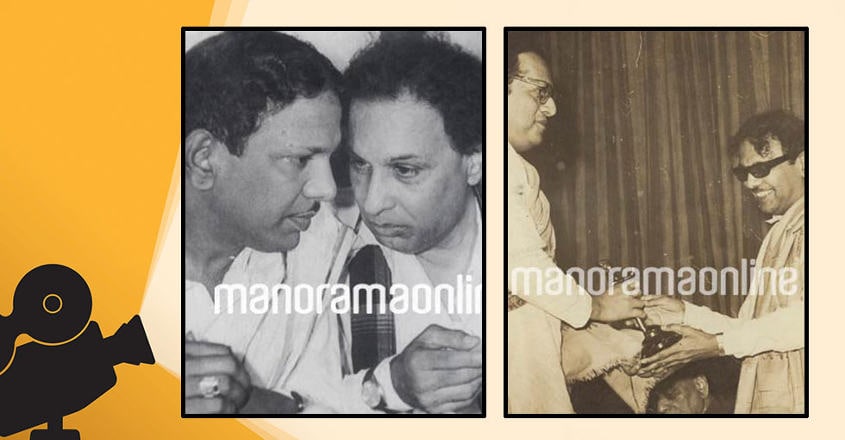 The year 1953 was when MGR finally joined the Dravidar Kazhagam that strove to eradicate the caste system and untouchability which prevailed in the Hindu society of the times. Revered leader-writer C N Annadurai, impressed with MGR's acting skills, invited him to perform in a Shivaji-centric play he had penned. MGR agreed, but happened to pull out later. That prompted Annadurai to do a second round of scouting which helped him discover a certain Ganesan to do the role of the 17th-century Maratha king. So impressed was Periyar, who watched the play, with the 25-year-old actor's performance that he named him Sivaji Ganesan — a name that soon shot up in the world of Tamil cinema.
In 1969, MK became chief minister. Soon, differences began cropping up between him and party colleague MGR. Their relations only worsened. And in 1972, MGR broke away and formed the AIADMK. Political pundits usually give two different reasons to this move: one, that actress J. Jayalalithaa played a shrewd role in it and, two, that MK had by then become autocratically ambitious.
In the first quarter century of their relation that overall spanned four decades, MK and MGR moved together, Karunanidhi would recall later. "We shared happiness, sorrow, tears, smile, successes, failures, highs and lows," he reminisced, wistfully. Then things fell apart, after which they lived as adversaries for 15 years. "I was later told some in Delhi worked behind to split us."
Substantiating, MK said that he and MGR mapped out their areas of campaign for the 1971 state election campaign. "Our party won 155 of the 234 assembly seats. That disturbed certain rulers at the Centre; they engineered the split."
Karunanidhi used to say that MGR was interested in becoming a minister in MK's cabinet. To this, the top leader told MGR that he would have to give up his acting career to pursue an administrative role in the government. MGR didn't agree to it — and formed the AIADMK. The nascent party won the next (1977) elections and MGR went on to become the CM till his death a decade later. The whole of this period from 1972 was marked by bitter rivalry between the two one-time chums.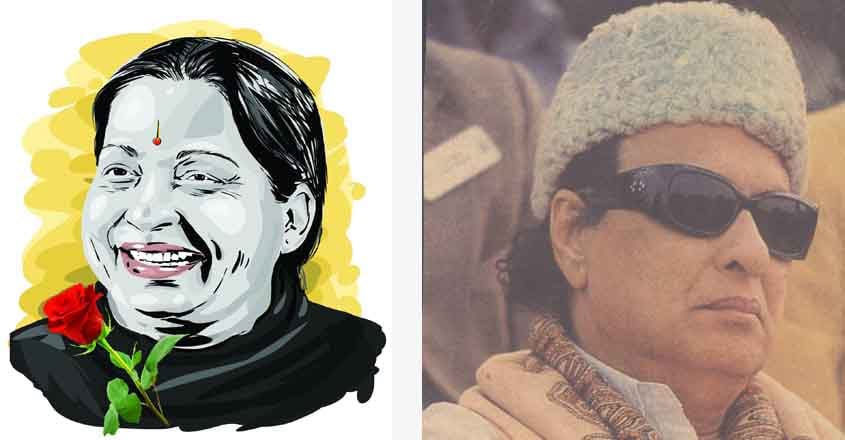 Jayalalithaa, a protege of both the leaders, went with MGR when the AIADMK was formed, but as differences cropped up with Ramachandran she approached MK to join his camp. An overjoyed Karunanidhi, with Jayalalithaa sitting in front of her, rang up MGR over phone and told him: "Your sweetheart is right now with me. What can you do?" It was a call that hurt MGR deeply. He took it as a case of the heroine deserting the hero and joining the villain. In a week's time, MGR managed to bring Jayalalithaa back to his fold. On her side, Jayalalithaa found it a matter of extreme disgrace to have been forced to seek help from MK. Having had to do that subsequently increased her rancour towards Karunanidhi, according to political observers.
MGR too did face his share of criticism during his rule of the state. There rose allegations that his government was riddled with corruption, against which the CM was taking no strong steps. By 1983, some claimed that MGR 'played politics' with the Sri Lankan Tamils, whose rebellion had sparked a civil war in the island-nation. Karunanidhi decided to make use of the situation. That is how he once again became a scriptwriter for films in Tamil Nadu, where cinema is a major factor that can decide public opinion.
Thus, in 1987, came out the movie .'Neethikku Thandanai' for which MK wrote the story. It blew hot and cold against Karunanidhi's political adversaries. People flocked to theatres in big numbers to see how a political thriller painted their rulers and public representatives as villains. Soon, 'Makkal En Pakkam' released, as a remake of the 1986 Malayalam movie 'Rajavinte Makan,' which was based on a 1980 Sydney Sheldon novel titled 'Rage of Angles'. Such 'semi-political' films had MK's blessings, it was believed. MGR sensed trouble. The opposition sought to take up the matter on the floor of the assembly, in a bid to hit out at the government.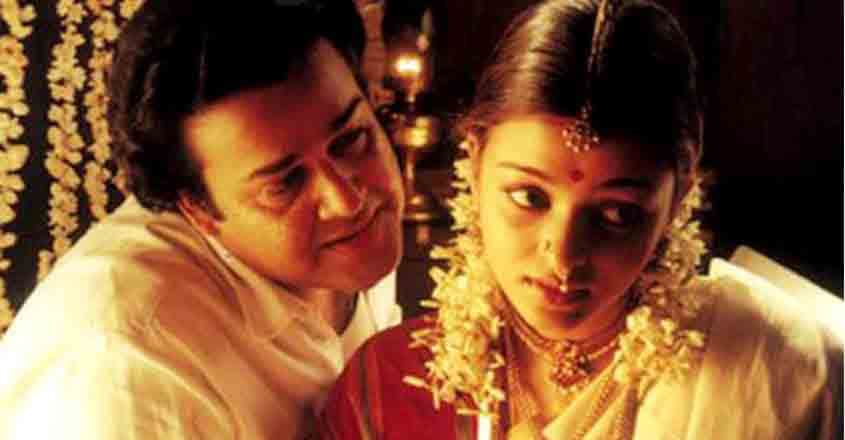 As Congress member S Thyagarajan spoke of an increasing tendency to portray public leaders in bad light, moves began to clamp a ban on political movies in the state. Such arguments gained steam, following which Karunanidhi began making a film, deploying his son MK Muthu as the main actor. The idea was to counter MGR's superstar status. But the people of the state didn't find charm in the histrionics of Muthu, who, frustrated, gave up his cinema plans. He even approached later the AIADMK camp complaining of no ways to live. Jayalalithaa gave him a relief of Rs 5 lakh. This instance became the focus of a 1997 movie Iruvar, directed by Mani Ratnam.
As Tamil cinema continues to be high on dramatic plots, the pioneers who nurtured the culture have met with their end one after the other: first MGR (1987), then Jayalalithaa (2016) and now Karunanidhi.