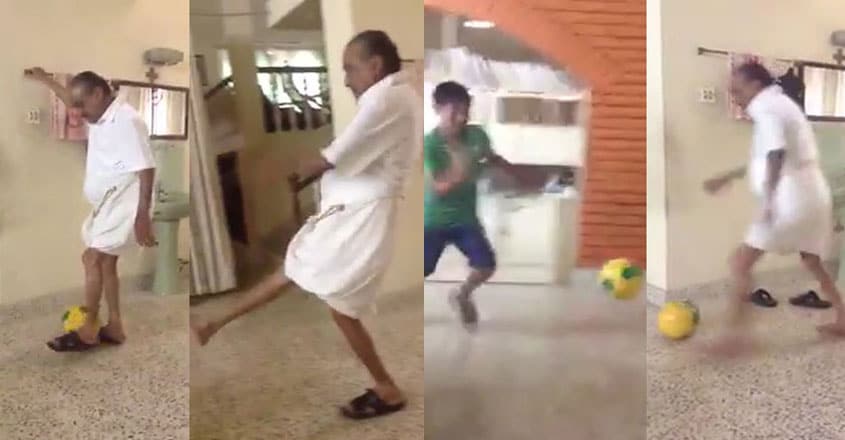 Kottayam: The Kerala Congress (M) party workers still haven't recovered from the shock of sudden demise of their favourite leader K M Mani. Meanwhile, a video of K M Mani, in which the leader is seen in a playful mood with his grandchildren, is doing the rounds on social media.

Mani was devoted to his family and loved to spend time with his children and grand children. This rare video shows the fun side of the loving grandfather in him.
In the video, K M Mani is seen playing football with his grandchildren inside his house. The video is widely shared by his admirers and party workers. He even argues with his grandchildren over a self goal. When his footwear flew off his feet while trying to kick the ball, K M Mani is seen roaring with laughter.
When Mani sir quit smoking
K M Mani was always spotted with cigarettes since his high school days. He didn't give up the habit even while he got busy with politics. Though he tried to quit many times, it didn't work out. However, it was one significant moment in his life which made him decide to quit smoking forever. There is a story of incredible love behind it.
Mani sir was elated with happiness and excitement from the moment he knew that his daughter Elsamma was going to become a mother. However, she had a difficult gestational period. Elsamma was admitted to the hospital and the doctors informed that the lives of both the mother and the baby were in danger. Worried for his daughter and grandchild, Mani waited at the hospital verandah praying to all the gods he knew. He offered to quit smoking if his daughter and grandchild were saved. His prayers were heard and Elsamma delivered the baby without any major complications. K M Mani kept his word and quit smoking forever. His wife Kuttyamma, too, had said in many occasions that K M Mani who gave up smoking hadn't even touched a cigarette since that day.