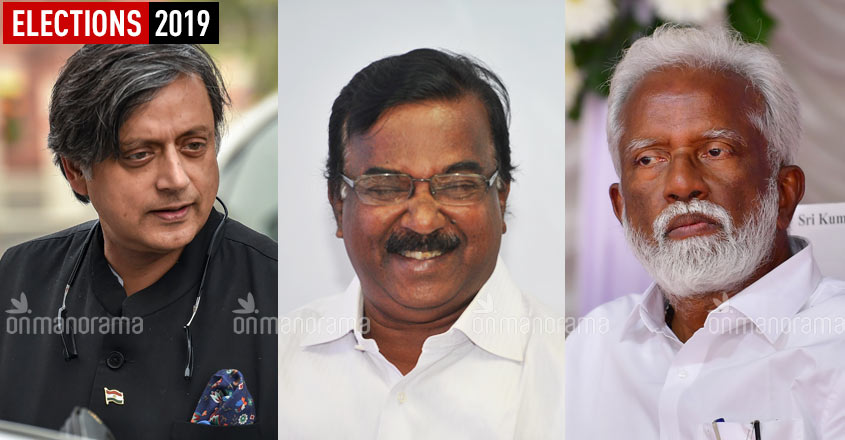 Minority consolidation in favour of the Congress and the desertion of the Left by its traditional voters would be highly simplistic ways of coming to terms with Shashi Tharoor's phenomenal success in Thiruvananthapuram, a constituency that many observers say is saffron at heart.
After the voting, even Tharoor, exuding the usual post-poll confidence of a candidate, did not give himself a margin of more than 30,000 votes, double that he managed in 2014. As it turned out, Tharoor surprised himself on counting day and won with almost the very same majority he had secured when he came fresh to the state in 2009 after his UN stint; if then the margin was 99998, this time it was 99989. The BJP said the minorities conspired. The CPI said Tharoor robbed its votes.
A deeper analysis suggests that pitted against Kummanam Rajasekharan's rustic and monk-like austerity and C Divakaran's old style Communist vibes, more than anybody else the young urban and rural voters in the constituency found Tharoor's intellectual flamboyance, his flashy image of a global Indian at ease in elite company, a far better bet.
Tharoor's turnaround
Shashi Tharoor led in six of the seven Assembly segments that make up the Thiruvananthapuram constituency. In 2014, O Rajagopal had led in four of the seven segments. This time Kummanam led only in Nemom, the segment considered perhaps the most saffronised part in the whole of the state.
But even in Nemom, Tharoor managed to bridge the gap. If the difference was 18,046 votes last time, this time it was brought down to 12,041. It was not all. Tharoor even got his vote percentage up remarkably in Nemom. From 26.97 per cent in 2014, it ballooned to 32.88 per cent this time.
Kummanam's fight
This is not to say that Kummanam lost badly. He had put up a far creditable performance than what the final tally shows. Figures reveal that he could nearly repeat O Rajagopal's effort in 2014 that saw Tharoor pushed dangerously to the brink.
If Rajagopal secured a vote share of 32.45 per cent in 2014, Kummanam's was only marginally lower at 31.25 per cent. In five of the seven segments, Kummanam held on to the BJP's 2014 vote share, with just a marginal less than one per cent decline in some.
For instance, in Nemom his vote share was 41.40 per cent, very nearly similar to the 41.89 per cent share last time. A very similar, and negligible, decimal point fall was witnessed in Neyyatinkara, too, where he came second. In Vattiyoorkavu, Kummanam even bettered BJP's 2014 performance; from 36.83 per cent last time to 37.41 this time.
A notable fall was found only in Kazhakuttam and Thiruvananthapuram, two urban segments that O Rajagopal had led last time. Even here the drop was less than 3 per cent. It was in Kazhakuttam, an urban centre flourishing around the Technopark, where O Rajagopal secured his biggest lead after Nemom in 2014.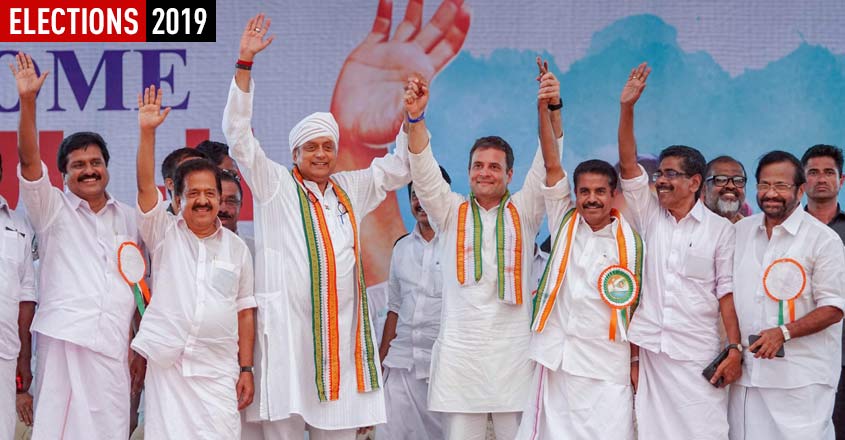 Folly of Left lament
Here Tharoor had improved his vote share this time by more than 5 per cent and more than neutralised Rajagopal's lead of over 7,600 votes despite the fact that Divakaran not only held on to the CPI share in 2014 but also improved on it.
This brings us to the CPI's public lament that Left votes had flown en bloc to the Congress candidate, resulting in Tharoor's massive victory. At least in Kazhakoottam it has not. Nonetheless, it is true that in other segments the CPI has suffered some erosion of votes. In Kovalam, Neyyatinkara and Parassala the party lost about 3 per cent votes when compared to 2014. As for Thiruvananthapuram, Vattiyoorkavu and Nemom, the drop was less than two per cent.
The negligible to modest drops in the vote share of both the BJP and the CPI points to perhaps the most defining nature of the verdict this time. Tharoor's victory margins in all the seven segments were five to six percentage higher than the combined fall in the vote shares of the BJP and the CPI. This can mean just one thing: new voters in Thiruvananthapuram, especially those in the 18 to 25 bracket moving around with dreams of making it big in life, found Tharoor hugely acceptable.
Rise of secular Hindu
Of course, there was minority consolidation. Tharoor made his biggest gains in Kovalam, Neyyatinkara and Parassala, the western tip and the eastern section of the constituency where minority Nadars and Christians are concentrated. His vote share swelled by at least 8 per cent in all these three segments.
At the same time, one also cannot lose sight of the massive secular consolidation that happened. The biggest turnout this time was recorded in Hindu and BJP dominated areas like Kazhakuttam and Nemom, areas where Tharoor and not Kummanam made considerable gains. His stupendous showing in urban areas like Vattiyoorkavu and Thiruvananthapram (where his vote share zoomed from 27 per cent to 44 per cent) is further proof that even the Hindu community in the southernmost constituency of the state had voted overwhelmingly in favour of Tharoor.
Hitting below the belt
The BJP's vilification campaign, too, backfired big time. The BJP state president P S Sreedharan Pillai, in what now looks like an outrageous attempt to show Tharoor as morally corrupt, alleged that he had married a lady from Adoor. Tharoor promptly went to court, and Pillai was not heard making the charge again.
Later, in the midst of electioneering, the BJP unleashed a campaign saying that Tharoor had slighted Nair women in his 1989 novel 'The Great India Novel'. NSS founder Mannathu Padmanabhan's grandson himself came out publicly in support of Tharoor. There was also an attempt to make Tharoor look like a snob who found fishermen and their catch repulsive. Given the astounding gains he made in Kovalam, Neyyatinkara and Thiruvananthapuram, it can be safely assumed that the coastal folk had looked upon such charges with a sneer.
Tharoor's campaign message was simple and direct. "You are electing a person to take your problems to New Delhi and beyond. Therefore, think hard before you vote," he consistently told his voters, especially college students, during the campaign. Even allowing for a bit of arrogance, this pitch seems to have put things in perspective for voters in Thiruvananthapuram.
Add to this the fear of a saffron surge, and bingo! Tharoor sprang a surprise on himself.