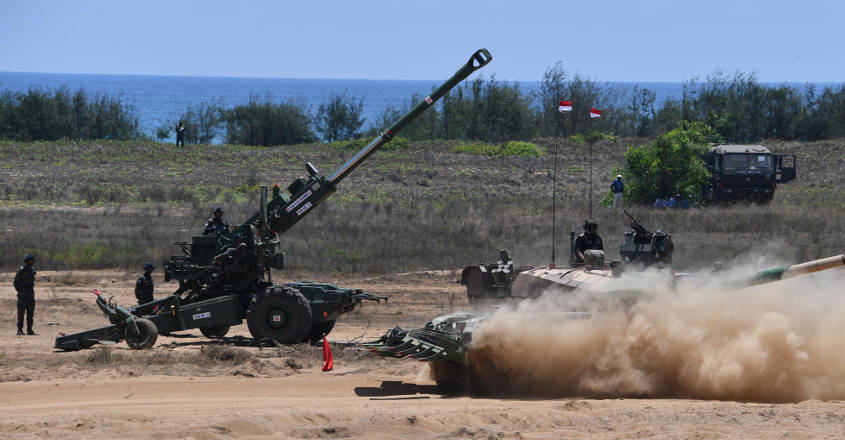 Mitigation of inadequacies in the military inventory is one of the much-publicised commitments of the Central government.
The 'Make in India' initiative, launched with great fanfare,' was expected to result in the modernisation of the defence inventory. It had the stated intend of giving a fillip to indigenous defence production too.
High-value acquisitions
The government also initiated a number of high-value acquisition proposals. One such proposal was the 'procurement of assault rifles' for the Army.
Every soldier, irrespective of rank and deployment, is authorised a personal weapon. Besides the 13 lakh (approx.) personal weapons, there are other arms like light machine guns (LMGs), medium machine guns (MMG), and other 'area-specific' weapons authorised to various units.
The arsenal, comprising a complex range and depth of hardware, cumulatively becomes a logistics manager's nightmare.
Armies world over adopt 'standardisation' to reduce inventorial-range, improve equipment availability, reduce maintenance costs and improve inter-operability.
New rifles
The Indian Army had achieved a credible degree of standardisation through the induction of the indigenous 5.56 mm INSAS family, phasing out the 7.62 mm calibre rifles.
Technological advances and resultant obsolescence compel defence services to periodically acquire new weapon systems, discard existing ones. With infantry losing faith in the personal weapons currently held, the Government of India approved the purchase of about eight lakh new 7.62 MM assault rifles; 44,000 LMGs and 44,600 carbines for the Army to replace ageing weapons. However, in June this year, it became public that the procurement would be limited to 2.50 lakh assault rifles. Though, it is widely believed that inadequacy of budgetary support triggered the cut, there are questions that merit serious consideration.
Operational logic
The discard of 7.62 mm calibre and consequent introduction of 5.56 mm calibre was based on operational logic put forth by the Army. It was widely believed that the 7.62 mm was an overkill and 5.56 would save on resources while drawing more on the enemy through incapacitation rather than kill.
The current proposal to revert to 7.62 mm raises various questions. Indian army is often accused of often setting 'impossible or far-fetched' specifications and targets for designers and manufacturers. In that light, it is important to understand the rationale that necessitates reintroduction of the 7.62 mm calibre. Was the introduction of the 5.56 mm based on flawed logic? Have operational parameters now been revised mandating reintroduction of 7.62 mm? The change of calibre involves heavy capital expenditure. It is believed that the Ordnance Factory Board (OFB) had closed the 7.62 mm production line and established an assembly line for 5.56 mm. The process will now have to be reversed. Both closure and establishing production lines cost money.
Though pecuniary costs are subordinate to national interests, precious resources cannot be frittered away unless based on well-reasoned logic. The shift in calibre therefore would need serious reconsideration and revalidation.
The reduced figure is indicative of a 'phased procurement' program unless the Army decides to 'differentially' equip its soldiers. Differential equipping of soldiers with personal weapons is manageable only if the weapon deployment is geographically restricted. The existing system of 'unit relief programmes' may not lend itself to such restrictions. As and when procurement of 7.62 mm assault rifles fructifies, ordnance depots would be inundated with the returned serviceable INSAS that nobody else wants. It would also be left holding a large non-moving inventory of serviceable surplus spares and the entire range and depth of spares for the newly introduced weapon system. The government will hardly be able to convince any other 'Friendly foreign country' or its own paramilitary and police to accept the 'discard.' Considering the dangers involved in disposal by smelting or other means, authorities would have to come up with foolproof procedures. The impact is not just confined to the supply chain dynamics. It but could well spill over to the munition availability during operations. This could adversely impact the supply chain that is already reeling under tremendous manpower cut, poor obsolescence management and ineffective sourcing. In fact, the supply chain has been dealt a challenging blow and its impact is unfortunately fathomable only during crisis and conflict.
While well-considered, obsolescence-driven changes are costly yet acceptable, ill-considered changes may present situations that have not been bargained for.

(Jacob Tharakan Chacko is a retired Major-General with 36 years of experience at various managerial and directional posts. He is a recipient of the Sena Medal. He may be reached at: jacobtharakanchacko@gmail.com)