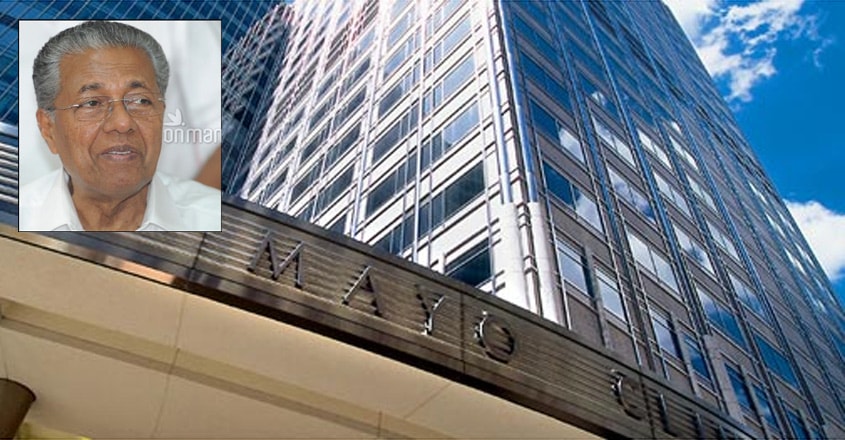 Kerala chief minister Pinarayi Vijayan will head to the Mayo Clinic in the US for a 17-day 'medical check-up' on August 19.
Sources said the CM could have undergone treatment at the Mayo Clinic earlier, possibly during his 13-day visit to the US which ended on July 18.
Read in Malayalam: മുഖ്യമന്ത്രി വീണ്ടും യുഎസിലേക്ക്; മയോ ക്ലിനിക്കിൽ ചികിൽസ നടത്തും
The Mayo Clinic, Rochester, Minnesota, was ranked number one in the US by the US News and World Report in 2016-17. Further, it was ranked first in eight speciality areas including diabetes, neurology and urology. It was ranked second in cardiology and third in cancer.
State to bear expenses
The CM will be accompanied by his wife, Kamala Vijayan. Sources said all expenses would be borne by the state government. It would be listed under the 'foreign tour' head of account operated by the General Administration Department.
Health concerns
Speculation was rife on the CM's health after he was abruptly admitted to the Apollo Hospital in Chennai on the midnight of March 3. The CM's office immediately put out a note terming it a 'routine annual medical check-up.' The very next day, Pinarayi posted his pictures with Tamil actor-politician Kamal Haasan when the latter called on him in the hospital. The chief minister had then looked healthy and in good spirits.
Alerts: What will happen after Idukki dam shutters are lifted?

Others at Mayo
In 2015, former defence minister AK Antony had visited Mayo Clinic for a check-up. In 2016, the then Kerala Assembly speaker G Karthikeyan had visited Mayo Clinic for the treatment of liver cancer. He was accompanied by Ramesh Chennithala, the then home minister.