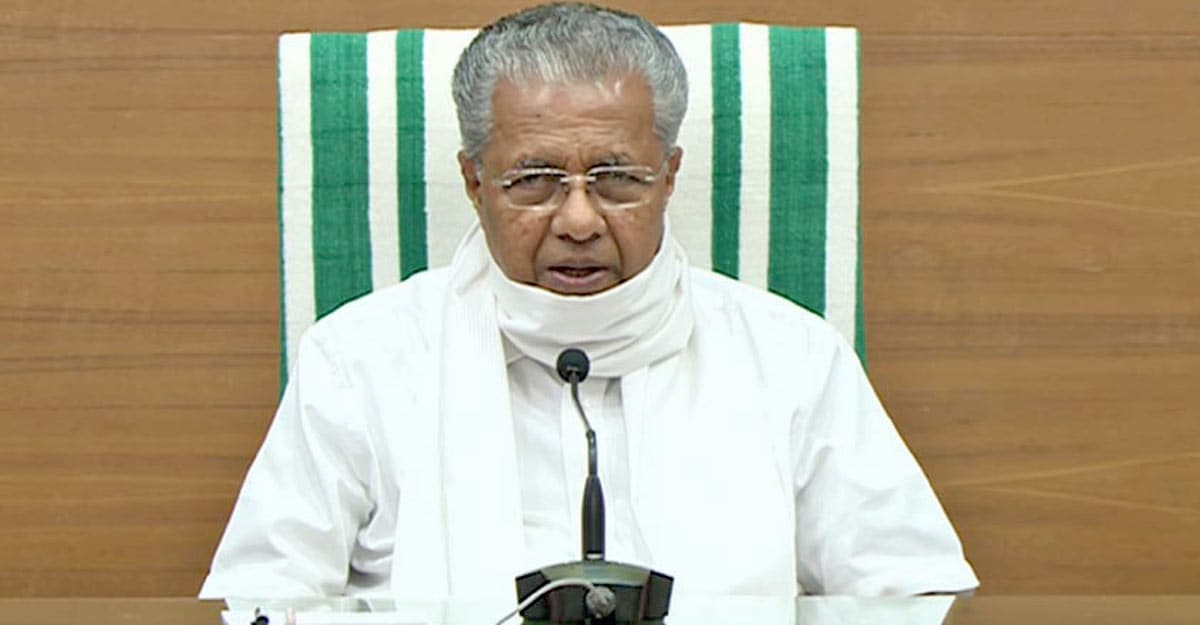 Thiruvananthapuram: Kerala recorded 57 more COVID–19 cases on Monday, taking the State's total number of cases to 1,326. Eighteen patients recovered, Chief Minister Pinarayi Vijayan informed.
Of the 57 new cases, 27 are returnees from abroad and 28 people came from other states. The remaining two are a staffer of Air India and a healthcare worker.
With this, the number of active cases has risen to 708, while the number of recovered patients is 608.
District-wise split-up of the new cases: Kasaragod – 14, Malappuram – 14, Thrissur – 9, Kollam – 5, Pathanamthitta – 4, Thiruvananthapuram – 3, Ernakulam – 3, Alappuzha – 2, Palakkad – 2, Idukki – 1.
Those who tested negative are from Malappuram – 7, Thiruvananthapuram – 3, Kottayam – 3, Pathanamthitta, Palakkad, Kozhikode, Wayanad, Kannur – 1 each.
Of the 1,39,661 people under observation for suspected infection, 1,38,397 are home/institutional quarantined and 1,246 hospitalised. As many as 174 people were hospitalised on Monday.
Of the 68,979 samples sent for tests, 65,273 have turned negative. Samples of 13,470 people among priority groups were tested as part of sentinel surveillance. Of them, 13,037 have turned negative. In the past 24 hours, 3,099 samples were sent for tests.
There are 121 hotspots in the state. Newly included hotspots are in Palakkad and Kannur (5 each).
Key points from the CM's press meet:
In line with Central guidelines, the Kerala government on Monday extended the lockdown in containment zones till June 30, but eased curbs in many sectors including allowing indoor film and television shoots and inter-district bus services connecting neighbouring districts.
• 24-hour curfew will be imposed in containment zones.
• In containment zones, people will be allowed to go out only for attending funeral of close relatives and they should approach police station for passes.
• State will decided on reopening of places of worship by June 8
• People coming from other states should register on Kerala government's 'COVID Jagratha portal' and take pass before the commencement of their journey.
• Inter-district bus services to neighbouring districts will be allowed. All seats in a bus can be occupied. No standing passengers allowed. All passengers should wear masks and sanitisers should be provided in the bus.
• For train journey, passengers coming with return tickets from other states, need not undergo quarantine.
• Cinema shooting can continue in studios and indoor locations by strictly following the safety protocols. Not more than 50 people will be allowed. For television programmes, 25 people will be allowed. Outdoor shooting will be stay banned.
• Wedding ceremonies will be allowed at Guruvayur with a maximum of 50 people. Weddings in auditoriums are also allowed with a maximum of 50 people.
• Schools will reopen only in July or later.
• In taxis, besides the driver, three more people are allowed.
• In autorickshaws, two more people besides the driver allowed.