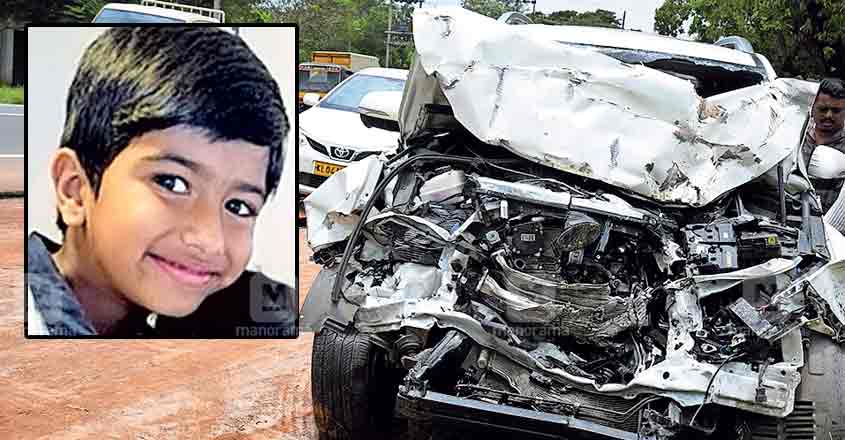 Cherthala: A boy died as seat belt tightened on him severely when the car in which his four-member family was travelling in was hit by a lorry on the national highway near Thiruvizha here in Kerala's Alappuzha district.
The deceased Johan, 7, died on the spot of the accident that happened at 3:30am yesterday. He is the son of Kizhakethalakkal Thomas George and Mariam.

The family is from Kanjirappally in Kottayam district.
Thomas, Mariam and daughter Diya who were injured in the accident have been admitted to a private hospital in Kochi. Thomas and Mariam escaped with injuries to hands, legs and head as their air bags were deployed on impact. Diya sustained only minor injuries.
Johan died from injuries to internal organs, initial autopsy report says. There are marks on his body caused by the belt. No other external injuries are visible.
It is likely that his seat belt malfunctioned on impact and subsequently his torso and stomach were strangled.
Johan was seated behind Thomas. His air bag seems to have failed to deploy. The jolt may not have activated its censors, police say.

The family was travelling from Chennai to Mariam's house in Alappuzha. Thomas was at the wheel. The car collided with a timber lorry headed for Perumbavur from Marthandam, Tamil Nadu.

The injured were rushed to Cherthala taluk hospital by police and local people. The three were then shifted to Kochi for better medical care.

Johan's autopsy was held at the Cherthala hospital. The body was then taken to a private hospital in Arthungal.
Mariam is the daughter of industrialist George L Mathew who is the chairman of Duroflex Private Limited, a leading maker of rubber mattresses.