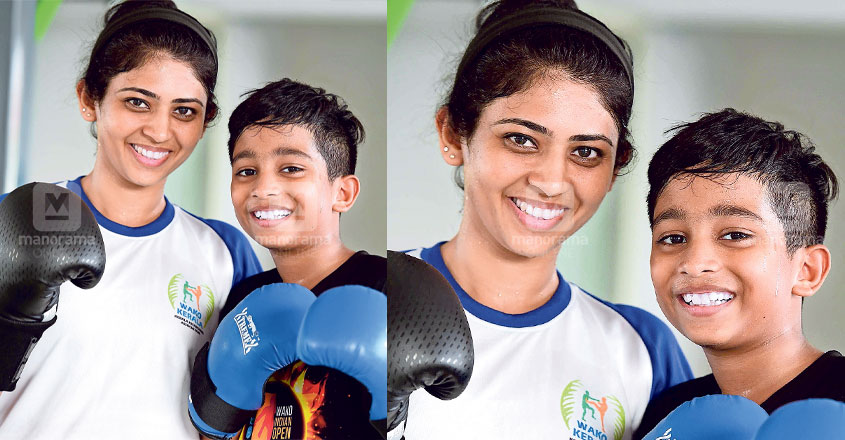 Kochi: A 35-year-old Keralite woman and her nine-year-old son are literally fighting it out. While Anne Philip, a native of Edappally in Ernakulam, won two gold medals, her son Chris Jubin secured a bronze medal at the WAKO Indian Open international kickboxing tournament held recently in New Delhi.
Anne won the gold for light contact and kick-light contests for senior women in the below 60kg category. Chris won the bronze for his point fighting for children above the 32kg category. Son of Anne and Jubin Peters, founder and managing director of Q3 Ventures, Chris is a class four student at the Rajagiri Public School Kalamassery.
Apart from Indians, kickboxers from Kazakhstan, Ukraine, Jordan, Nepal, Iran and Kirgizstan took part in the tournament.
Curious about kickboxing
It all started when Anne took her son to the YMCA gymnasium at Chittoor Road to learn kickboxing about 1.5 years ago. After watching couple of classes, Anne got curious - 'Why not try my hand at kickboxing?'
A fitness freak, Anne already had been working out for two hours a day.
"But it has been only one year that I started the training for kickboxing. Relatives and friends were apprehensive initially that I might get hurt. However, after I won the medal at championship, they are no more scared," Anne explained.
The mother-son duo had been preparing for the WAKO Indian Open international kickboxing tournament six months ago. They underwent training with Kerala Kickboxing Association coach V S Kiran twice a day, in the morning and evening. Anne won the gold medal in the state championship held in Kottayam. Chris also took part in the junior national championship held in Telangana.
The confidence they gained after participating in these contests prompted them to prepare for the international event.
Chris won the medal early in on the championship.
The young boy then cheered on his mother to get the better of her rival. Anne won the gold after beating Indian nationals.
Several others from Ernakulam also won medal at the tournament - S V Arun, P R Sadak (gold), S Sudheesh Kumar (silver), Akash Anil, and N P Solly (bronze).
A 13-member team led by Kerala Kickboxing Association general secretary K P Nataraj took part in the championship. The Kerala team won eight gold, two silver and six bronze medals.
What is kickboxing?
Kickboxing is a combat sports that combines the features of both boxing and Karate. Kickboxing involves both the 'punch' from boxing and the 'kick' from karate. Kickboxing was started in Japan during the 1950s for fitness and self-protection.
It was later developed into a sporting event. Several kickboxing championships are held across the globe.
The World Association of Kickboxing Organizations (WAKO) has got a provisional recognition from the Olympic committee. The kickboxers hope that the event would be included in the Olympics.