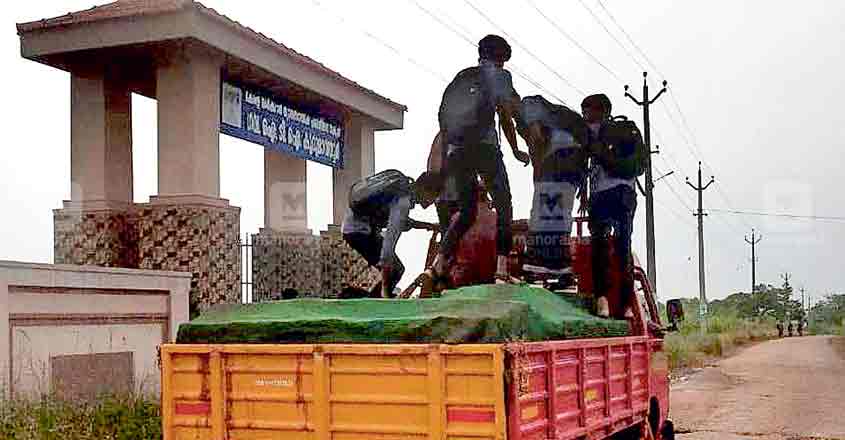 Thaliparamba: Hitchhiking on trucks could be exciting for some but resorting to it on a regular basis has no charm as students in a Kannur locality realise.  They regularly travel home from schools and other educational institutions on trucks carrying laterite bricks. They could be spotted atop trucks often in the Koonam area.
The teens have been forced to hitchhike on trucks risking their lives after all the five buses that plied along the Pokkundu-Koonam- Kolathur road in Kurumathoor panchayat stopped services citing the pathetic condition of the stretch.
Buses skip the road as the macadam-tarring work has reached nowhere though this project was allotted Rs 8.91 crore under the Pradhan Mantri Grameen Sadak Yojana (PMGSY) three years ago.
Now even riding two-wheelers is dangerous and the local residents, as well as students of the Government ITI at Koonam and several schools in the area, have no option but to walk along a three-km stretch which is unmotorable or take a ride in the trucks.
As per the original schedule, the work on the 11.965-km road should have been completed by March 29, 2018. The contractor, a Kasaragod-based firm named Chattanchal Engineering Company, had carried out tarring in a mere 2.5 km. Though the deadline was later extended to December 31, nothing happened.
When the matter came to the notice of James Mathew, MLA, he directed local body members to speak to the contractor. However, the work again did not proceed. Subsequently, the Chief Engineer based in Thiruvananthapuram issued a notice to terminate the contract on October 28. Still, the situation remains the same.
Incidentally, the pathetic condition of the road was mentioned at the development seminar organised by 'Malayala Manorama' at Kurumathoor panchayat and a news item in this regard was published in the newspaper. Following which, the notice was sent to the contractor. The buses too stopped services around the same time.