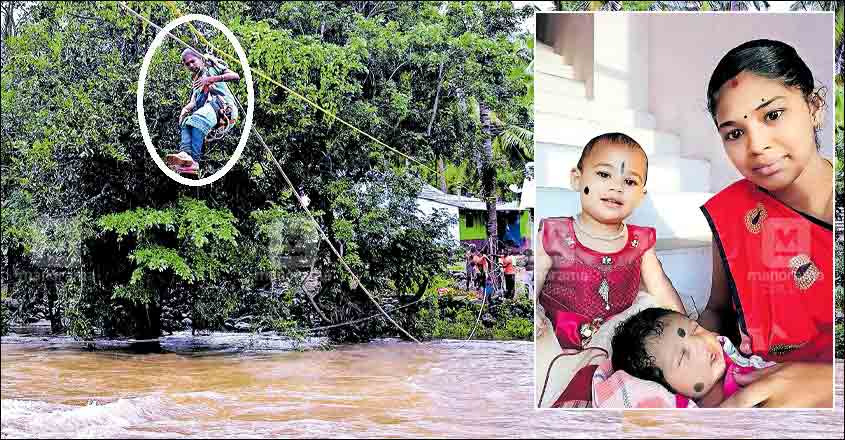 Agali: Natural disasters often give rise to enduring images that people can relate to even after several years. A few photographs taken during the two severe floods in Kerala in 2018 and 2019 have such epochal value. An image of a pregnant woman who was being ziplined along with her toddler daughter across a swollen river in Palakkad is associated with the recent floods. Today, that survivor is a mother, yet again.
Lavanya, the subject of the gripping images, is now taking rest at her husband's home, near here, after giving birth to a boy at 6.49 a.m. on October 2.

Several people from the country and abroad who watched the rescue operations at our marooned colony on the television had called me then, recalled Murukeshan, her husband.

Lavanya had then expressed her gratitude to the people who helped her and her family to safety without even a small injury.
The Fire and Rescue Department had safely transported a heavily pregnant Lavanya along with her one-and-half year-old girl Maina across the Bhavani River from Konarthuruthu in Pattimalam near Agali during the floods in Kerala a couple of months ago.
Lavanya, a resident of Thiruchirappally in Tamil Nadu, had come to the ancestral home of Murukeshan, a software engineer based in Chennai. This was to help Murukeshan who had undergone a surgery.
On August 9, Bhavani River had overflown and reached the doorsteps of her home at Konarthuruthu. It forced the family to seek help from rescue workers. The rescue personnel had tied a rope across the river to rescue stranded people from Konarthuruthu. However, Lavanya who was frightened refused to go across the river in the rope.
The next day police and fire and rescue team rescued six people from there. Later, Lavanya also hesitantly agreed to be rescued across the river with the help of ropes stretched over the raging waters.
She recalls it was scary going across the river hanging on to a rope.