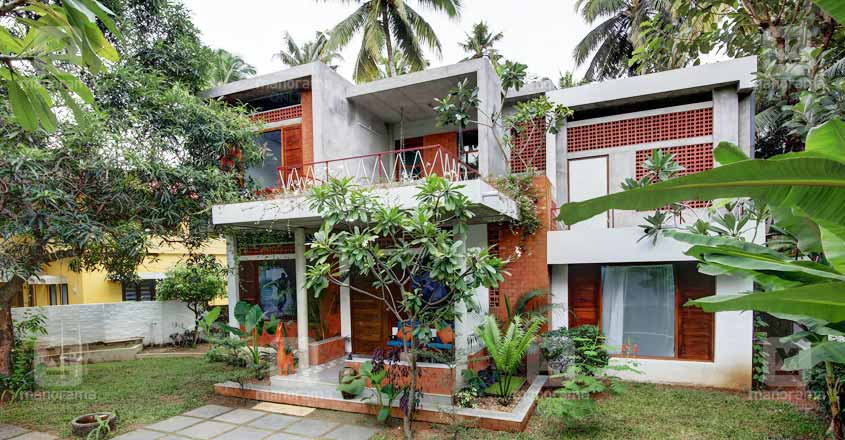 Who won't love to open the windows to an extremely serene nature. This cost effective house at Kadakkavoor in Thiruvananthapuram, Kerala could rightly be called a 'green' house as it is surrounded by beautiful gardens, lush green meadows, flowering plants and fruits bearing trees. Besides, beautiful pots of indoor plants bring a refreshing slice of nature inside the house as well. This enchanting house is designed by noted architect Radhakrishnan as a gift for his parents.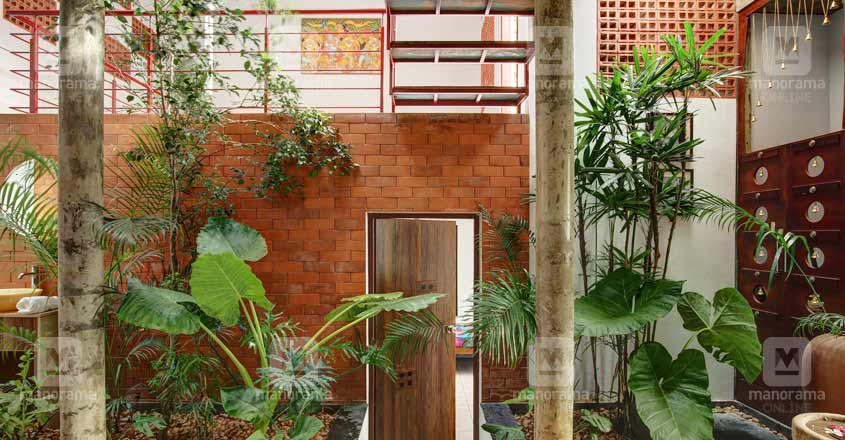 Designed in 1500 sq ft area, the house that stands on a 10 cents plot is in sync with nature. The greenery, both inside and outside the house, plays a vital role in granting a serene feel for the house. The structure was constructed by retaining the trees and plants that already stood in the plot.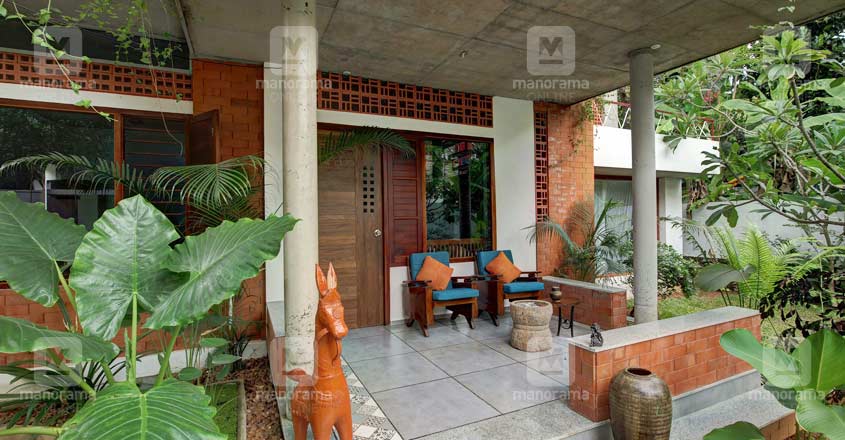 The building materials are carefully chosen to make maintenance easier for his older parents. Hurudees blocks are used wherever it would be difficult for them to reach out for cleaning and maintenance. Toughened glasses are used to bring the sunshine into the house. Open spaces are the highlight of the interiors. Concrete finishing and the unplastered walls add a rustic yet elegant charm to the house.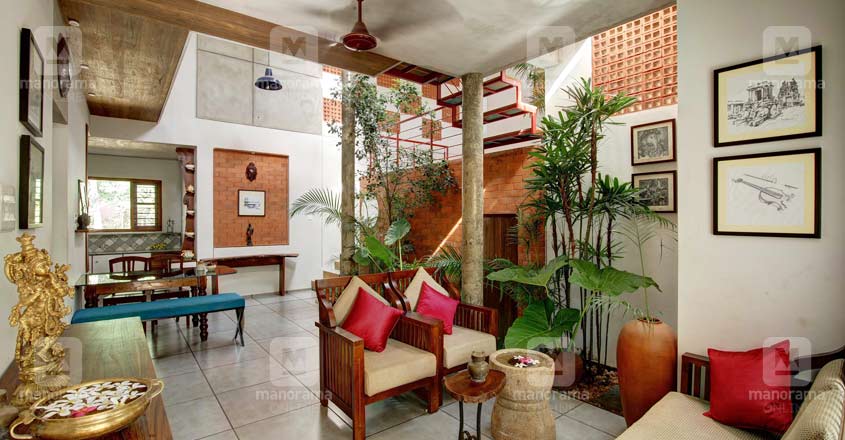 The open courtyard, designed in double height, is the most serene spot in the interiors. The concrete pillar that connects to the double heighted roof is a unique addition that grants a majestic look to this area. The natural plants that are grown in the courtyard make sure that the interiors are always cool and pleasant. The stairway, that doesn't have handrails, is just beside the courtyard.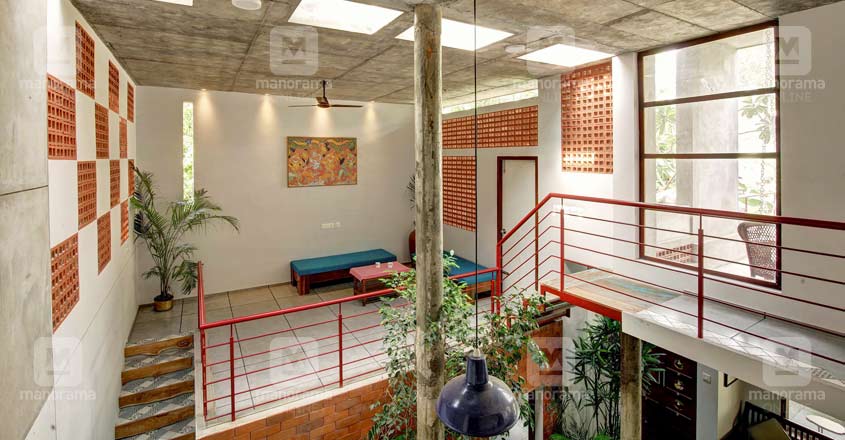 The common areas are arranged in a way which allows amazing views of the courtyard from all corners. The living and the dining areas and the kitchen are all naturally illuminated in the bright sunshine. There are two bedrooms in the ground floor. The huge window and other openings make sure that these rooms are filled with pleasant sun light and cool breeze. Features like these make the interiors lively and help exude positive energy as well.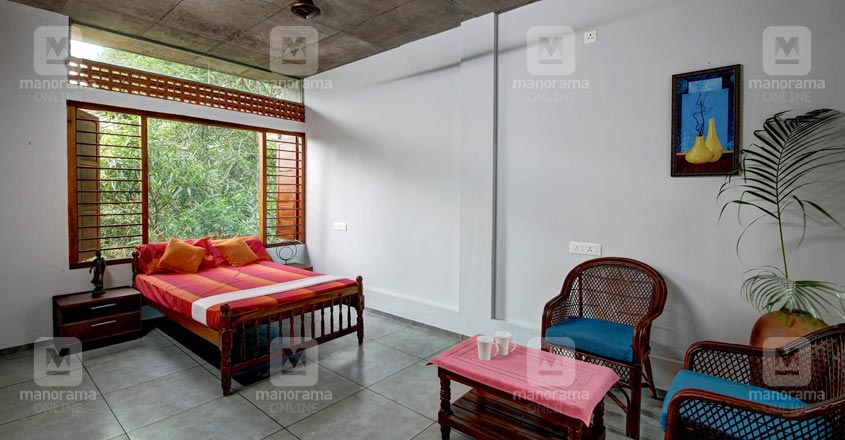 The concrete finish and the wooden ceiling are features that enhance the scintillating look of the interiors. The first landing of the stairway has been turned into an upper living area. Excellent views of all the spaces in the ground floor are possible from here. There is another bedroom, just three steps above the upper living space. All the bedrooms are designed giving prime importance to minimalism and abundant supply of natural light and air.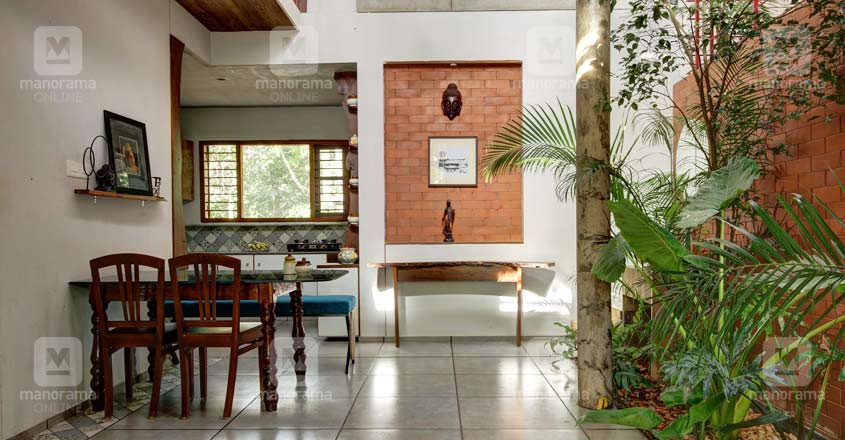 Using locally sourced building materials and reusing old wood have played a vital role in lowering the construction cost of the house. This cost effective house, including the structure and furnishing, was completed on a reasonable budget of Rs 18 lakh.
Project Facts
Owner – Natarajan
Locality – Kadakkavoor, Thiruvananthapuram
Plot – 10 cents
Area – 1500 SFT
Design – Radhakrishnan, SDC Architects, Thiruvananthapuram
Ph – 94472 06623