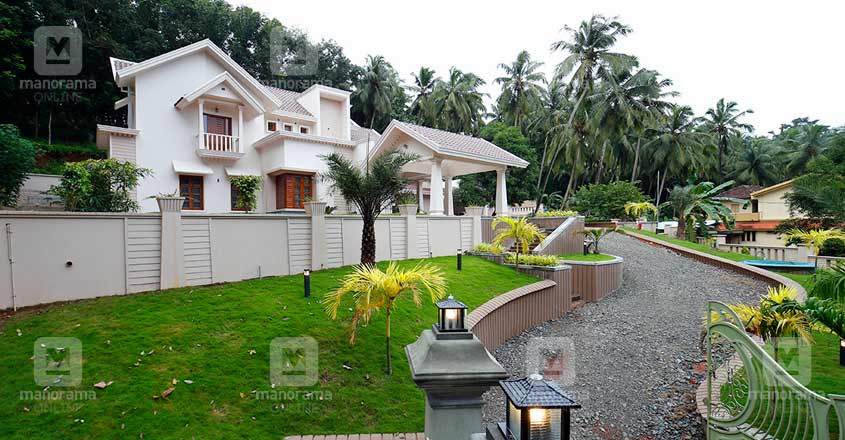 Bapputty, a native of Melattur in the Malappuram district, had amazing ideas about the house that he wished to build in his 60 cents plot, which lies around 10 meters above the level of the road. He wanted a majestic abode that gracefully flaunted the colonial architectural style. Besides, Bapputty was very particular that the features of his brand new house should perfectly suit the tropical climate of Kerala.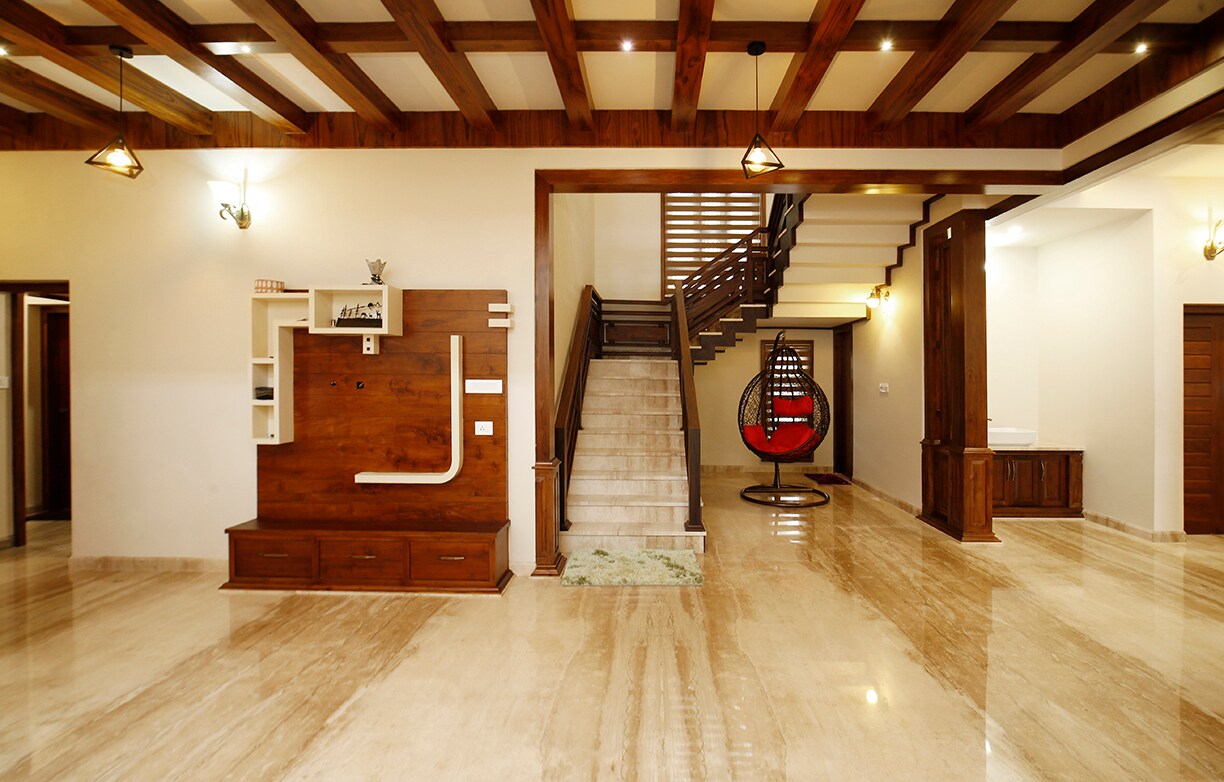 This charming house was designed by architect Muhammed Muneer of the Nufail – Muneer Associates, catering to the interests and preferences of the family members.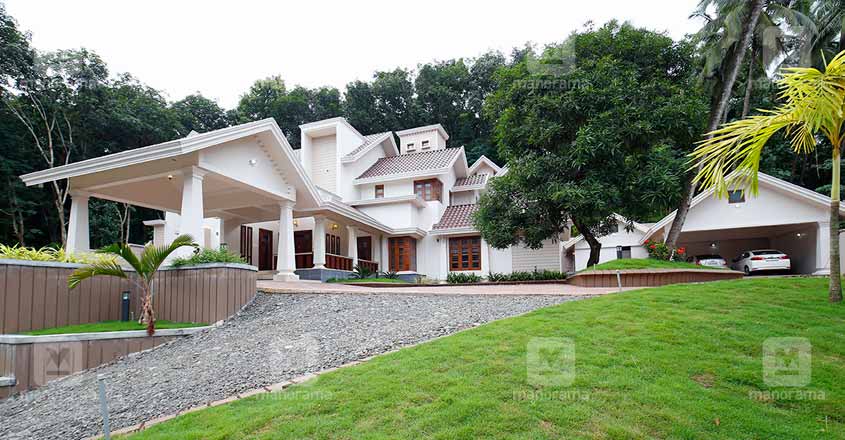 It was quite difficult to transport the building materials to the plot, owing to its difficult landscape. A driveway was built here before beginning the construction of this house.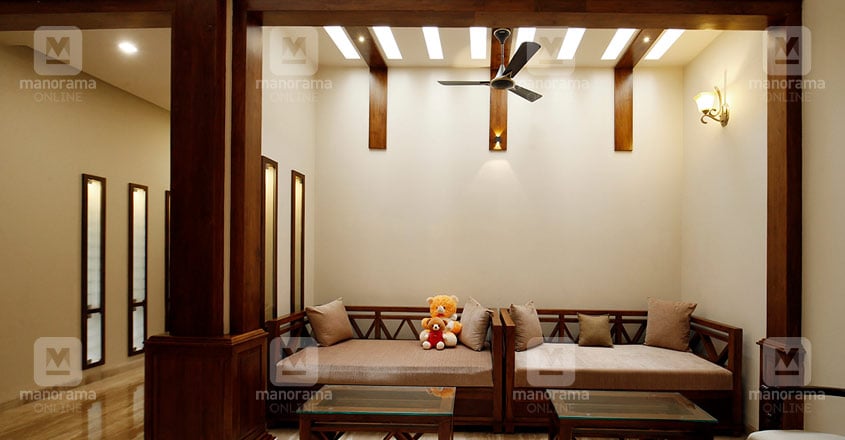 The lush green Mexican grass paved on the landscape projects the enchanting look of the house. The sloped roof, paved with roofing tiles, gives it the perfect colonial vibe. The car porch is projected from the façade of the house and this granted a majestic look to it. Besides, another car porch too has been arranged separately from the structure.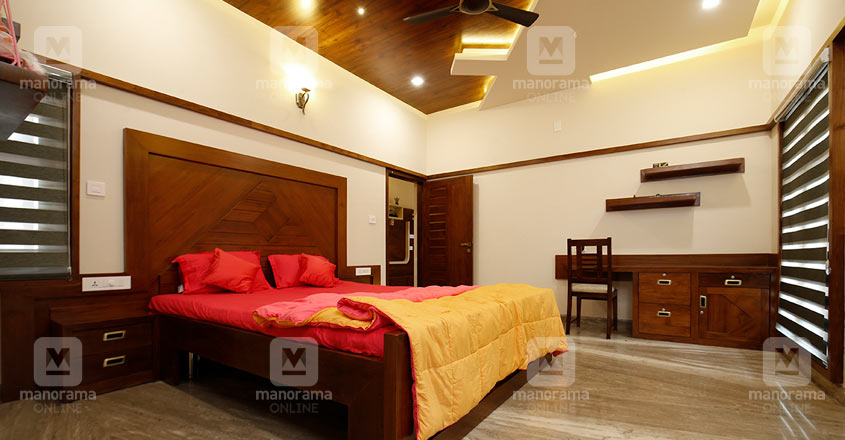 This mesmerizing house, designed in 5200 sq ft, has car porches, formal and family living areas, dining space, kitchen and five bedrooms as well. The interiors are arranged in the open style as the family didn't want the spaces to be congested. The entrance door leads to a vast and spacious hall where the classy elegance of timber and woodwork enchants you. The beautiful pieces of furniture, ceiling, panelling and partitions are all done using high quality teak wood. The regal charm of Italian marble, used for flooring, adds to the scintillating look of the interiors.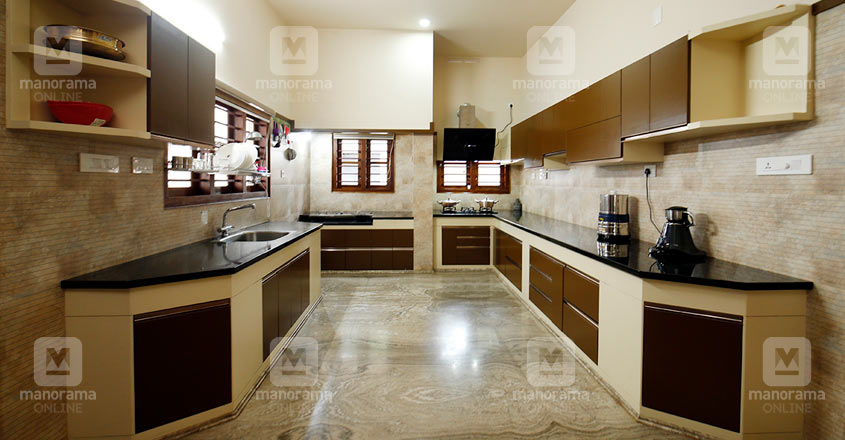 The formal living room is designed by ensuring enough privacy for the guests. Besides, there is a family living area where the family members can gather or relax. The skylight on the ceiling above this area brings lots of amazing sunshine into the house. The partition made in teak wood, to ensure privacy for the dining area, is truly a stunning piece of work. The spacious dining table here can accommodate up to 10 guests.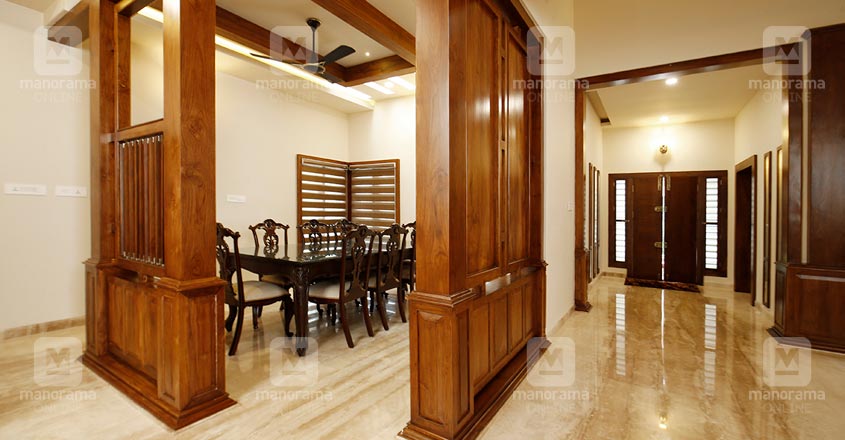 The kitchen is furnished in plywood and veneer finish. The counter top has been paved with granite. An adjacent work area completes the kitchen. There are three bedrooms on the ground floor and two bedrooms on the upper storey. Another bedroom in the upper floor has been turned into a home theatre. All the bedrooms are bath attached with in – built wardrobe facilities for storage and separate dressing spaces as well.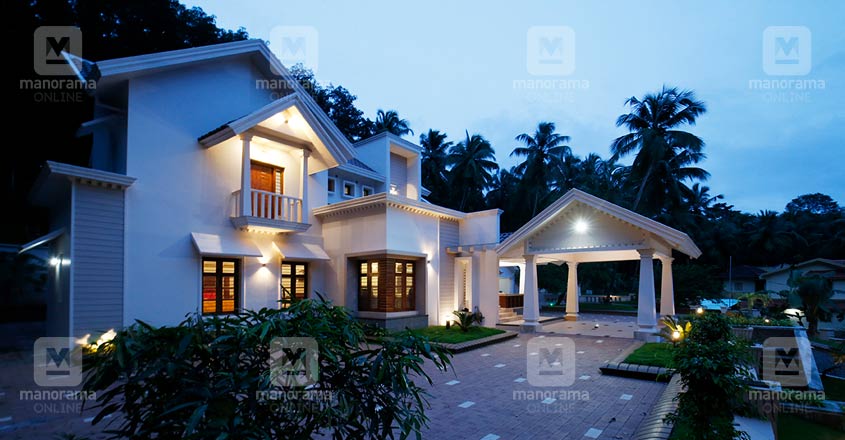 This house has been designed following the rules of the vastusastra and features excellent cross ventilation as well. It helps reduce the heat inside the house and always maintains a pleasant atmosphere. Bapputty and his family are extremely elated that they have got an amazing dwelling just as they had dreamed.
Project Facts
Location – Melattur, Malappuram
Area – 5200 SFT
Plot – 60 cents
Owner – Bapputty
Designer – Muhammed Muneer
Nufail – Muneer Associates
Mob – 98472 49528
Year of completion – 2019 June
Pictures – Ajeeb Komachi