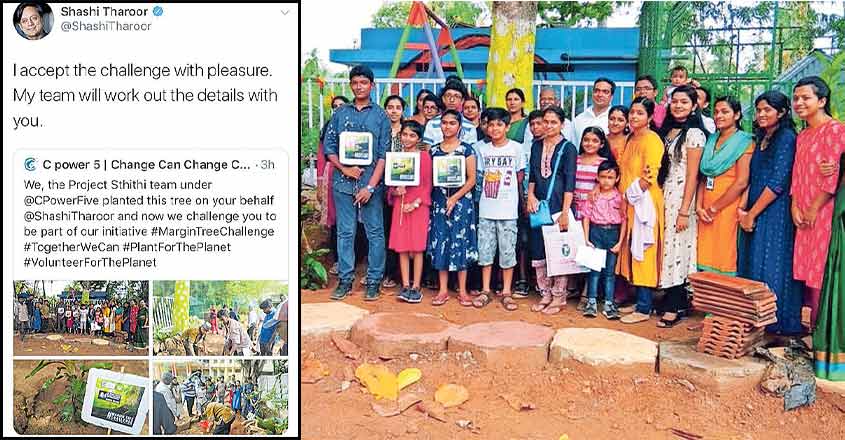 Thiruvananthapuram: Ahead of the World Environment Day on Wednesday, an innovative conservation project wants all the 20 Members of Parliament from Kerala to plant trees equalling the margin of votes by which they had won. Aptly the campaign initiated by the district administration of Thiruvananthapuram is titled #MarginTreeChallenge. It was kicked off at Christ Nagar Higher Secondary School, Kowdiar, Thiruvananthapuram, on Tuesday.
Shashi Tharoor, the Thiruvananthapuram MP, and A M Ariff, the Alappuzha MP, have come forward expressing their support to the #MarginTreeChallenge.
Tharoor announced in a tweet that he accepts the challenge with pleasure. He may have to get 99,989 trees planted to meet the challenge as he had won the recent Lok Sabha election with the same margin of votes.
The launch function was attended by T K A Nair, the former principal secretary to the Prime Minister of India, and Michael Vedasiromani, former resource person of the United Nations Development Programme. They planted 20 trees representing the 20 MPs from Kerala.
Fr Bino Pattarkkalam, principal, Christ Nagar Higher Secondary School, G S Bharath Govind and Janson Verghese, officials of 'S THI THI' which is behind the project, School Nature Club coordinator Preena were among those who attended the function.
What is 'S THII THI'?
Project S THI THI had been initiated by Thiruvananthapuram District Collector K Vasuki in 2018 with the aim of spreading awareness about protecting and conserving the environment and also for educating the public about eco-friendly products.
It was conceived by a team of volunteers who had gathered as part of the relief operations during the 2018 floods in Kerala.
Raising the slogan of 'Reuse, Reduce and Recycle,' S THI THI puts forth many meaningful campaigns including the use of ink pens and against the use of plastic straws.
The World Environment Day is on June 5.