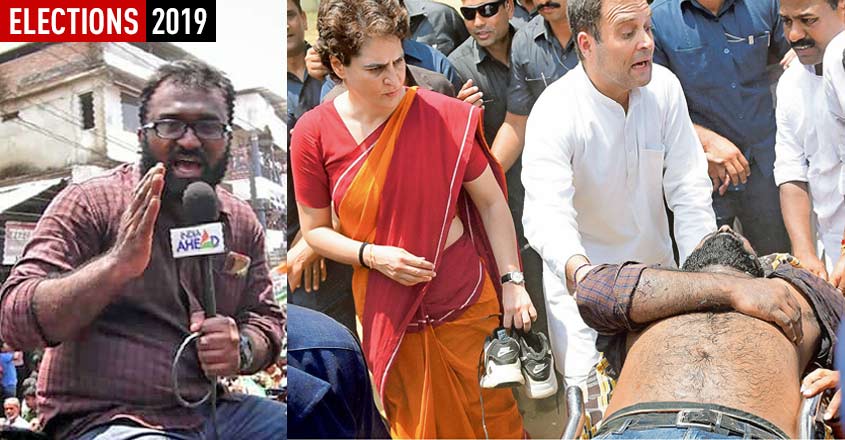 Kalpetta: A journalist injured during Congress President Rahul Gandhi's rally in Wayanad on Thursday lauded the Gandhi siblings who came to his help and also rubbished the social media posts ostensibly from rival political camps lampooning their kind gesture. Rickson Oommen, the Kerala correspondent of India Ahead, trashed allegations that the whole episode was a publicity stunt.
Rickson said Rahul was just being humane. "I am a left sympathiser. I was an active worker of the SFI (CPM's student wing) during my college days. I have raised a lot of slogans against the Congress and its leaders Sonia Gandhi and Rahul Gandhi. But Rahul proved yet again that he was humane. I had written on Facebook about that quality of Rahul when he visited the houses of the youngsters killed in Periya. I experienced it first hand yesterday," Oommen told Manorama News.
A sea of humanity had thronged Congress President Rahul Gandhi's entourage during his visit to Wayanad on Thursday as he filed the nomination for the Lok Sabha seat.
The road show held on the occasion gave a scare to a few journos as they they tumbled down from a truck that was ahead of the vehicle of the Gandhi siblings -- Rahul and his sister Priyanka Gandhi -- and were injured. Instantly the duo who were near to the spot came to the rescue and ushered a few them to the ambulance. Interestingly, memes from opposition groups, apparently upset with the groundswell of support the Congress candidate received, have flooded the internet.
Rickson said that he was travelling on an open truck that moved in front of Gandhis' campaign vehicle when the accident happened. "About 20 journalists and some Congress workers were on that truck. I was standing on a temporary barricade strapped on to the truck. It gave way when many of the passengers leaned towards it. The others fell on top of me."
The Gandhis rushed to the spot instantly. "Rahul was beside me when I was being carried on a stretcher to the hospital. I had lost my footwear at the spot. Priyanka carried it to the ambulance. I did not know it then. They were just showing their love. There may be people who say that it was quite normal for Rahul to help someone who was involved in an accident. What about Priyanka? She did not have to carry my footwear!
"Some people were saying that it was staged to attract media attention. The visuals of the incident were shot by some Congress worker present there. Rahul and Priyanka did not do this for media attention. The did so as that is their upbringing. I want Rahul Gandhi to come to power even as I stand by the left. I have not mixed up my politics in my work.
"They had contacted me even in the hospital. (Congress leaders) Oommen Chandy, Ramesh Chennithala and Mullappally Ramachandran also called me up. They said that Rahul had asked about my condition," Rickson said.