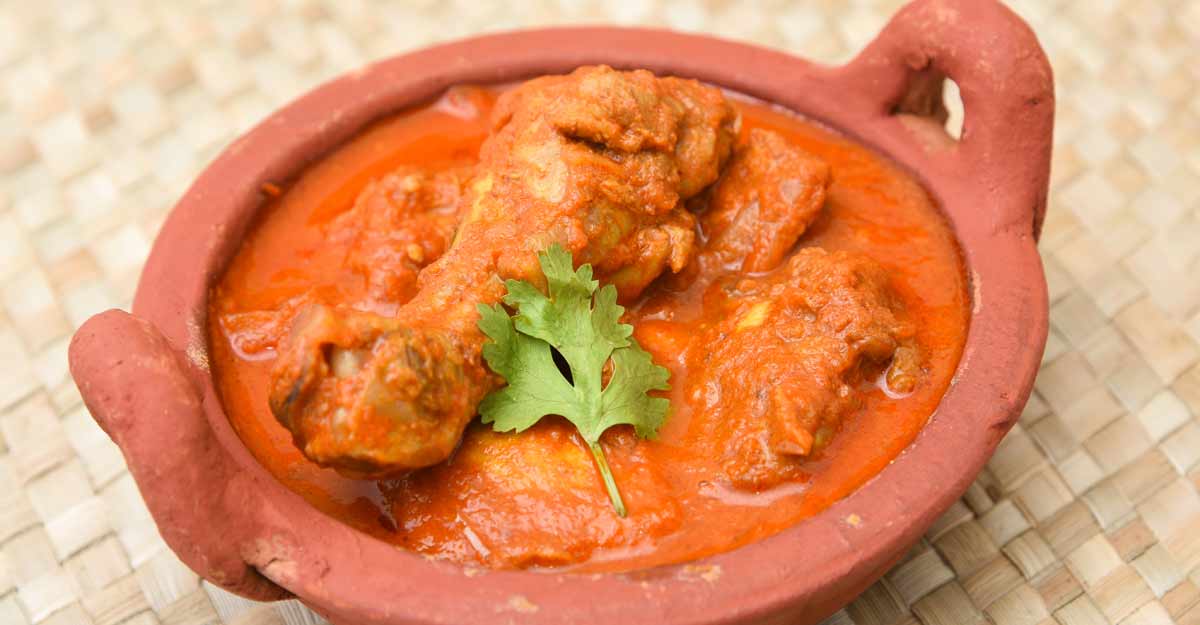 Palakkad finds a special spot in the culinary map of Kerala for its delicious and rich vegetarian dishes. However, there is a unique chicken curry that you can taste only in Palakkad that would blow your mind away. This chicken and ash gourd curry is spicy and is loaded with flavours. In this special recipe, ash gourd is apparently added to cool down the heat of the chicken meat. Not just the locally grown or broiler varieties, but leghorns and fighting roosters too are used to prepare this delicious curry.
Chittoor and the nearby countryside had once been known for the thrilling cock fights. It was from Tamil Nadu that this blood sport came to Palakkad. Cock fights were held near the jallikattu venues, often for wagers. The Tamil people who purchased land in the border areas for cultivation had also brought the spirit of kozhiporu or cock fighting with them. The people of the locality often jokes that it is the amazing aroma that wafted from the delicious gravy of the local chicken curry that drew them to the sport. The defeated rooster belonged to the opponent who then prepared a feast with it.
The lives of the fighting fowls are quite different from the broiler chicken that grows in a hatchery and gets fattened up before ending up in a bowl of steaming hot curry. Only the strongest among the newly hatched fowls would be trained to become a fighting rooster. Millets, wheat and corn are their main food and are fed only once in a day. They aren't allowed to wander around and are mostly kept in dark rooms with a rope fastened to their legs. The fighting roosters are kept like this to make them aggressive and also to prevent them from mating with other domesticated fowls.
There was a time when the people from the quaint villages in Palakkad used to travel to Tamil Nadu with their roosters for the cock fighting events. The basic bet on a fowl would be above Rs 5000. A sharp leaf shaped knife is tied on the legs of these roosters. Most roosters would have more than Rs 10,000 as wager on them. Each rooster would weigh between 5 and 7.5 kilograms. From the meek ones that run away scared after seeing the opponent to the brave roosters who put up a thrilling fight for 20 minutes, fighting roosters are of many types. These roosters fight until they kill their opponent. Even if they come back alive, most fowls would be seriously injured. A local ointment made using mimosa pudica leaves popularly known as touch – me – not, turmeric powder and black pepper powder are applied on the wounds.
The injured roosters would be allowed to rest and recover for the next 6 months. The braver ones would win two or three contests and then fall in the next. It is their experience and smart moves which make cock fighting a thrilling event that draws hundreds of spectators. The owner of each rooster must pay him between Rs 300 and Rs 500 to introduce their cocks in the fighting ring. Cock fighting has now been banned by law. However, the people of Tamil Nadu who appealed and won to conduct jallikattu enjoys cock fighting as well which they conduct after securing the necessary permission from the authority.
Check out this fairly easy recipe of Palakkad style chicken – ash gourd curry.