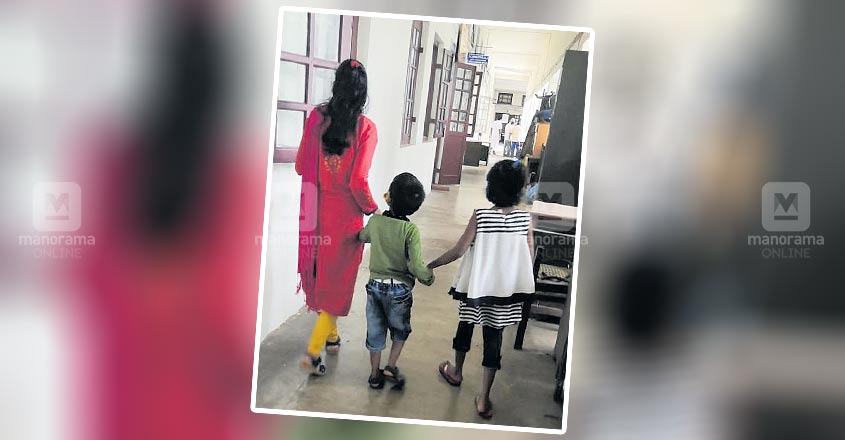 Kottayam: A woman and her two young children who were abandoned by her family members owing to paranoia over COVID-19 can heave a sigh of relief as help has been pouring in from various quarters since their plight came to light on Friday.
The woman, a native of Kuruvilangad in Kottayam, had returned from Bengaluru and spent two weeks at a quarantine centre at Pala. But she sought the help of the authorities after her husband and her mother refused to let them into their homes, apparently owing to irrational fears about the infectious disease.
After coming to know of their plight, the officials of the Kanakkary Panchayat and the police called the woman and made enquiries. Several people has been calling the woman with offers to help. Several job offers also came her way.
The woman said that all she wanted was a safe place to live. "Till now, I had been working to provide for my family. And I will continue to do that," she said.
Kottayam District Collector M Anajana, and district woman and child welfare officer T N Sreedevi said that accommodation has been provided for the woman and her children, aged seven and four.
Kerala Chief Minister Pinarayi Vijayan too said that it was unfortunate that the woman and her children were stranded with no safe shelter.
Ordeal whole day
The woman had to run from pillar to post for an entire day on Thursday, seeking a safe shelter.
Recounting her ordeal, the woman said she worked in a kindergarten school in Bengaluru. Her children also studied at the same school.
"After the COVID-19 lockdown was imposed in March, the school was shut and I lost my job. But I managed to stay put for three more months in Bengaluru. Later, I was told that the school re-opening would be delayed and even then, there was no guarantee over my job. Thus, I decided to return home," the woman explained.
"I informed my husband and mother about all this. However, my husband said that his mother would create problems if I were to return to his home. My mother, an asthma patient, asked me to go to her place after completing the 14-day quarantine period," she added.
The woman reached Ettumanoor in Kottayam in a bus arranged by the Kerala Samajam last month. She then went to the COVID care centre of the district administration at Pala.
"I kept updating my husband and my mother about all these developments. But both of them did not give any positive responses. And then I contacted the deputy collector, who assured me that the police help can be sought if both families refuse to let me into their homes. He also instructed me to file a complaint in case of any trouble," the woman said.
On the day her quarantine period got over, the husband arrived at the centre. When she told him that she did not even have money to buy food for the children, he gave her Rs 500. But he said that it was not possible to take her to his house at Karumalloor in Paravur.
Then she took an autorickshaw to her house at Nazareth Hill at Kuravilangad. But the house was found locked.
"I tried calling my mother over the phone but could not reach her. Though I called my brother, he asked me to stay away. My husband also abandoned me. Then I called up deputy collector and he instructed me to file a complaint at the Collectorate," she said.
During this while, the woman also sought help from Santhwanam director Annie Babu.
"Though I met the social welfare official and the Collector, we were not provided with any accommodation. Then after Annie Babu intervened, we got temporary accommodation at the Christeen Retreat Centre at Kalathipady," she said.