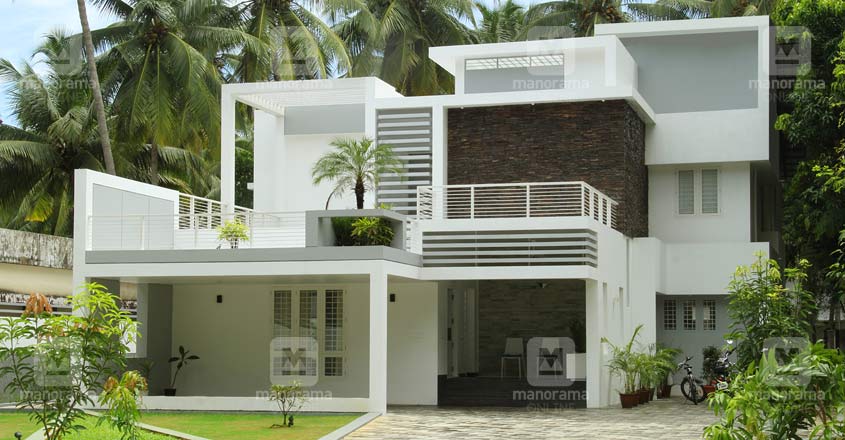 Sivaprasad and his family had made a few demands to their architect when they decided to build their dream dwelling in Thampuranpadi in Guruvayur, Kerala. They were very particular that there should be abundant supply of natural light and air inside the house. Besides, they wanted the spaces to ensure enough privacy and exude positive vibes which inspire the family members as well. The architect has successfully designed a stylish contemporary abode giving prime importance to the likes and opinions of each member of the family.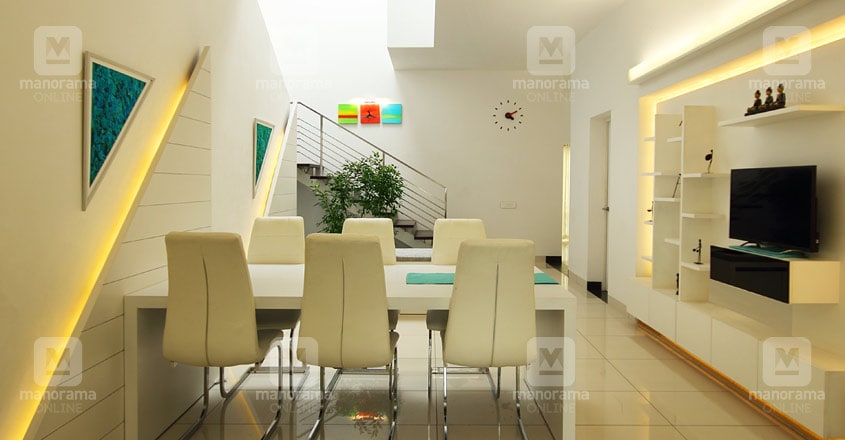 The house, surrounded by lush greenery, is truly a stunning vision in white. The aesthetically done landscape, compound wall and the gates exude an elegant charm of contemporary style. The box style elevation and the serene white hue, that dons the exteriors and interiors, lend some suaveness to the house. However, this monotony is perfectly broken by the scintillating greenery outside and the little pops of colours in the interiors as well.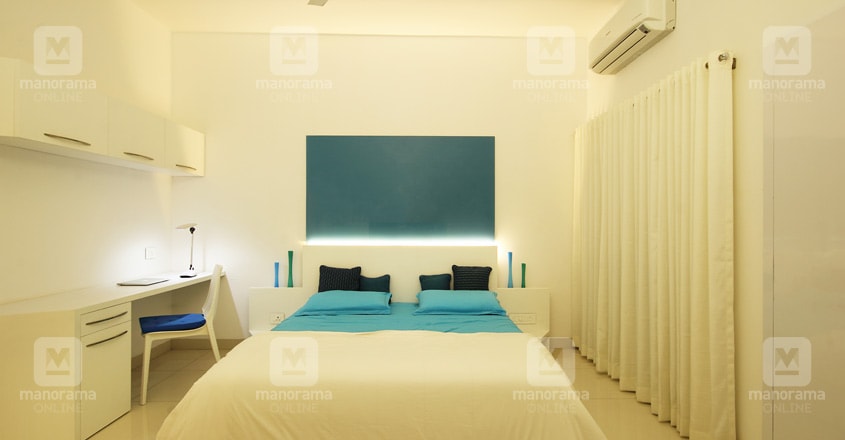 The house follows the theme of minimalism and classy elegance. Ornamental decor, wall papers or textured walls cannot be seen inside the house. The custom-made furniture amazingly compliments the general theme of the house.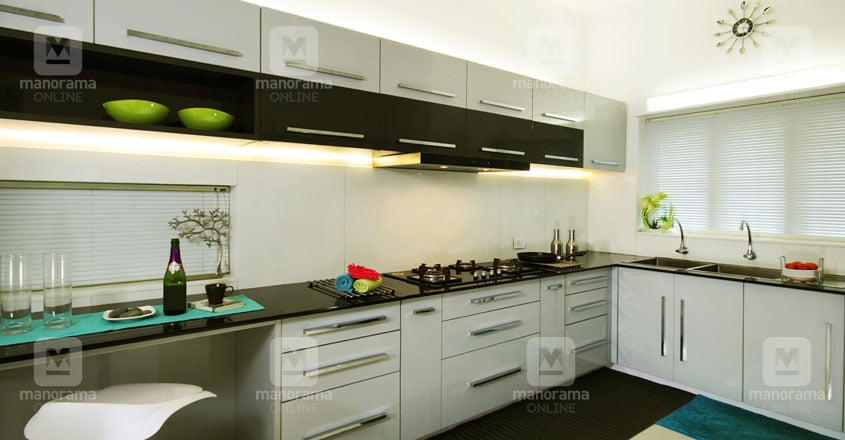 The courtyard which welcomes lots of pleasant sunshine and cool breeze into the house is the highlight of the interiors. The pebble courtyard beneath the stairway is minimally decorated with just a single indoor plant.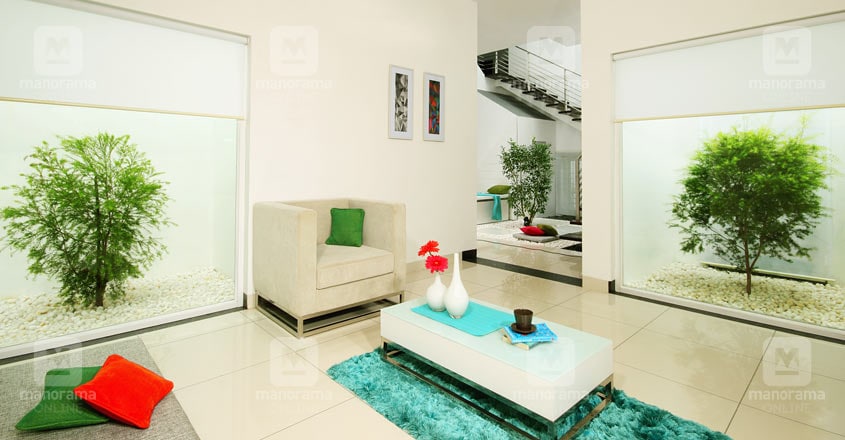 The living and the dining areas and the kitchen are all designed making sure that there is privacy and cosiness as well. The glass opening allows the mesmerizing views of the landscape from the living and the dining areas. The triangle formation here also acts a design element.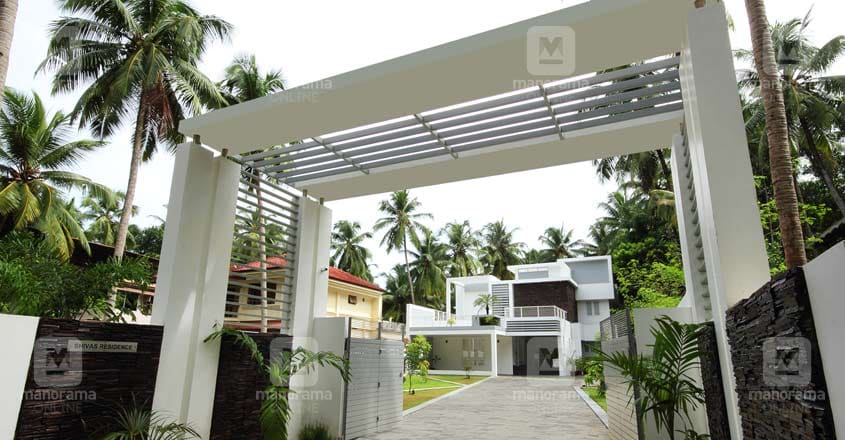 The furnishing in the interiors is mostly done using steel, plywood and white laminates. The pooja space, highlighted using marine paintings, is an eye-catching feature.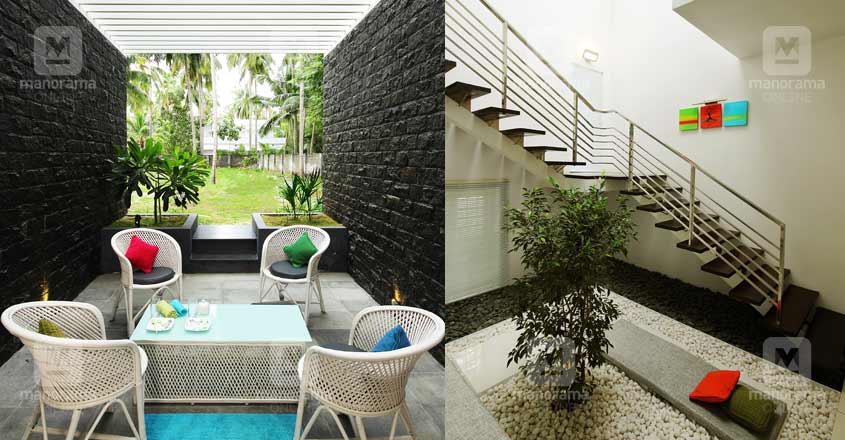 There are four bedrooms in this house, designed in simple yet elegant styles.
A family lounge and a bar counter find place in the upper storey. The counter top in the modular kitchen has been paved with granite. The shutters of the kitchen cabinets are done in marine ply laminates.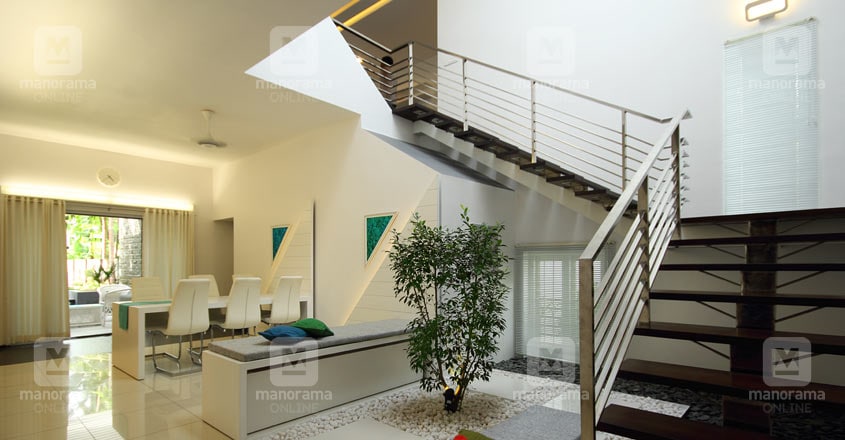 Architect Sreenath Ponneth is incredibly happy and proud that he has designed a beautiful house which caters to the needs and interests of the family members.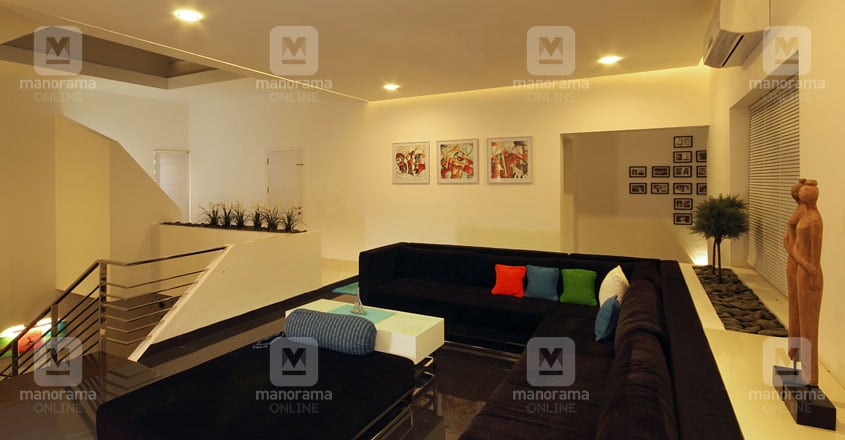 Project Facts
Location – Thampuranpadi, Guruvayur
Area – 3150 SFT
Owner – Sivaprasad
Architect – Sreenadh Ponneth
Mob - +97430576958, 9846813033