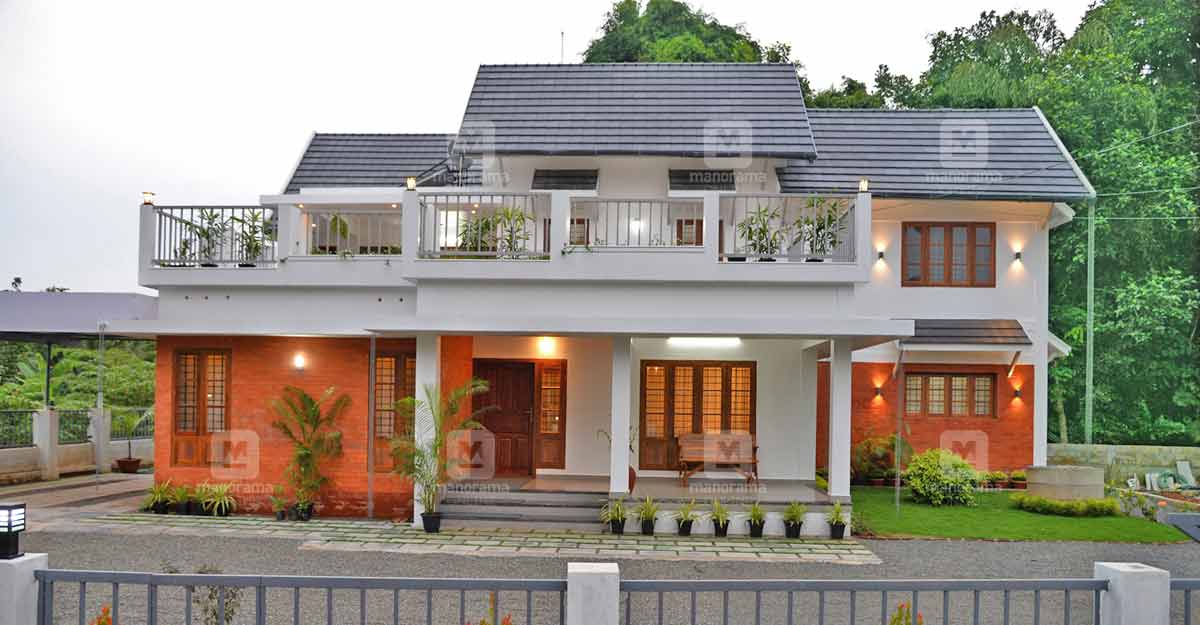 A house is not just a sturdy structure built with bricks and mortar, but a haven where dreams and aspirations bud and bloom. The surrounding nature plays a pivotal role in granting a splendid look and an enchanting charm to the house. Chinmayam, the beautiful house owned by Subhash and Thara at Kosamattam in Iranjal, Kottayam district, in Kerala, celebrates nature through its unique designs and amazing features.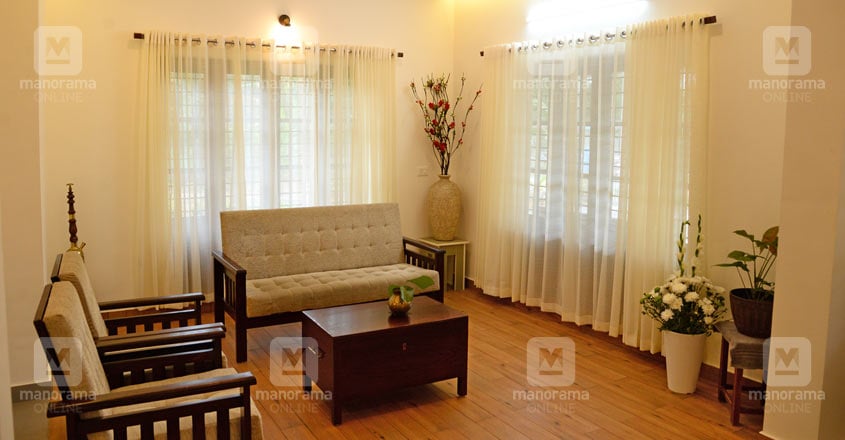 TR Subhash, who works as a journalist in Kottayam and his wife Thara Krishnan, a government employee decided to purchase land in their home town and build a comfortable house there after living in a flat for decades. "We had been living in a flat for 30 years and began thinking about building a house when the space constraints bothered us to a great extent. Forests, pond, clouds and rains have always enchanted us. Luckily, we didn't have to roam around a lot when we began looking for the perfect plot which is abundantly blessed by nature," says the owner.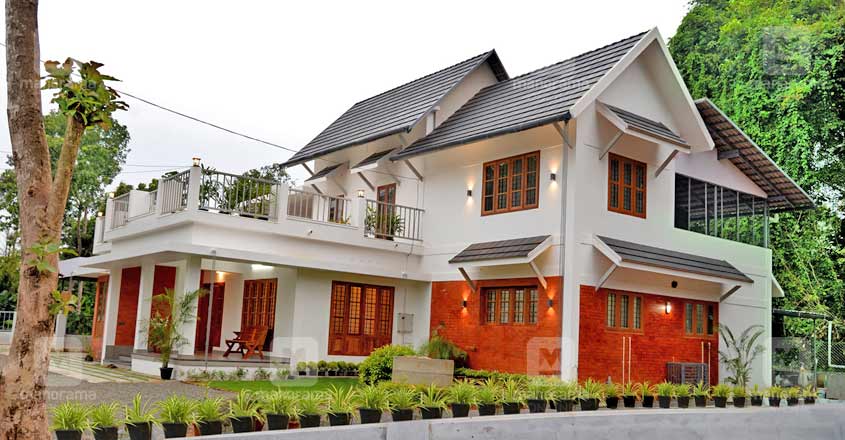 The magic of the pristine woods graces the rear of the house. Meanwhile, the sparkling water in the pond on one side is just soothing to the mind and the eyes. As there aren't too many houses in the area, a mystical feel of tranquillity always linger here. The owners admit they were drawn to this peaceful place at the first sight itself.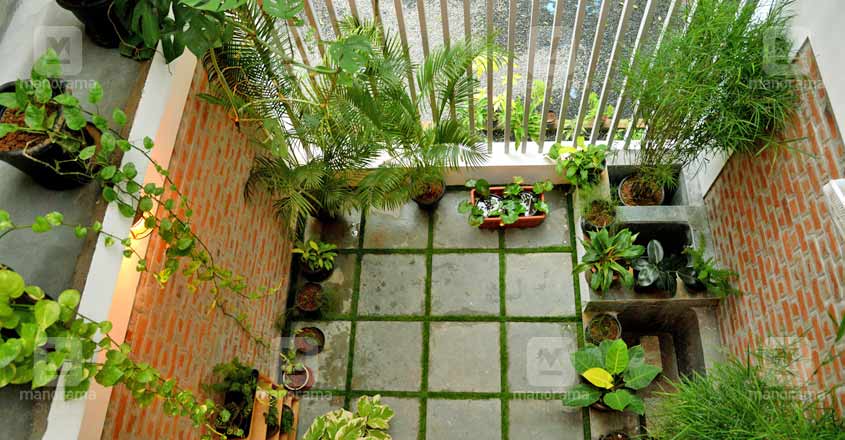 They wanted their dream dwelling to have open spaces that invite natural light and cool breeze into the interiors. Besides, they preferred a long verandah on one side of the house. Engineer Sreekant Pangappadu, who has an experience of more than two decades in constructing beautiful abodes, prepared the perfect plan by catering to the likes and wishes of the family members.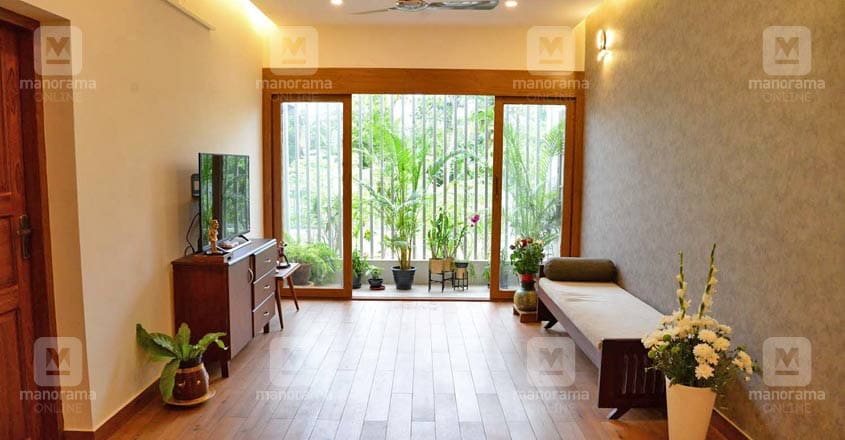 The two courtyards beside the dining and the living areas amazingly reflect the spectacular beauty of the surrounding nature. One of these courtyards is designed in double height which makes the house look incredibly vast and airy.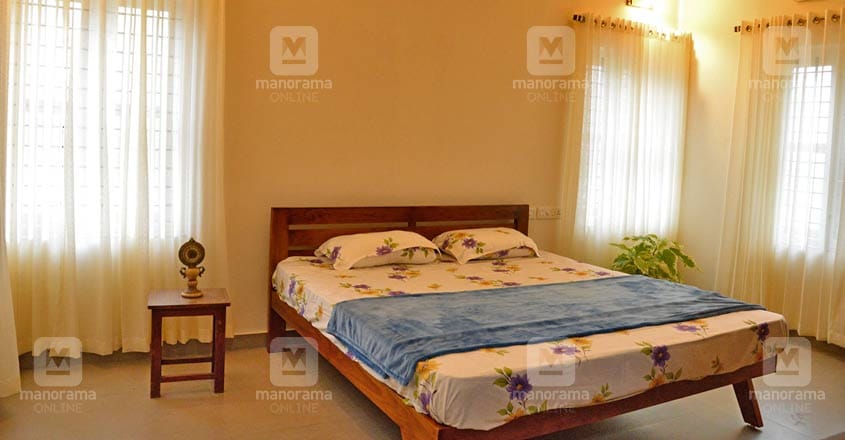 "Though we have read quite a bit about house construction and interior designing, our ideas and demands got a more polished execution when it combined with Sreekant's incredible talent and vast experience. Contractor Saji Chelamattam, who did an amazing job and designer Sreehari who decorated the interiors by projecting minimalism and elegance too deserve credit," says Subhash.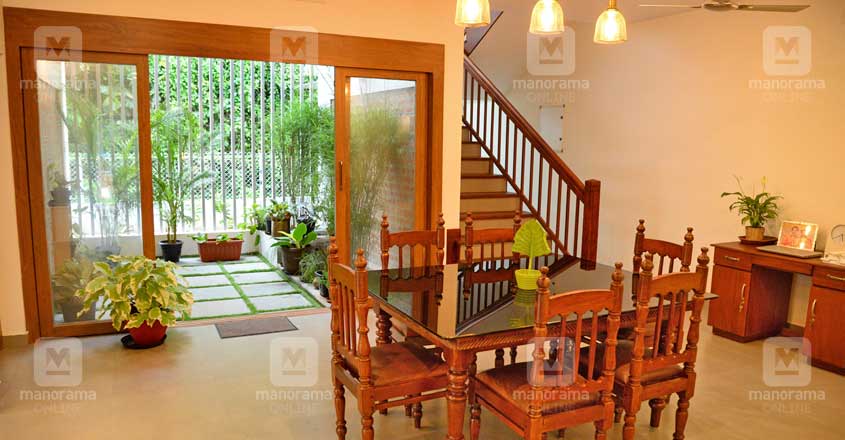 There is a spacious sit out, formal and family living areas that aren't separated by concrete walls, dining hall, four bath-attached bedrooms, servant's bed, kitchen with a work area, store room, upper loving area and home library, reading space and balcony in this splendid abode designed in 2720 sq ft.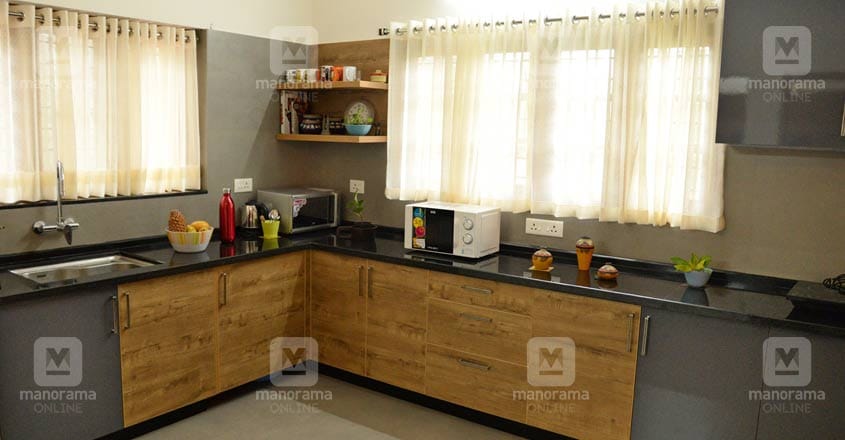 Project Facts
Location – Iranjal, Kottayam
Area – 2720 SFT
Owners – TR Subhash and Thara Krishna
Engineer – Sreekanth Pangappadu
PG Group of Designs, Kanjirappally
Mob – 9447114080
Email – pggroupdesigns@gmail.com