The four houses that stand in a big plot at Kurumassery in Aluva are the symbols of deep love and affection between siblings. The houses may look different; however, this hasn't affected the special bond that the siblings share. Interestingly, it was Mohandas, the eldest brother who designed his own house and his siblings' houses too.
Mohandas says that it was their parents' greatest wish for the four siblings to stay close and live in the same plot. Besides, their children are either working or studying abroad. So, staying close is the best way to take care of each other. Mohandas' house boasts of the elegant features of traditional architecture. GI truss roof has been installed over a flat roof. Besides, roofing tiles have been paved to add that classic touch.
The pillars crafted in mahogany are the highlights of the traditional sit-out. Meanwhile, the leftover timber has been used to make the furniture and cots.
Designed in 1480 sqft, this classy abode has a sit-out, living and dining areas, courtyard, pooja room, kitchen and two bedrooms with attached bathrooms.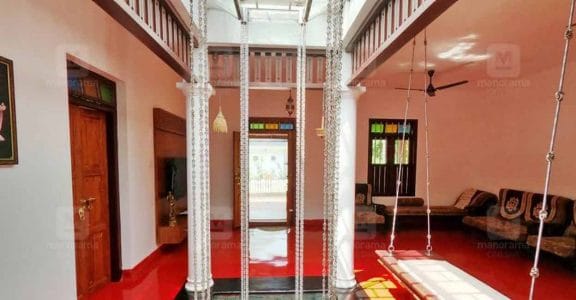 The inner courtyard is what draws attention as soon as the entrance door is opened. The golden sunshine and the cool rain showers come into the house through the open ceiling of the courtyard. Interestingly, the interior spaces have been arranged around this courtyard.
The flooring of the house reminds one of the red oxide floors that were commonly seen in old homes. However, instead of red oxide, red epoxy flooring has been done here. This is relatively cheaper too.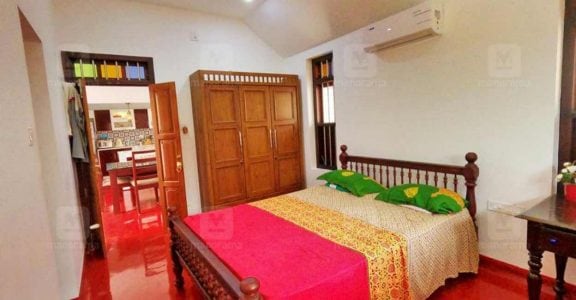 The spaces are designed in the open style to make the interiors look and feel vast. The dining - kitchen areas too have been designed in the open style. The bedrooms are simple yet elegant. The bath-attached bedrooms have wardrobes for storage.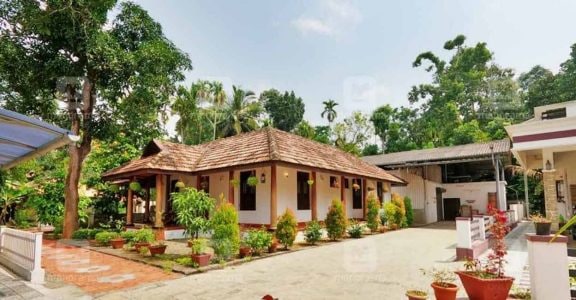 Interestingly, the family temple is built inside the plot. Besides, there is a walking path too which is used by the family members to take a stroll in the evenings. A grand old mango tree that is more than four decades old stands in the front, providing shade. Even though many had advised the siblings to cut off the tree as it would block the view, they had decided to retain their favourite mango tree. The tree would be home to birds and squirrels during the mango season.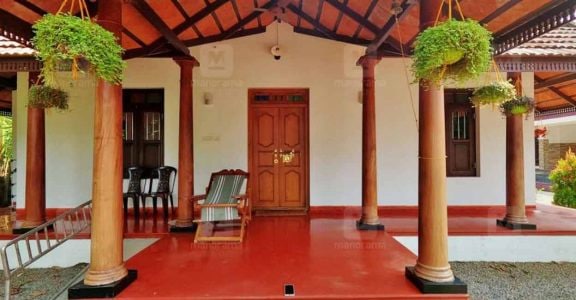 The construction of the house, including the structure and the furnishing, was completed on a reasonable budget of Rs 26 lakh. Exquisite timber including teak wood has been used for furnishing in order to grant a classy charm. The owner says that around Rs 6 lakh was spent for the timber works alone. The cost could be reduced by using alternative furnishing materials. The family is thrilled and relieved that they can enjoy the love and warmth of their dear ones who live close by.
Project Facts
Location – Kurumasseri, Aluva
Area – 1480 SFT
Owner and designer – Mohandas
Budget – Rs 26 lakhs