You won't be going overboard if you describe Ramakkalmedu as a slice of paradise. This heavenly hamlet in Idukki district with mystical mist, wind-swept rolling green hills and breathtaking views can give a surreal experience to travellers. Ramakkalmedu, which is 43km from Thekkady, is more beautiful and charming when winter sets in with its paraphernalia of floating mist and intermittent drizzle. Many people visit this mesmerizing hill station to go on a hiking spree early in the morning and set their eyes on the captivating sunrise from atop the hills. Now, talented actress Anarkali Marikar has posted a soothing video that reflects the serenity of Ramakkalmedu on Instagram. In the video, the actress is seen sitting on the hill top, walking through grasslands and enjoying the spectacular vistas.
Ramakkalmedu is one of the popular wildlife centres in Kerala. Legend has it that Lord Rama visited this place on the way to Lanka in search of his wife Sita who was abducted by Ravana. It is believed that the decision to select Rameshwaram for 'Sethubandhanam' (bridge construction) was taken here. The place got its name Ramakkalmedu as it is believed that Lord Rama had set his feet on this land.
The Ramakkalmedu hill is 1,100m above sea level and on the Kerala-Tamil Nadu border, and you can get a panoramic view of the Tamil Nadu villages and agricultural farms from the hill top.
It is worth noting that Ramakkalmedu is one of the windiest places in Asia. The winds can blow at an average speed of 32.5km/h and sometimes the speed can go up to 100km/h. The Kerala Government has set up wind energy farms in the region in a bid to tap wind energy. Another attraction of Ramakkalmedu is the east facing pillar-like rocks that are close to 300m tall. Other highlights of the regions are Thavalappara, Aamapara and Kuravan-Kurathi statues.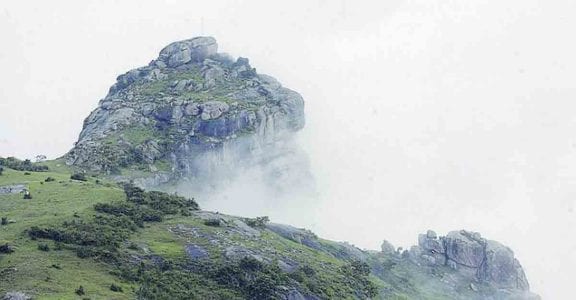 How to reach
Ramakkalmedu is 15km away Nedumgandam on the Thekkady-Munnar route. This wonderful tourist spot is 150km and 43km away from Ernakulam and Thekkady respectively. If you can drive 20km from Kattpana and 70km from Munnar, you can reach Ramakkalmedu. The nearest railway station is Kottayam.