The Suryagarh Palace hotel is hogging the headlines after Bollywood stars Kiara Advani and Sidharth Malhotra recently tied the knot at the luxurious resort. The high-profile wedding that had a royal touch to it was attended by prominent personalities and celebrities. The mesmerizing beauty of the Suryagarh Palace was in full display in the photos of the marriage functions that were conducted between February 4 and 6. The swanky hotel situated in the Thar Desert in Rajasthan's Jaisalmer comes with ultra-luxurious and state-of-the-art facilities.
Where is Suryagarh
The Suryagarh Palace hotel is located near Kahala Phata on the Sam Road in Jaisalmar in Rajasthan. The grandiose hotel is 15km away from the famous Barabagh temple and 7km from the Kuldhara hamlet, which is a ghost village.
The palace hotel, which is perched atop a hill, seems like a structure exquisitely carved out of marble. The hotel is the perfect spot to savour the beauty of the Thar Desert on the west and the charm of the old city of Jaisalmer on the east. The regal furniture and the expansive rooms with a view of the Rajput gardens undoubtedly have a kingly stamp. Though the building is pretty new, it has been constructed by keeping the rich traditions of a bygone era in mind.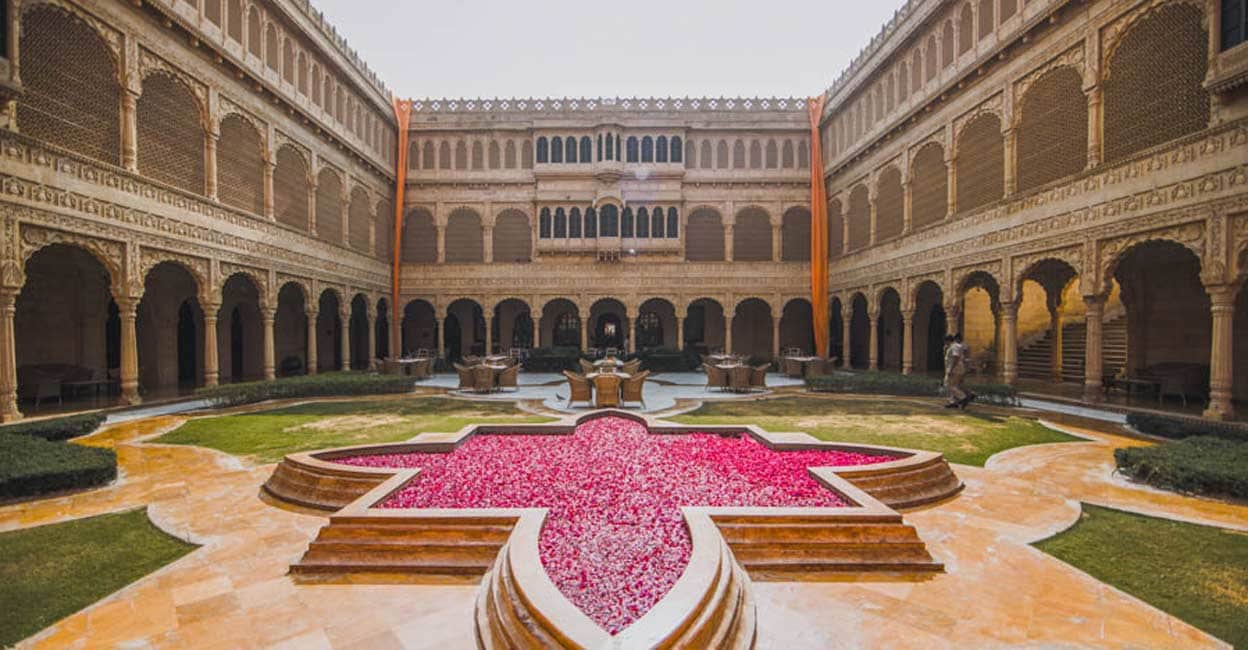 Rooms and tariff
The stay at the Suryagarh Palace hotel can definitely cost an arm and a leg. The Fort Rooms, which are the cheapest ones, comes with a tariff tag of Rs 23,000 on week days and Rs 36,000 on weekends. The costliest room is the Jaisalmer Haveli ('haveli' means mansion) as you have to shell out an average of Rs 73,000 for a night's stay. The Jaisalmer Haveli has exclusive butler service and infinity pool for the guests.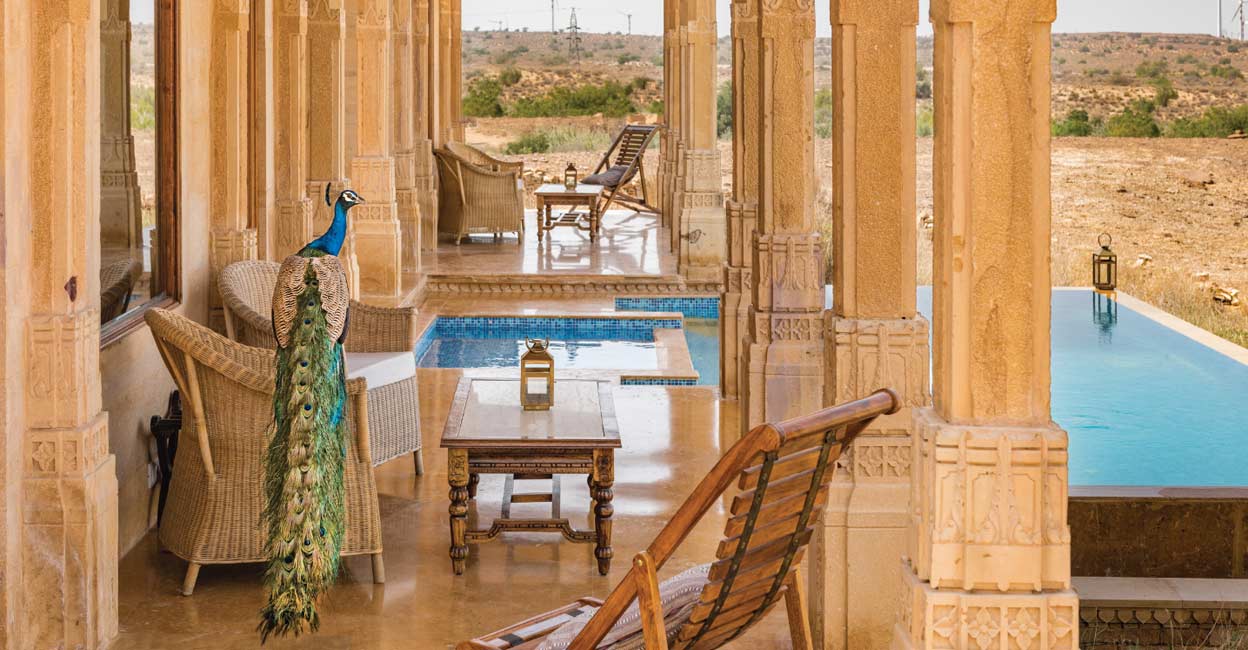 It is noteworthy that the Suryagarh Palace is the best destination wedding resort in Jaisalmer. The hotel boasts of 83 luxurious guest rooms and suites with the latest facilities.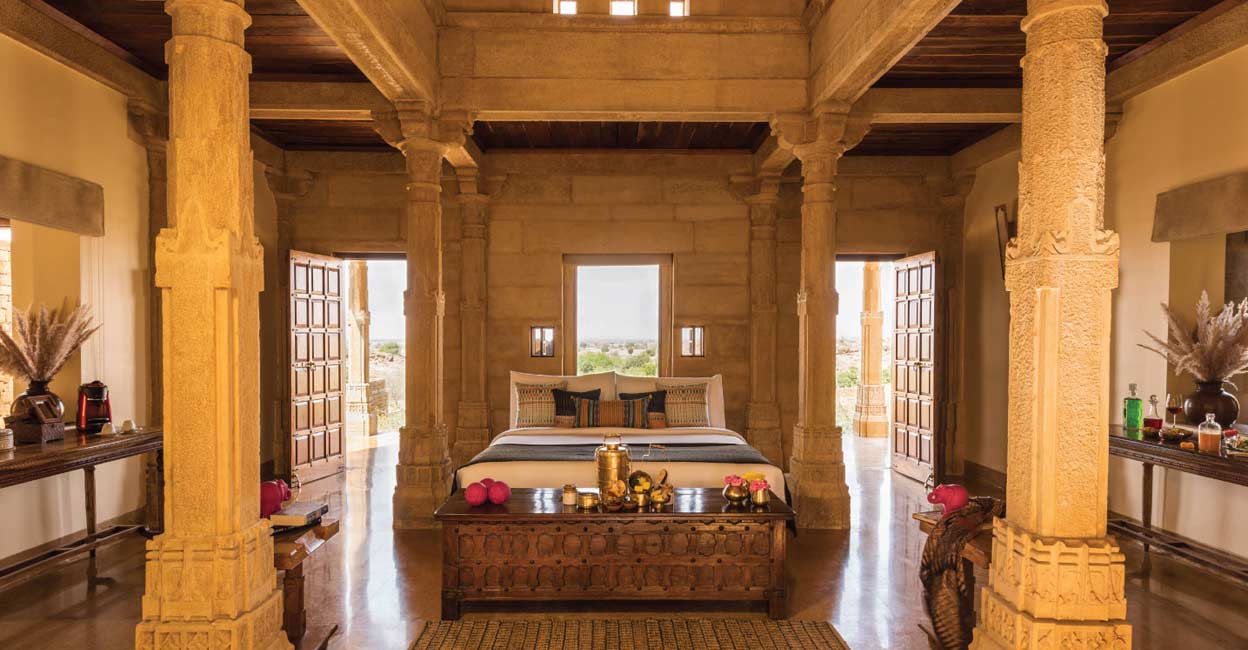 The Golden City
Jaisalmer, which lies in the heart of the Thar Desert, is the 'Golden City' of India. The city, which is a UNESCO World Heritage site, has a rich cultural legacy and is dotted with hundreds of forts that were built during the reigns of kings. The Jaisalmer Fort is one of the main tourist attractions. This mammoth fort is 460m long and 230m broad and its walls literally stand tall at 4.6m. The fort, which has earned the sobriquet 'Golden Fort', is located on the hill named Trikuta in the Thar Desert and was built using mud stones having yellow colour.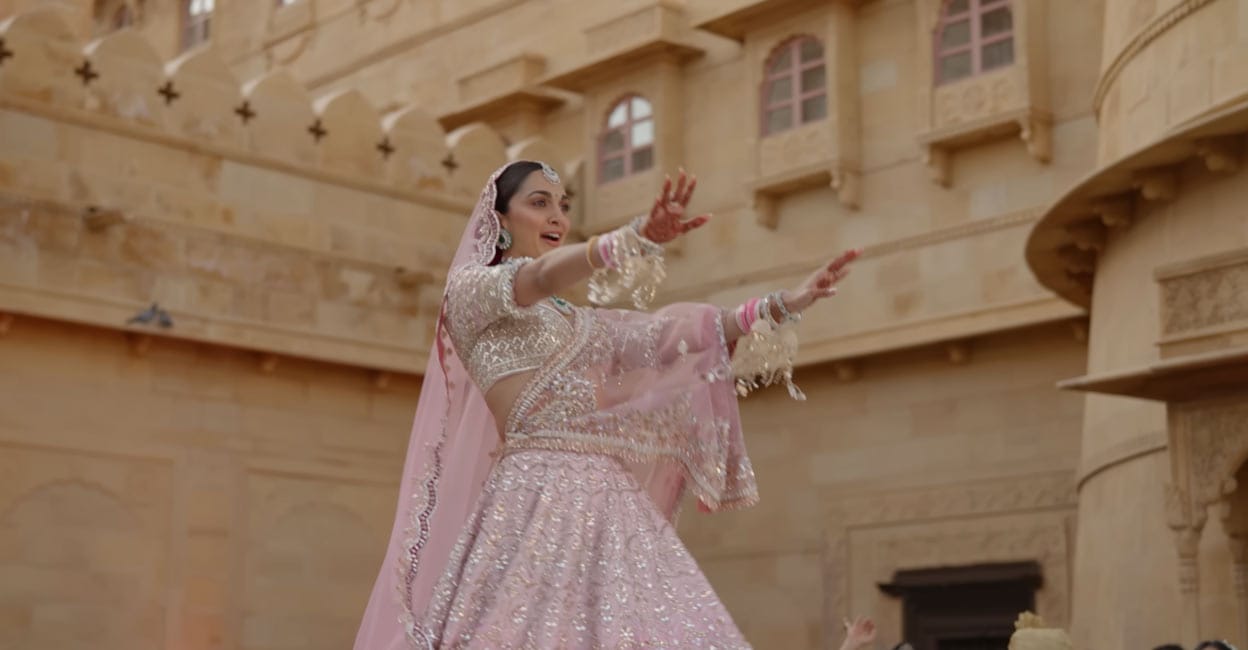 The sight of sunrays caressing the fort during sunset is ethereal as the age-old structure seems to be awash in gold and that's why it is called 'Golden Fort'. Many travellers flock to Jaisalmar to catch a glimpse of this spectacle.