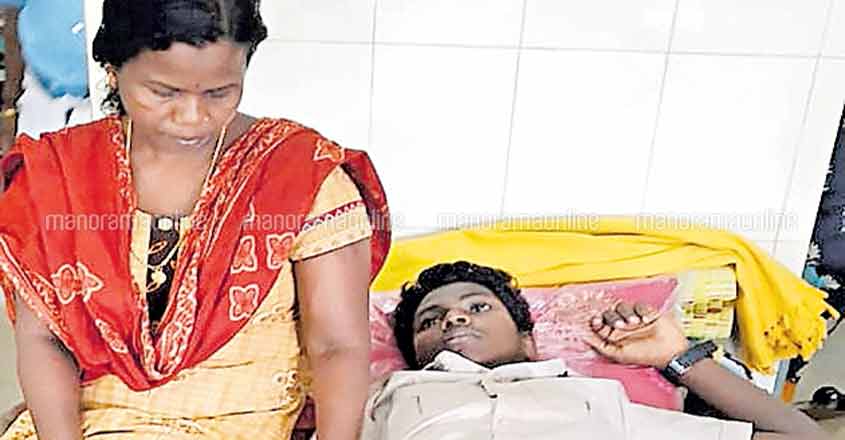 Muvattupuzha: That private bus operators in Kerala are not keen to take students as passengers is a well-known fact. Reports of bus crew misbehaving with students are also common. In yet another such incident, a plus-one student was kicked on his chest and thrown out of a private bus near here. The boy, who suffered injuries in the incident, has been admitted to General Hospital, Muvattupuzha.
The victim is Anchal (17), a student at Ebenezer higher secondary school, Vittoor and the son of Suresh, residing at Pazhambillikkudy, Mangalath Nada. There is swelling on the boy's chest. He has been asked to undergo a scan as fracture to the ribs is suspected.
The incident took place around 4.30 pm near Ebenezer school on Friday last. While Anchal was boarding the bus along with other students to go home after his classes, the bus conductor suddenly kicked him. The boy fell on the road and was rushed to the hospital by his schoolmates and the local people. According to students, the person who kicked Anchal was Binoy, who worked in the private bus that conducted service on the Muvattupuzha - Ernakulam route. The police have registered a case against the bus staff.
Private bus staff often halt the vehicle far away from the designed stop and start the bus before students get in. This leads to a number of accidents causing injuries to students. One month ago, a student had fallen from a bus plying on the same route and suffered grievous injuries.
Several complaints have been raised regarding the excess speed of private buses along Muvattupuzha - Kakkanad route and the bad treatment of passengers by staff.
Student organisations took out marches at various places in Ernakulam district in protest against the incident in which Anchal was injured. The Muvattupuzha Assembly committee of Kerala Students' Union (KSU) demanded the arrest of the bus employees involved.