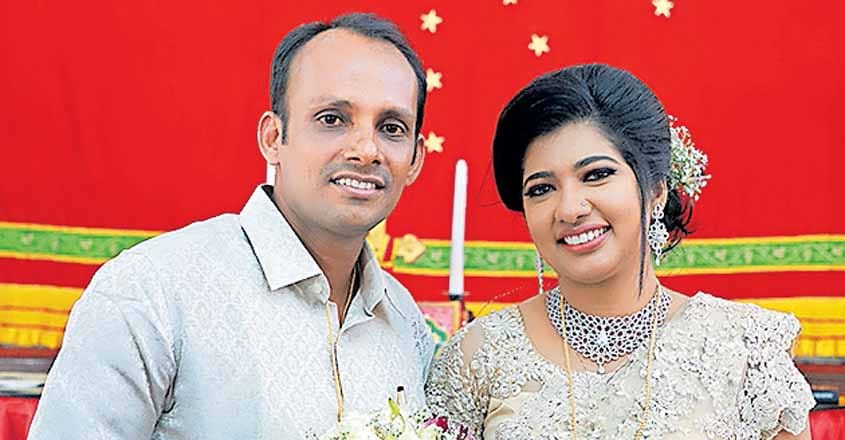 Muvattupuzha: Eldho Abraham, the CPI legislator representing Muvattupuzha constituency in the Kerala legislative assembly, is set to enjoy marital bliss. He married Agi Mary Augustine, an Ayurvedic doctor, at the St. George Jacobite Syrian Church at Kunnakurudy on Sunday.
The 43-year-old legislator's marriage turned out to be a special one for many reasons as he had invited people from all over his constituency, and sent wedding cards to 5,000-odd people who had invited him to their marriages during the past 25 years.
Bishops of the Jacobite Church Abraham Mar Severios, Mathews Mar Aphrem and Dr Kuriakose Mar Theophilos solomnised the marriage.
A reception was held at Muvattupuzha stadium, one of the dream projects of the MLA, at 3 pm soon after the wedding. The reception was a modest affair with dosa and chutney served to those who attended the function.
Speaker P Sreeramakrishnan, Ministers V S Sunilkumar, T P Ramakrishnan, P Thilothaman, A C Moideen, Government Chief Whip K Rajan and former Chief Minister Oommen Chandy were among the long list of dignitaries to grace the occasion.
Agi is the only daughter of Manamparambil Augustine and Mary. Eldho is the son of Meppurathu Abraham and Eliamma of Thrikalathur.
Eldho, who contested as a CPI candidate, won by a majority of 9,375 votes in 2016 assembly elections by defeating sitting MLA Joseph Vazhakkan of the Congress.
The MLA was in the news recently when he was injured during a protest march on July 23, 2019.