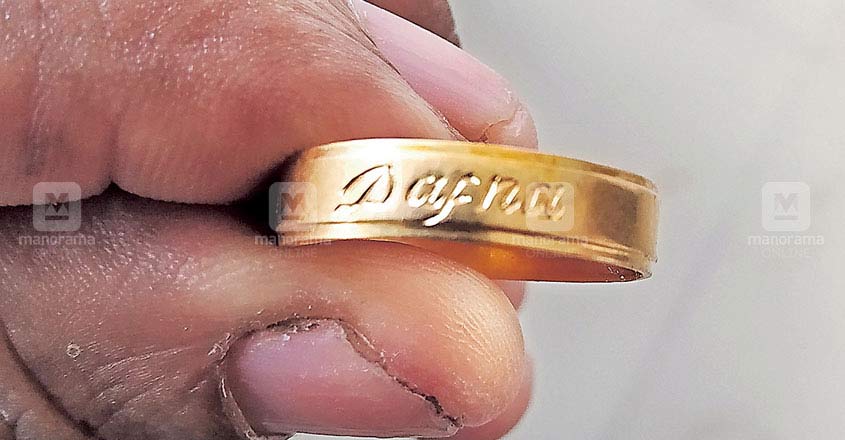 Thoppumpady: Arun Antony, Arun George and Shiju Verghese were bathing in the Aluva river after a visit to the Malayattoor pilgrimage centre on March 7 when a hard object struck the feet of one among them.
When they scooped up the earth beneath, they saw a gold ring with the name 'Dafna' etched on it along with that of the jeweller. Being members of the Holy Angels parish at Muppathadam, the friends initially considered depositing the ring in the offering box of the church.
However, they later decided to trace the owner of the ring at any cost and launched a search on Facebook. Finding that there were several people named Dafna, the youths contacted each.
As they couldn't find Dafna, they redirected their search to locate the jeweller, using the letters 'BJ' etched on the ring. Finally, they arrived at a jewellery shop in Ernakulam from where Dafna had bought the ring. Dafna's phone number was obtained from the shop and the person contacted. It was indeed the owner of the ring.
Dafna said that it was the wedding ring worn by her husband Ancily and that he had lost it on March 23, 2019 while bathing in the Aluva River. In another coincidence, Ancily had taken a dip in the Aluva River after returning from Malayattoor along with a friend named Tensen.
As Ancily was at his workplace abroad and Dafna at her house in Muvattupuzha, the youths contacted Dafna's father C J Thomas at Mundamveli to hand over the ring. Even though Thomas said that he would reach Muppathadam, the youths arrived in Mundamveli to return the half-a-sovereign gold ring to its rightful owners.
"We are so happy. The ring is priceless," said Thomas.
Incidentally, Ancily had realized that the ring was missing two days after he had lost it and had no idea where it had gone. "We have no words to thank the youths. It's all a miracle," added Thomas.
Meanwhile, the youths said that they were confident of finding the owner of the ring. "We are a group of six friends and all of us tried very hard to identify the owner. The happiness of the families of Dafna and Ancily when they got back the lost ring is the reward for our efforts," they said.