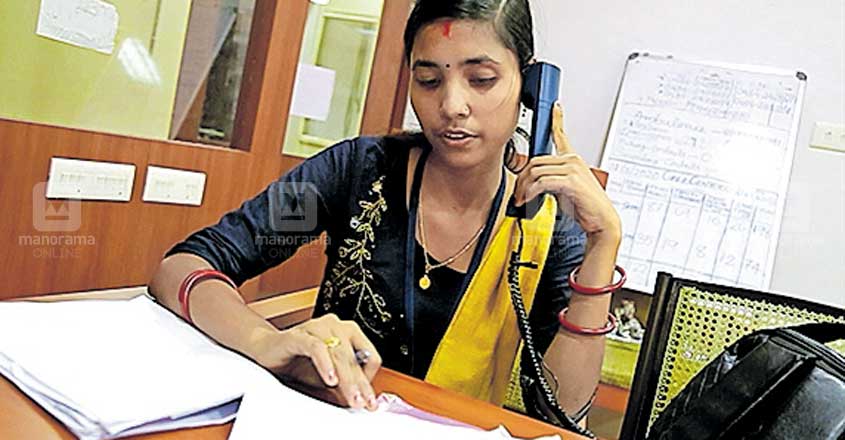 Kochi: When she landed in Kerala five years ago, Odisha native Supriya Debnath was not actually aware of the opportunities awaiting her in the southern state. A woman with a passion for learning and a taste for languages, Supriya has now realised that she's at the right place.
Supriya has studied only up to Class 12. However, she can handle six languages – Odia, Bengali, Assamese, Hindi, Bangladeshi and Malayalam. She can also manage English.

The polyglot is now busy helping the Ernakulam district administration as a migrant link worker at the dedicated control room that coordinates the anti-COVID-19 efforts.

Supriya has been tasked with answering the frequent phone calls of migrant labourers (addressed as guest workers by the Kerala government) at the COVID control room of the Ernakulam Collectorate.

She has already answered the queries of nearly 200 migrant workers.

"I get calls from many labourers. Most of them want to know about food distribution at their camps. Some people with symptoms like fever and coughing also ask for advice. Sometimes I also get calls from people in other states who want to know about the preventions to be taken," Supriya told Onmanorama in fluent Malayalam.
Internet support
Supriya learned Hindi and other languages from her own state while she mastered Malayalam after coming to Kerala. She can read and write Malayalam. "I used the tools in Internet for learning Malayalam. Interacting with friends in Kerala also helped me," she said.

Supriya is a volunteer of the government's Roshni scheme, envisaged for the education of the children of migrant workers. For the past two years, she has been working as a tutor at Government LP School Malayidamthuruth. She got the job as part of the Sarva Siksha Abhiyan project's programme to facilitate education for migrant labourers'children in their mother tongues.

Supriya resides at Pukkattupady in Ernakulam.

She came to Kerala with her husband Prasanthkumar Samal who works at a plywood company in Perumbavoor. Their daughter Subhasmitha is a kindergarten student at the school where Supriya teaches.

She is planning to continue her studies from next academic year. "I'm planning to join a college in Perumbavoor for BA Hindi. For that I have to get my certificates from Odisha first. We were supposed to go there during vacation. However, with the lockdown coming to effect, we couldn't," she said.

Apart from Supriya, there are 11 more migrant link workers at the control room.