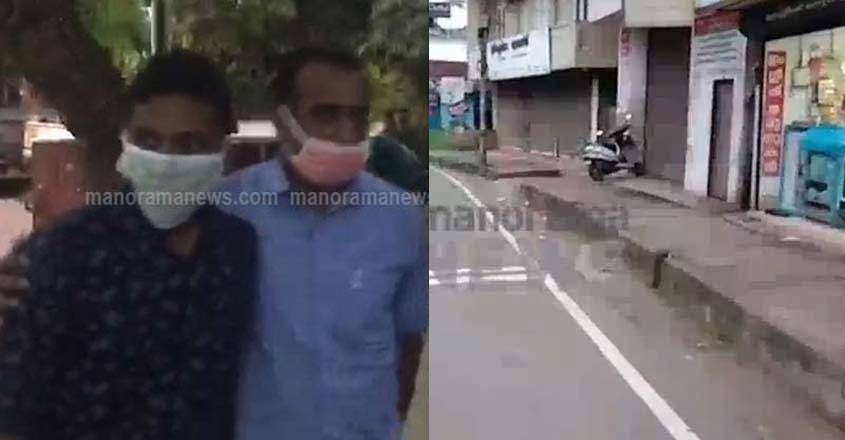 Muvattupuzha: The Police has recorded the arrest of Basil Eldose for the attempted murder of his sister's lover, with a machete near Muvattupuzha in Ernakulam district on Sunday.
Eldose was against his sister's affair with Akhil, 19,  an automobile engineering student, since he belonged to different religion and caste. He, along with an accomplice, waylaid and attacked Akhil Sunday evening causing grievous injuries.

Eldose was nabbed from an empty building near the Chalikkadavu bridge on Monday, where he had spent the night after the attack. The bike used for the escape was also recovered here.

Earlier on Monday, police arrested his juvenile accomplice – a 17-year-old boy – into custody. The juvenile apparently informed Eldose about Akhil's movements.

The duo is being charged under the Scheduled Castes and Tribes (Prevention of Atrocities) Act, police officials informed.

The case is being probed by a team led by Deputy Superintendent of Police, Mohammed Riaz.

Akhil who suffered serious injuries to his arm and neck in the machete attack, is being treated at the Government Medical College Hospital in Kottayam. Officials inform that he is out of danger.

Akhil is a student at a private institute in Ernakulam.

Turn of events

Akhil was attacked on the premises of a medical store where he had gone to buy face masks, along with his friend Arun, at 6pm on Sunday.

Eldose, who came by motorbike, dragged Akhil and attacked him with a machete.

Onlookers rushed Akhil to the hospital.

Arun, who escaped with a minor injury, said two bike-borne persons attacked them with machetes. "I shielded their attack with my helmet," Arun said.

"They fled when they saw local people rushing to the spot," he said.

He confirmed that Akhil and Eldose's sister knew each other well when they were studying Class 11.

People took severely injured Akhil first to a private hospital in Muvattupuzha. Later, he was shifted to the Kottayam Government Medical College Hospital.

Girl alerted Akhil

The girl had apparently alerted Akhil about the attack when she saw Eldose leaving home with the machete.

Akhil, however, did not take it seriously and proceeded to the medical store to buy the mask.

According to reports, Eldose and his family strongly opposed to the girl's relationship with Akhil.

Police said Eldose attacked the youth to put an end to their relationship.

Akhil's family, too, knew about his love affair. They, however, felt the children would talk about it later and sort it out, they told the police.