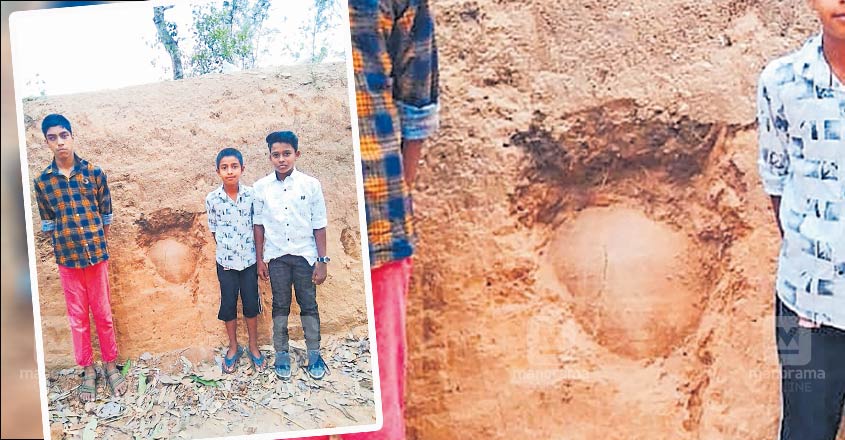 Nedumkandam: Class eight student Hamid Mohammed of Kallar Government School, and his friends Asmeer Mubarak and Fayis Mohammed has helped unearth ancient burial urns called 'Nannangadi' in Idukki.
The urns were found on the premises of Zakir Hussain near Koottar town in Karunapuram panchayat during construction work. The children noticed something unusual around the edges of a pit. The family finally gave into the pestering demands of the children and alerted the archaeological department.
Then a research team led by official Krishnaraj visited the site.
A teacher at the Kallar Government school, Reyson P Joseph, said that the archaeological relics were likely to be about 1,500 to 2,500 years old, and were historically relevant. Reyson is also a member of the archaeological protective council.
Extensive study
The site from where the archaeological relics were found will be examined. After completing the survey proceedings at the spot, a report would be submitted to the central government.
"The archaeological department will carry out excavation at the spot after getting permission from the government," archaeological department field assistant Krishnaraj said.
More burial urns were found from other parts of the district in the recent past. Therefore, the archaeological department is all set to conduct an extensive study in the high-range region.
The urns excavated from the Udumbachola taluk shed light on the history of the region between 900BC and AD 500.
Burial urns, earthen pots, beads and rusted axe were also found from Anakkara at Myladumpara in the district. The ancient relics were recovered from a private plot near Subramanya Swamy temple at Myladumpara. The urns contained a skeleton and 49 decorated beads. Burial urns were also found from Chempakapara Kochu Kamakshi and Pushpakandam in recent times.
The burial urn/ Nannangadi
Dead bodies were put in huge earthen pots (Nannangadi) and buried during the pre-historic period. Along with the mortal remains, weapons and utensils were also put in the urn. The practice dates back to the megalithic period.
3,000-year-old Menhirs
Another archaeological relic, Menhir, has also been found near Udumbunchola in Nedumkandam earlier. Menhirs are large upright stones erected for astronomical purposes during pre-historic times. These 3,000-year-old stones are situated on top of four hills spread across two acres of land at Pothamedu. These are 20-ft tall, seven feet wide and five feet thick. The Menhirs were discovered by the research team of the B.Ed. college at Nedumkandam. However, no efforts were made to protect or conduct further studies.