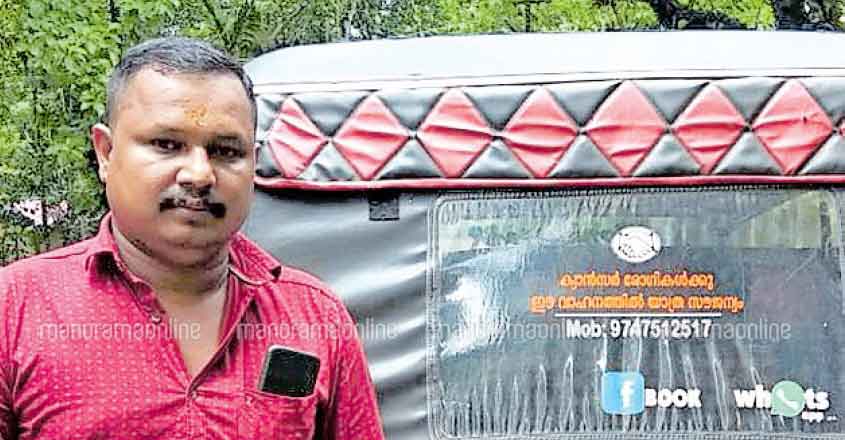 Erumeli:  'This vehicle  offers a free ride to cancer patients,' says the words written on the back of the auto rickshaw driven by Kavunkal Nidheesh, an auto driver, fondly called as 'Sreenipuram Punjabi' by the local people.  His motivation for this compassionate act is quite personal – the sad memories of travelling from hospital to hospital with his father and father-in-law, both of whom were cancer patients.
And, it needs to be noted that the auto rickshaw driven by Nidheesh is not his own. It's a rented vehicle which he drives for a daily wage of Rs. 250, a paltry sum. To provide free ride for cancer patients, Nidheesh would take a cut from his own wages, not letting the owner affect. For the 60 kilometers ride from Erumeli to Kottayam Medical College, he usually asks the patients for diesel worth Rs. 400. The local rides in Erumeli are completely free of charge.
Nidheesh's father had passed away from cancer seven years ago, followed by his father-in-law who died three years ago. He is still traumatised by the memories of travelling from hospital to hospital with the aged parents and also of the travails of money getting spent within a jiffy. 
In Erumeli, no one knows Nidheesh by his given name. He is known only as the Punjabi of Erumeli. The name was derived from his penchant for staging the Punjabi dance as a young boy. He is also quite keen for taking the accident victims to hospitals. This was the result of having witnessed the death of a young man hit by a tipper lorry near his home around 15 years ago.