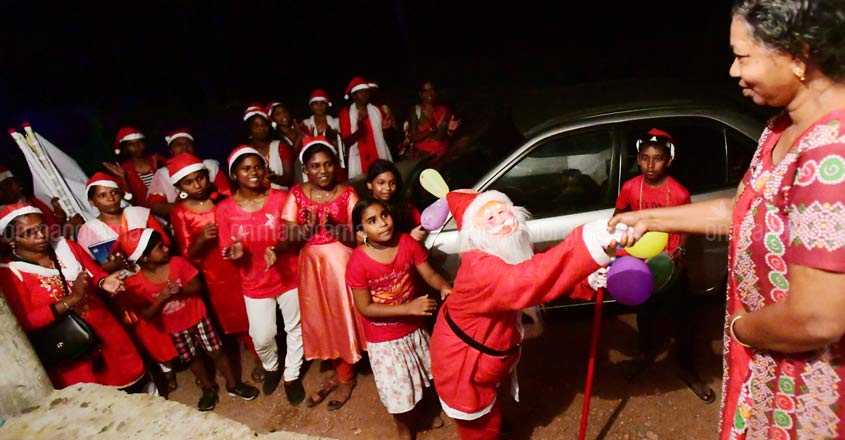 Mini was first baffled to find a carol group coming to her house late on Monday night. However, she soon realised that the carol group included her women friends and children from neighbourhood. She was delighted as they sang songs and danced around her, wishing her a Merry Christmas.
After the heartful rendition of the song, 'Kalithozhuthil pirannavane...', Mini ran forward and hugged everyone.
"If I had been healthy, I would have also come with you. All of you should pray for me," said Mini, a kidney patient. Listening to Mini, several of the women took refuge in the dark night as they broke down in tears.
Even then, Mini did not realise that the women's carol group had been going to various houses in the night to make money for her dialysis. From nine-year-old children to 56-year-old women were part of the 27-member group.
It was on last Saturday evening that a bunch of women at Chunkam in Kottayam district sat down together and starting brainstorming on what they could do to help in the treatment of their ailing friend in the neighbourhood, Mini Varghese.
The functioning of both the kidneys were affected, and the doctors at the Kottayam Medical College Hospital had recently recommended dialysis for Mini. Her friends then came up with the idea of an all-women carol team. The team was formed, songs were learned within a day and all preparations were done in no time. The family members of all the women also chipped in.
Sampath Das agreed to dress up as Santa Claus and Jancy Raju was picked to lead the team of women. And some of the men at their households volunteered to take up all the cooking tasks.
The all-women's team with a banner, seeking donations, started going to various homes from 7:30pm to 1am. Everyone pitched in without even asking what these donations were for.
The women are aware that the meagre amount they could collect from the common folk's homes in the rural region would be suffice for only a few days of treatment. They hope to collect some more money and give it to Mini.
Kidney transplantation is the only permanent solution to Mini's illness. Her friends are hopeful that the surgery would be carried out soon and that Mini would join them for Christmas carol next year.
Such noble acts light up the lives of ordinary men and women, and remind us about the true spirit of Christmas.