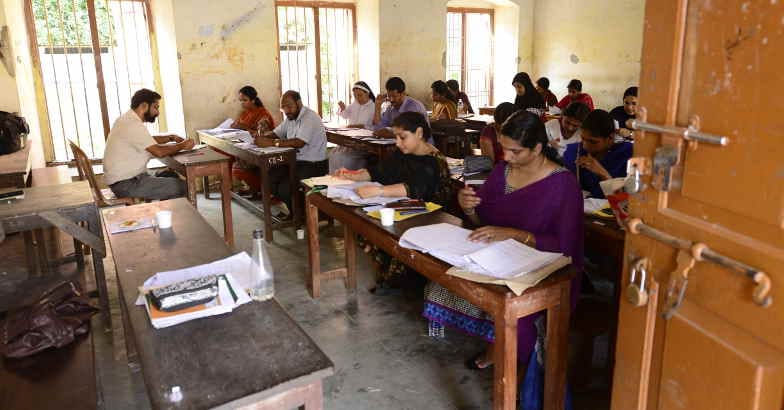 Kottayam: Only 455 teachers are needed for the evaluation of the higher secondary Save-a-Year (SAY) exam. But 2,000 teachers have been summoned for duty in Kottayam.
Even when the state is implementing stringent measures to counter the COVID-19 spread, the education department has taken such a baffling step. The evaluation starts on Wednesday.
The evaluation camps in the district are at Holy Family Higher Secondary School in Kottayam, and Government Higher Secondary School in Pala.
As many as 1200 teachers have been called for duty at Kottayam and 800 in Pala. And there are not enough answer sheets for these many teachers to evaluate.
275 teachers required in Kottayam, 180 in Pala
For the higher secondary SAY/improvement exam, papers of 14 subjects would be evaluated in the district.
Two subjects will be evaluated in Pala and the rest in Kottayam. For some subjects, less than five students have written the improvement exam. To evaluate these five papers or less, a team of 60 teachers have been deployed.
Only 275 teachers are needed for the Kottayam evaluation camp as per official data. Officials have no clue on what criteria they would pick 275 teachers from the 1,200 who will report for duty at the camp. Only 180 teachers are needed in Pala but 800 will be arriving.
Teachers have been asked to complete the evaluation in two days. The evaluation of Maths and English papers is on October 11 and 12.
Why these many teachers…
Even the camp coordinators lack clarity over why these many teachers have been asked to directly report for valuation when there are strict instructions on following the COVID-19 norms.
The district had more than five camps in the previous years. And only teachers within the 12-km radius were called for the duty. But due to pandemic fears this year, the number of camps was cut down to two. Still over a thousand teachers were called for duty.
There are also complaints that several teachers were not informed in advance. And that they only received WhatsApp messages on the evaluation camp much later. Teachers along the border regions of the district such as Poothotta and Enthayar have complained to the higher secondary directorate.