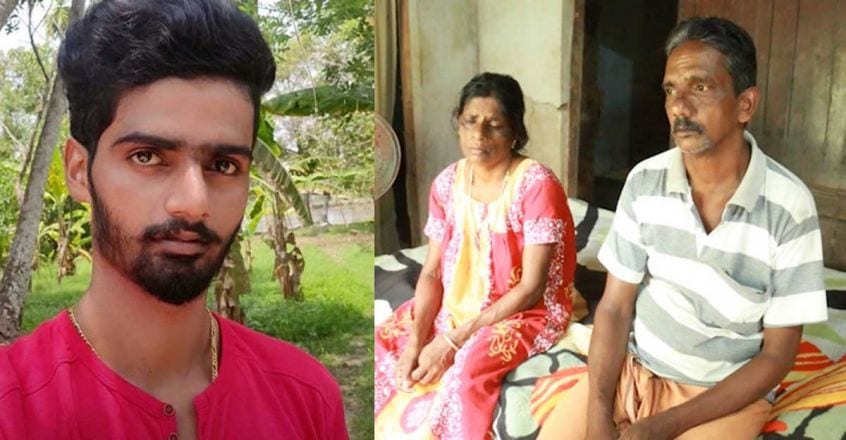 Kottayam: The missing case of 23-year-old Jishnu Haridas from Vaikom in Kottayam has turned murkier with the relatives raising a slew of allegations against the police probe.
Even though a DNA test on Tuesday confirmed that the skeletal remains found from Mariyappally were that of Jishnu, his relatives have refused to accept the test findings.
Jishnu's family has said that they will not receive the body from the police. They have said that they have no trust in the DNA test conducted at the Thiruvananthapuram forensic lab.
"A case has been filed at the High Court. We will also file a request in court, seeking another DNA test at a lab outside the state," Jishnu's paternal uncle Shashidharan said.
The action council members have also said that they would carry out a march, protesting the police action, from Ernakulam to Kaipuzha on Friday.
Jishnu, who worked at a bar-cum-hotel at Kumarakom, went missing on June 3.
The body was found near the Sahitya Pravarthaka Cooperative Society at Mariyappally in Kottayam district on June 26. The DNA test identified the deceased as Jishnu, 23, of Vaikom.
The police said that the cause of the death can be ascertained only after they receive the clinical lab report too. The body is kept at the mortuary of the Kottayam Medical College Hospital.
What the relatives say...
•Jishnu was upbeat when he left home on that fateful day. The relatives assert that such a youth would not kill himself.
•He had no financial problems. The police did not take the parents' statements at face value.
•The family got to know that the youth was missing when his friends, bar employees, came to his house in search of him. Though the family said they were suspicious about them, no probe was held into this allegation.
•Two of the doctors, who examined the body, deduce that the skeleton retrieved from Mariyappally was months-old. However, Jishnu had been missing for just 23 days, when the skeleton was found.
•Scientific tests should be held to ascertain the age of the skeleton.
•Jishnu's gold chain and the bag are yet to be found.
•It is not believable that a person who weighed more than 60kg would hang himself from a shirt.
What the police say…
•There is no evidence to suspect the friends.
•The post-mortem does not point out assault/manhandling.
• The doctors also concur with the deduction of death by hanging.
•The body was found when the land was being levelled using a JCB. The phone was found some distance away from this spot.
•The adjacent areas were also levelled using the JCB and the gold chain was likely to have got lost in this.