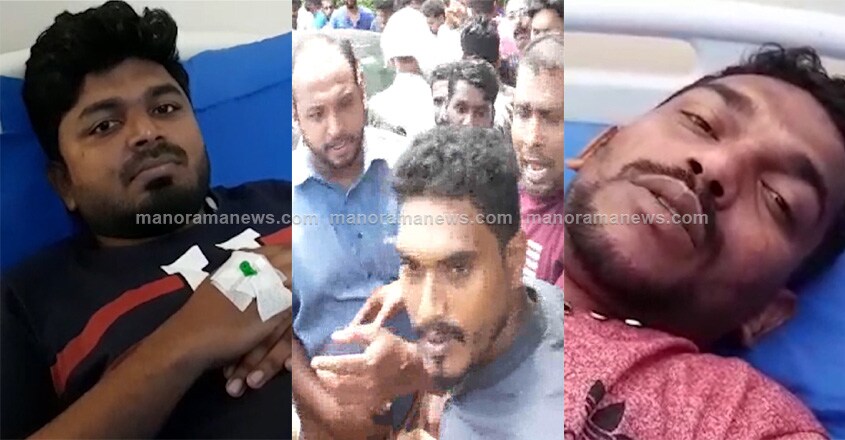 Malappuram: In shocking case of mob violence, two innocent youths were thrashed severely by a group of people after a schoolboy falsely accused them of trying to abduct him. The boy had created the imaginary story of kidnapping to skip an exam.
The police have booked 40 people for attempt to murder over the incident that took place at Omanoor, near Kondotty in Malappuram district.
The youths are now admitted to the intensive care unit of Kozhikode Medical College Hospital. The victims of mob violence are Kuruppath Zafarullah and Cheeroth Rahmathullah. The youths told Manorama Online that the mob did not refrain from beating them even after they started vomiting blood.
The boy was waiting for a bus to go to school at Omanoor stop when he claimed that the youths had come in a car and tried to abduct him. He said that the abductors had tied his hands but he had managed to free himself and jump out of the car.
Local people who heard the boy's story checked the visuals of CCTV cameras nearby and the boy pointed out the car belonging to the two youths. The car was soon traced and the youths were asked to appear at the Vazhakkad police station.
On the way, the vehicle was stopped by the local people and the boy said that the two youths were indeed his kidnappers. Immediately, a mob formed and the youths were dragged out of the car. The beatings also began then. Even though the police arrived, the mob did not initially allow the officers to take away the youths. Even local people who tried to prevent the attack on the youths were targeted. "We had no idea why we were being beaten up," said the youths.
Finally, the police carried an investigation and found that the abduction was an imaginary story created by the schoolboy to bunk exams. "He was concerned about scoring poor marks," said the police.