A slice of Japan has come to Kochi through an unusual photography exhibition. The expo titled 'Tohoku, Through the Eyes of Japanese Photographers' features photographs that introduces to the world the life and culture of the region it is named after.
The exhibition was opened at the Kerala Lalithakala Akademi's Durbar Hall Art Centre on Saturday. T J Vinod MLA inaugurated the exhibition organised by the Kerala Lalithakala Akademi in association with the Japan Foundation and Srishti Manipal Institute of Art, Design and Technology, Bengaluru. It will last till July 16.
The photographs on display at the exhibition connect viewers with the life of the people of Tohoku before and after the earthquake and tsunami of 2011.Tohoku was one of the worst affected regions by the disaster.
The expo features works by nine individual photographers and one photography group. The participating photographers include Haga Hideo, Naito Masatoshi, Oshima Hiroshi, Lin Meiki, Tatsuki Masaru, Tsuda Nao, Hatakeyama Naoya and Sendai Collection. The photographers belong to different generations and represent different styles rooted in Tohoku. The photos focus on the historical aspects of Tohoku, the elements that went its formation.
The exhibition avoids photos of the devastation of the tsunami as they had already been flashed across the globe through the mass media. The pre-disaster photos date back to the 1940s and by representing the past, present and future, the exhibition aims at introducing many fascinating aspects of Tohoku including its life, climate and culture.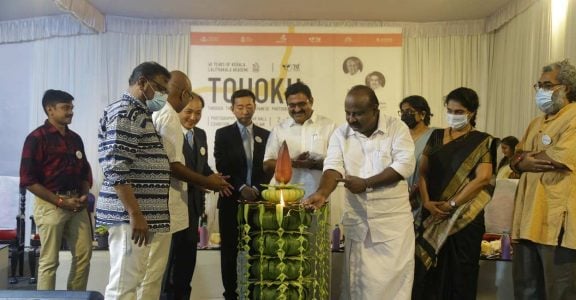 The touring exhibition is being organised in major cities of India to mark the 70th-anniversary celebrations of the ties between India and the Japan Foundation. Kerala Lalitakala Akademi is hosting the show in Kochi on its 60th year.
The inaugural function was presided over by Kochi Mayor Adv M Anilkumar while Akademi chairperson Murali Cheeroth welcomed the gathering. The keynote address was delivered by Culture Department Principal Secretary Rani George. Japan Deputy Consul General-Chennai, Kenji Miyata, spoke on 70 years of India-Japan Cultural Relations. Koji Sato, Director General, Japan Foundation, New Delhi, introduced the Tohoku Japanese Exhibition. Felicitations were offered by Gautham Dayal, Director, Srishti Manipal Institute of Art, Design and Technology, Bengaluru and Meena Vari, Dean, Media, Arts and Sciences and Contemporary Arts and Curatorial Practices. Akademi secretary N Balamuralikrishnan proposed a vote of thanks.
Symposium on July 16
A symposium titled 'The Age of the Photography-2022' will be held at the BTH Hall on July 16 in connection with the exhibition. Meena Vari will co-ordinate the symposium. Eminent art and cultural personalities R V Ramani, Anitha Khemke, Nihal Faisal, Sarasija Subramanian, Nayanthara Gurang and Rahab Allana will take part in the symposium. Prior to this, at 5 pm on July 14 and 15, the film ' My Camera and Tsunami' by R V Ramani will be screened and there will also be a face-to-face with Ramani.