At 21, Muhammed Nadeer is yet to come in terms with the process of writing. He has some learning difficulties which demand the help of a scribe to help him write his exams. However, when he wields his brush on a canvas, nothing can stop him. To him, painting is a way of resisting the challenges life has thrown at him.
An exhibition of Nadeer's artworks in Kochi has already won the attention of the city's art connoisseurs. The 21 acrylic paintings put on display at Durbar Hall Art Gallery showcases his ever-growing passion for the palette.
"Transient Moods" is his first show and a few works from the show have already been sold out. The art expo is organised by Njattuvela, a WhatsApp collective. All the works in the expo were done by Nadeer as part of his projects at the Government Fine Arts College, Thiruvananthapuram where he is an under-graduate student.
Born at Thiruvegappura near Pattambi in Palakkad district in 2001, Nadeer's journey to become an artist has never been easy. He had to overcome financial and social backwardness to realise his dream. He had shown a keen interest in drawing right from his childhood. He first grabbed the attention of many with his talent to sketch instant portraits of the guests who come to attend various functions at his school.
He got primary training in his art from Silpachithra School, Pattambi with the immense support of Dr Sreekumar of Thiruvegappura. After passing Plus Two with the help of a scribe, he joined the Government Fine Arts College, Thiruvananthapuram. By then his works has already been noticed by many on social media. He also had the support of his teacher and noted Malayalam poet P Raman.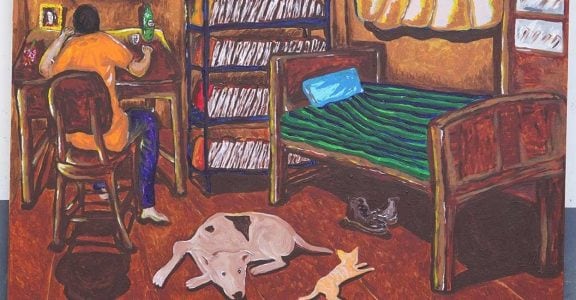 "I have always received immense support from my teachers at school. At the college also, I get support from my teachers and friends. I want to pursue a Master's degree in fine arts and become a teacher," Nadeer told Onmanorama. He wants to pursue his Master's from a reputed arts college outside Kerala.
Even in college, the theory examinations of the Bachelor of Fine Arts (BFA) course continued to be a challenge for Nadeer unlike the practical tests which he could clear with ease. Nadeer needs the help of a scribe to write exams of papers like Art History.
"The vast number of theory papers in the syllabus is an evidence of the sad fact that our fine arts courses are still not friendly with students like Nadeer who is good at his art," P Raman pointed out. Nadeer wishes to do a Master's in Fine Arts after finishing his BFA.
He said Nadeer's works would convince us of the need to reorganise fine arts courses in a manner that would make them easily accessible to highly talented students who wish to get advanced training in the field despite facing difficulties to clear written examinations due to particular reasons.
Nadeer's father Seithalavi is no more. He lives at a Lakshamveed colony at Thiruvegappura with his mother Sajitha. He completed schooling from Thiruvegappuram GUP School, Naripparamb and Government Janatha Higher Secondary School, Naduvattam.
The Njattuvela WhatsApp collective has been highly supportive of Nadeer's artistic journey from an early stage itself. The collective decided to organise the expo as it feels Nadeer's works are a telling testimony of art resurrecting human beings.